Snorkel Behind Beez

Beez Neez
Skipper and First Mate Millard (Big Bear and Pepe)
Mon 24 Jun 2013 22:57
Our First Snorkel in the Gambiers
After lunch, I felt brave enough to enter the cold water for the first time – in my wetsuit, I still think it's a very strange feeling wearing one and my buoyancy makes flippering more difficult. Bear was very manly going in in just his cossie.
Hervé
assured me this white chap was harmless, but I did give him a little prod with the camera, not quite up to stroking them just yet.
Beez is anchored in fifty feet of water and we swing round in twenty five. No more than fifty feet from the back of the girl we are in ten feet of water, strange going from deep blue to a veritable hard coral garden within minutes.
Shallower still.
Now just enough water for us to clear the reef.
The colours are muted compared to soft corals, but the water, like the Galapagos, is too cold with not a Nemo in sight.
We moved from area to area, Bear points to a lovely, big, flat coral.
We saw a cowfish.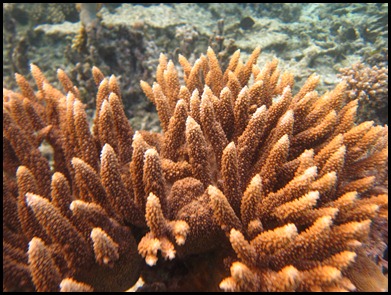 So much to see, we forgot about the cold water.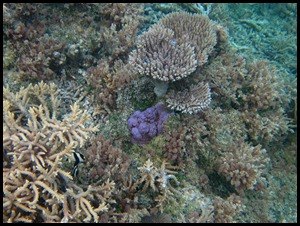 Another different area.
Bear with about eight feet of water below him, just to his left – thirty and where I am to his right about four.
ALL IN ALL INCREDIBLY CLEAR WATER
MUCH TO SEE
---