To Ketapang

Beez Neez
Skipper and First Mate Millard (Big Bear and Pepe)
Fri 7 Oct 2016 22:57
At a quarter past seven we say 'farewell to Kumai'. 258 miles to Ketapang.
The ship we had seen during her paint job (well her green line) was now very smart indeed.
A local waved enthusiastically but then had to tend to the serious business of bailing.
Gatra-1 was our first girl in the river.
A bit of loading out at sea.
Out of the river we met a beautiful sight – the bluest sky and smoothest sea.
This boat was a complete nuisance zig-zagging in our way but eventually got bored and shifted. Sunset came.
Lots of fishermen working their nets all night.
Safest to go one side or the other in case they are working in pairs – or brave choosing a pair and going for the gap.
A pleasant morning. Just after we admired this shrimp boat at a quarter to one - all hell broke loose. 28 knots of wind hit us like someone had shot it out of a machine gun. The sky went dark and within minutes the sea heaped up. Then..... the auto pilot gave up. Time to hand steer. I was quite lucky as it got dark, a small passenger ferry was heading north so I followed him for a couple of hours.
Skyfall gave a little light relief at four a.m. At least the sea had gentled and I could listen to my book.
Daybreak and for me - the wonderful threat of bed.
At half eleven more excitement. We were approached by this longboat, they wanted us to follow them, pointing to a marker we understood this marked the edge of their massive nets.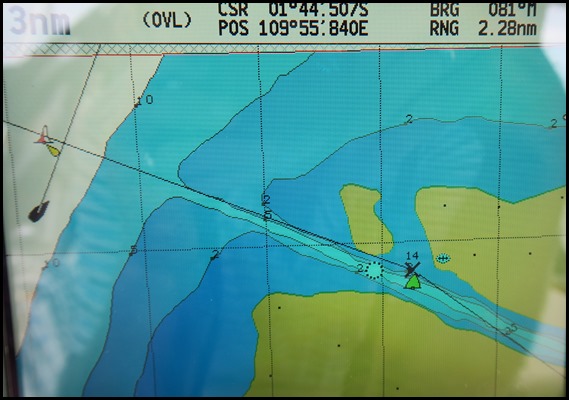 We spot the marker buoy that took us from seven metres below to four and then two.
We thought we could follow a tug and tow in but he had other plans – he wanted to follow us.
We turn right at the next marker.
We anchor and the tug and tow passes by.
Our first look at Ketapang on the other side of the river.
A local girl leaves, it's not until she passes Wirraway that her size really shows.
Anchor down at 13:00. After peace on a pond-like sea surface to an eventful storm and hand steering for nine hours each........ The good thing is we arrive in Ketapang having notched up 30086.72 nautical miles on this sometimes wild At-Venture of ours. This is our 328th stop. The busy map shows we have gone from bottom right, past the dodgy shallows bottom right and arrived half way up the left (cross called Pos). Time for a sherbet and a win at backgammon..........
ALL IN ALL A MIXED BUSINESS
A BIT OF A TRYING JOURNEY
---