Nugget Point

Beez Neez now Chy Whella
Big Bear and Pepe Millard
Thu 31 Jul 2014 22:27
Nugget Point, the Lighthouse and the Nuggets
We left our diddy campsite and our first touristy thing today was to head toward the Nuggets at Nugget Point. The lighthouse is just visible.
Fifteen minutes along the gravel road and we were in the car park. Map in front of us.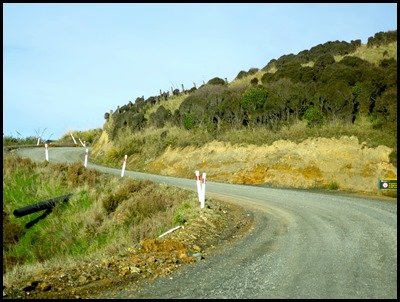 Such a beautiful sunny morning, in fact Bear told me it was sixteen degrees, so for the first time in ages, no thermals. We set off up the track and soon Bear was sitting in an open area.
We read the plaque and followed the path, lighthouse at the end.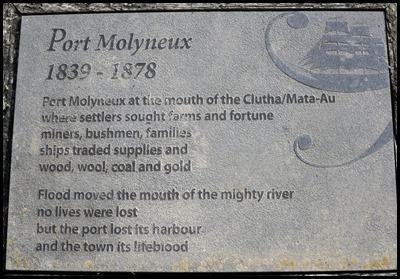 We had a wonderful view toward Port Molyneux.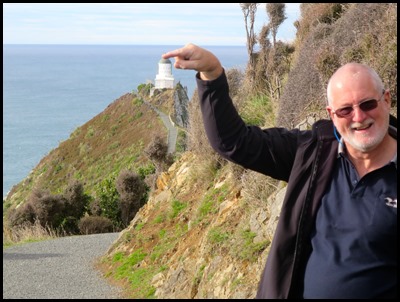 A tourist shot after several attempts. Nugget Point Lighthouse.
Nugget Point Lighthouse stands at 46'27.0 South and 169'49.0 East. Built in 1869 its light shone for the first time on the 4th of July 1870. Nugget Point had been considered a dangerous location for ships, as most shipping casualties in the area involved small vessels trading along the coast to the Clutha River.
The locally quarried stone stands nine metres high and seventy five metres above sea level. The light flashes twice every twelve seconds and can be seen for ten nautical miles. The light-emitting diode beacon was installed in May 2006 and is supplied by mains electricity with a battery for standby power. The original lens can be seen in the lantern room. An oil burner originally provided the light source, this was converted to a 1000-watt lamp supplied by diesel-generated electricity in 1949, and then direct to mains electricity in the 1960's. The light was fully automated in 1989 and the lighthouse keeper was withdrawn. The operation of the light is completely automatic and is monitored by a computer and the Maritime NZ staff in Wellington.
Despite the viewing platform being a see-through grate, Bear went on it and even managed a smile.
The succulents did indeed cling to the edge. Quite a wierd looking angle in the picture – taken looking directly down, the beach is the dark area below.
Looking out to the Nuggets, looking back to the cliff, complete with youngsters at the top.
Looking south, we could clearly make out the Cathedral Caves, only accessible at low tide and in the top thirty longest sea caves in the world, sadly closed at this time.
We headed back, so pleased to have been here.
Looking down. To the top right of the biggest pool, we could see a nursing mum and pup fur seals.
The tenacity of Mother Nature.
Trees defying the rocks.
Brightly coloured lichen giving flashes of yellow. Wind shaped bushes and a tangle of roots. We close with our favourite picture.
ALL IN ALL A VERY ENJOYABLE TRAMP TO ICONIC BEAUTY
DRAMATICALLY DIFFERENT
---