Entering Rikitea

Beez Neez
Skipper and First Mate Millard (Big Bear and Pepe)
Tue 11 Jun 2013 11:00
The Very Last Bit – in to Rikitea
Bear came on at six and no sooner than he said – It's two hours to the first buoy, than I was in bed fully clothed to be 'ready about' and soundo. The point on the far right has the wonderful name – Point Koutu Rarotemangaroa.
My internal alarm woke me at dead on eight and I trotted up the steps, excitedly expecting to see sandy beaches, a few coconut trees, a dug out canoe or two with big, muscular, tattooed men rowing – hopefully singing and I didn't mind a grass skirted lady or three pounding flour outside a long house - well this is supposed to be the South Pacific. OH NO is that spruce trees, poplar, Norfolk pine and CHRISTMAS TREES.
Yep, evergreens everywhere. Nice innit.
I'm getting used to the very green trees, (we would later be told that the fir trees were imported in the past and grown for logging by the French), skipper is finding it all very hysterical, but finally I am soothed with a clump of coconut trees.
Time for the flag changing ceremony as the wind gathers teeth once more. Just think, when I went to lay down I had ten thousand feet of water below the keel, the skipper goes to hang the French flag and the depth thingy says sixty eight meters, next second – sixteen. Mmmm. Note to self, get used to shallow water again – quickly.
A pretty church on what looks like an uninhabited island to our right.
Up on our left we see the stunning Mount Duff.
Lovely houses below.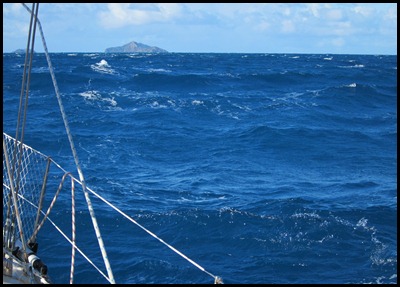 The fairway was full of big waves. We followed the buoys in.
The anchorage with a dozen boats, some familiar to us from the Galapagos.
A supply ship was on the jetty as we began to anchor.
The scale going down shows the entry was quite unique. The path through the coral heads gave four pint eight meters below us.
My nice rounded dinner-plate-shaped plot clearly didn't happen – straight-ish line mmmmm
Anchor set at eleven o'clock with fourteen meters of water under us.
Position: 23:06.94 South and 134:58.08 West.
Final 23 hour mileage: 128.
Our Statistics:
Total Miles: 2957 nautical miles
Total Time: 554 hours or 23 days and 2 hours
Engine Hours idling and water making: 14 hours and 15 minutes
Engine Hours Motoring: 68 hours and 35 minutes or 12.27%
Engine Use in Total: 82 hours and 50 minutes or 14.98%
Diesel Use in Total: Nearly 150 litres
Average Speed: 5.33 knots
Comments: A great journey with lots of laughs along the way. Much quicker than anticipated, easy going and good fun.
Would we do it again: Just let me cook up some more meals for the freezer, perhaps less bananas on board........ No problem.
Not only filthy but the girl has additions, perhaps she is best seen from a distance.
ALL IN ALL A WONDERFUL FEELING OF ACHIEVEMENT
YEEEEEEHAAAAAAAAA
---