To Little Jerusalem

Beez Neez
Skipper and First Mate Millard (Big Bear and Pepe)
Tue 1 Mar 2016 23:57
To Little Jerusalem
A little sadness this morning as today is the day we leave our slot at Cammeray Marina, everyone has made us so very welcome and we will miss the place – just not the hundred and nine steps. Any longer here and we will nip into time that could be spent further north and the pull to the Whitsundays is growing.

We waved to the lovely, kind and patient Brett.
Past my favourite rock and out through Spit Bridge at the ten fifteen opening.
We thanked the bridge master and said north was beckoning, he wished us well. We watched the arm come down.
Looking up we could clearly see what was missing. Both tails of the Windex, half the RWYC burgee. Mmm, we've been told up the coast the cockatoos are black and less naughty, just as well. When we get to Newcastle a few repairs necessary then.........
As we went past the lighthouse went went under a really dark cloud, just six spots of rain and then we were clear of it.
Out to the Heads.

One final look back at Sydney. So many memories to take with us. I also leave with no gall bladder, very grateful to everyone at North Shore Hospital, especially the lovely Katy. I leave Sydney feeling well, stronger and with a future.
Through the Heads and the sun is trying to put his hat on.
A beautiful, flat, calm sea.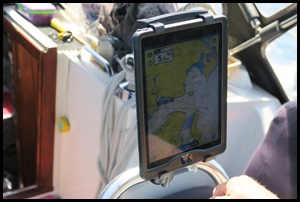 Smiley boy tests his new IPad holder. I'm very pleased, when it just rested on the binnacle I was always worried about knocking it off as I manoeuvred through to the wheel. I have to admit it is nice to know we have a back-up navigation system, complete with downloaded charts.
At Barren Joey Head we began to turn left.
A pretty light that we saw a long way out on our way down. Big waves on a flat day, wonder what it looks like during a storm.
Turning left we entered a vast National Park area.
Pittwater, down the first left turn with hundreds of boats.
We carried on and saw only one other yacht.
Looking back.
Trees everywhere.
Down another left we saw Cottage Point.
We poked our noses into Jerusalem Bay......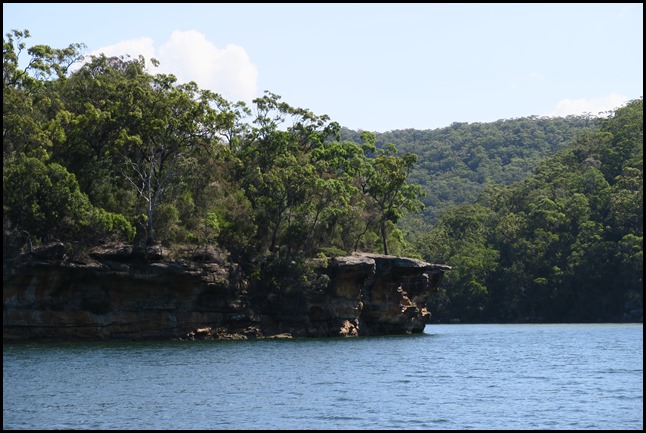 .........no buoys [all three taken], so we did a u-turn in the steady eight metre depth.
We went to Little Jerusalem Bay around the corner.
As we approached we could see a free buoy, the speedboat left as we headed in so we had just the one neighbour who left by late afternoon.
Our view and total silence.
ALL IN ALL I'M FEELING VERY BLESSED
LOVELY TO BE BIB-BOBBLING AGAIN
---