Little River

Beez Neez
Skipper and First Mate Millard (Big Bear and Pepe)
Sat 31 Dec 2011 21:57
To Calabash River Off the Little River Inlet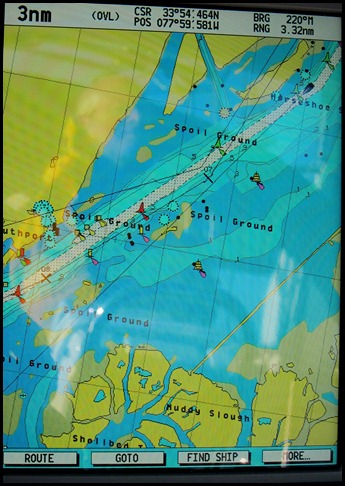 We left Carolina Beach at seven thirty for today's planned journey of thirty five miles, we needed to get south of the Cape Fear area as an Arctic Storm with gale force winds was forecast and we needed to get tucked in. By ten we were crossing the Cape Fear Inlet and although the white line of the ICW on the map looks small and narrow – the actual scenery was water for as far as we could see – miles of it in fact.
Funny to see a lady called Thames River when we were back in our normal scenery. I got Bear to fillet his pineapple, a first for him
Oops
The bird we use to troll with fits in the palm of our hand, the one on this girl was massive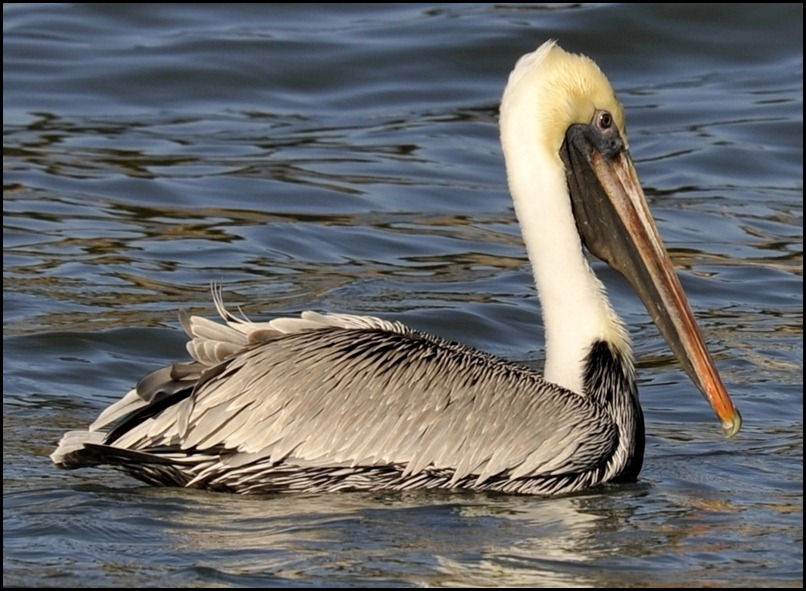 A very handsome boy
It was quite nice to go over ground we remembered from our trip north, we were pleased to see Sandy's and this 'One Careful Owner' had survived hurricane Irene
Great to see the mile marker numbers getting bigger
A Christmas tree stand with a difference, Wise Owl allocations and a couple hanging out in the sunshine
More to see and a friendly wave
We anchored twenty feet from the spot we had been in June – the crab pots were in different places. Just as we got settled Tow Boat US trotted by, the chap was concerned we had gone aground until he saw our anchor ball dangling. He gave a cheery wave and zoomed off on a real call out. Juno a boat we had seen in Trinidad and Beaufort came and parked next to us making a trio, Tom popped over for a beer and will follow us tomorrow to Belin.
Here we are on the last day of the year.
Some numbers:
Sequence Big Bear 19 – Me 12. I'm trying not to growl
Upword Big Bear 13 – Me 26
Backgammon Big Bear 101 – Me 110 and $ 393 up
Rummikub Big Bear 441 – Me 828 and $9075 up
Must get my act together on the Sequence front.
Miles this year on Beez Neez 3337.98 Bequia to New York and down to here today.
Miles on the ICW 1789.58 West Palm Beach to New York and down to here today.
Miles this trip on Beez Neez 10,802.60 Since the 6th of June 2008
Miles together 14,047.81 Since we began sailing – should be getting the hang of it soon.
ALL IN ALL NOT A BAD SORT OF DAY, WEEK, YEAR, TRIP
---