To Kentar Island

Beez Neez
Skipper and First Mate Millard (Big Bear and Pepe)
Tue 25 Oct 2016 22:57
To Kentar Island
At twenty past five we left Ketawai at first light for the 180 mile journey to the anchorage off Kentar Island, tomorrow afternoon we will cross the equator and celebrate in the evening aboard Serica. No sooner had we got going than Robbie and Putra had nipped over to Restless M to wish us all (individually) a safe journey. Some places are harder to leave than others, this was one of them. Soon the remaining team who looked after us so very well will leave to go 'back to their day jobs' and Ketawai Island will rest until the weekend when once more the partying can begin.
The sun struggles this morning.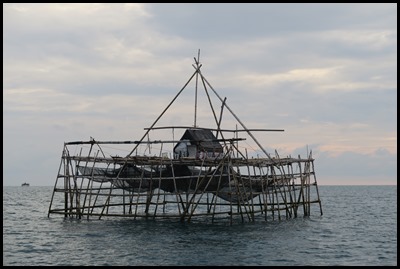 We pass our first fishing platform as Casimu gets ready to overtake.
Relishing sailing (well motoring) in company for a change as Grasshopper passes to our right.
Tehani-Li with Restless M spuddling along at 9.5 knots..........
Errol told us last night that Restless M can go around the world on three visits to a fuel jetty (three tanks on board hold just 31,000 litres....... combined weight of water, petrol and diesel - a tiny fifty tons......). We watch in awe and then Jennie D passes by. Beez is always happy bringing up the rear but Tereva settles with her, happily together.
Platformland, they are all over the horizon.
Tehani-Li (Little Darling) looking lovely and just for a change a local girl passes in the other direction.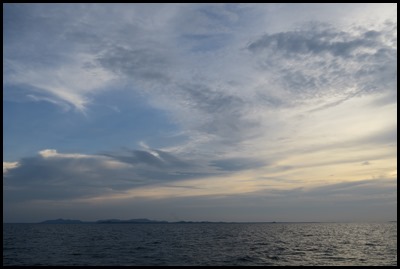 The only upset as we approached sunset was colossal losses at backgammon and Tri-ominoes.........
We settle for the night in a neat line, a couple of boats heading right to find some wind.
I had an incredibly dark night and once again the sun struggled to wake up.
I went to bed at six. Bear took these pictures of sunrise.
We played games until three miles from the equator and then prepared to toast Neptune. We crossed at 13:45.36 in the pouring rain, our spirits could not be dampened though, Beez Neez has carried us more than thirty thousand miles and we were back in the northern hemisphere.
We crossed with Tereva and then tucked behind as we rounded the final corner to see the anchorage.
We waved at everyone as we passed through to the back, to anchor next to a fishing platform.
A merry gaggle of ladies gathered behind Serica for our Equator Crossing Party.
Adam's official 'welcome'.
Karel (Tehani-Li), Clare and Errol (Restless M) and Melian (Indian Summer), a wonderful evening.
ALL IN ALL A QUIET START..........
GREAT TO CROSS TO THE NORTH
---