The 4th of July

Beez Neez now Chy Whella
Big Bear and Pepe Millard
Mon 4 Jul 2011 22:57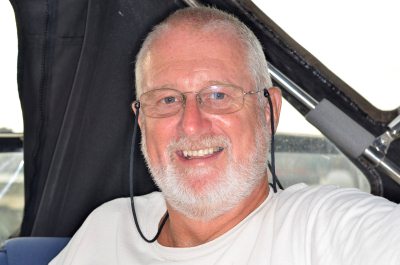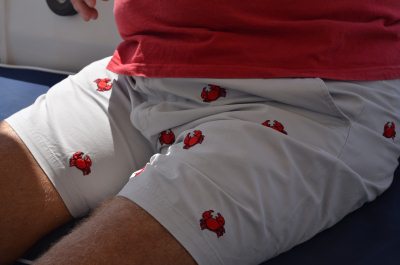 Bear looking lovely wearing the shorts I bought him in Beaufort NC, complete with crabs - no comments please - at least keep it clean
I found this on Macy's website and we agreed the best place to watch would be on Nimue, anchored south of us on the Hudson River. Macy's has announced its 35th Annual 4th of July Fireworks will celebrate Independence Day and the 125th Anniversary of the Statue of Liberty this year. The show will take place on July 4th at 9:00 pm. According to the company, over 3 million live spectators and millions on TV will watch the fireworks which will take place in along the Hudson River for the 3rd year in a row. The show is expected to include more than 40,000 fireworks over the course of 25 minutes to celebrate the nation's 235th birthday. Hoboken will once again get a prime viewing location with six barges positioned on the Hudson River, stretching from 20th to 55th Streets in NYC.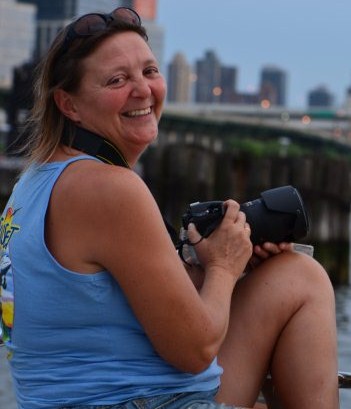 Anne sitting in prime position ready for the action
Michael came to pick us up at three to dinghy us out to Nimue. Anne was there to welcome us; she had been hard at work all morning preparing a wonderful supper. We were to have prime seats for the fireworks at nine and would see the crowds as they arrived for the festivities.

We watched the crowds begin to settle and got a nice shot of the marina, the George Washington Bridge in the background
We had nibbles and drinks, chatting happily, until much later when the Coastguard suddenly decided to move us. We knew from the notice in the marina we were far enough back from the imaginary safety line and Nimue was tucked in behind a huge jetty that held many hundreds of spectators, safely anchored a long way in from the main channel and a very long way from the firework barges. Just as we were enjoying an impromptu show from the fireboats, spouting many colours from their powerful water jets, (something we had always wanted to see), a fly past from the US equivalent of the Red Arrows, all kinds of air balloons along with all types of small planes trailing advertisements. The very thing we had not wanted was to be floating around, among 'tipsy' irregular boaters, seemed like a recipe for chaos, but Coastguard demanded. Michael took us to the middle of the river – not that far from where we were anchored, all a bit silly really, but there you are……. rules.
Michael held us steady so Anne, Bear and I could take loads of pictures, light fading, sunset until the sky was dark showing off the lit city and the George Washington Bridge. At last the fireworks began at half past nine. Nimue safely back to anchor, a celebratory drink and us back to Beez. A big thank you to Michael, Anne and Nimue for a lovely day.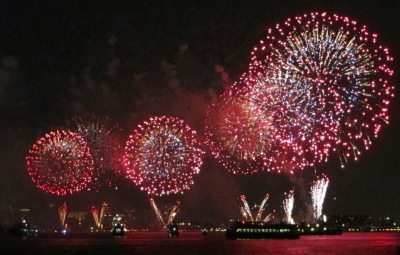 ALL IN ALL A WONDERFUL DAY AND THE FIREWORKS WEREN'T TOO BAD EITHER
---