To Nassau

Beez Neez now Chy Whella
Big Bear and Pepe Millard
Mon 11 Apr 2011 22:17
From Highborne Cay, Exumas to Nassau, New Providence Island, Bahamas
Last night just as we settled there was an enormous splash right next to us, a swoosh of water, then silence, no idea what it was - but big. It seemed no sooner than Baby Beez had settled, she had to be soothed once more after her traumatic week. Up this morning and underway at seven, half an hour later, the most notable thing - green water. After so long admiring every shade of blue from off white to deep navy, here we were with four metres below us, the occasion coral bed that was easy to see, but all in deep green. Weird. Eleven o'clock and Nassau was in sight.
The big city vista (complete with cruise ships) looked quite strange compared to the last few weeks - after so many flat, often uninhabited islands and cays. We now think entering Long Island Sound will be an incredible experience by comparison. As we approached Nassau we had to radio Harbour Control and they asked for boat registration number and phonetic spelling of vessel name. So pleased we only have four letters and eight words to remember, can you imaging one of the girls we met, her call would go like this; "Charlie, Hotel, Alpha, November, Golf, Echo, Sierra, space Indigo, November, space Lima, Alpha, Tango, Indigo, Tango, Uniform, Delta, Echo".
A similar length would be Serenity Cottage or Inspirational Lady, if I was Harbourmaster, half way I'd go for a cup of tea.
We went from speed queen to tourist ferry
On our left and
to on our right, which quickly changed to.......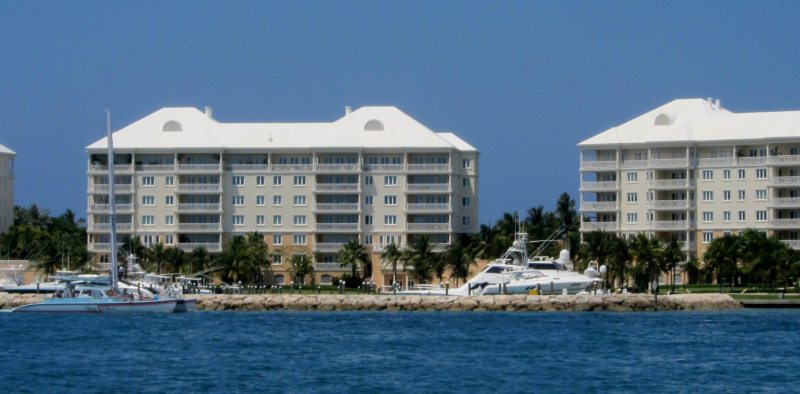 Looking over to Paradise Island, connected to Nassau by two one-way bridges
The books warn of street crime and boat robberies - so we went into Yacht Haven Marina, the closest to town, had lunch and went to explore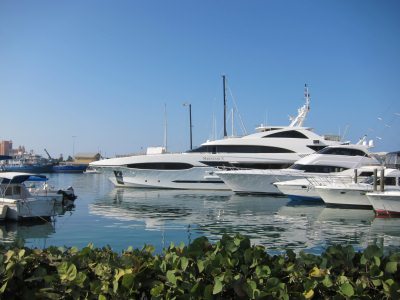 The twin faces of most big city marinas
The usual suspects plus thousands of Long Spined Urchins, Bear informs me after looking through the new reef book that their numbers dropped by 90%, they were nearly wiped out by an infection that began in Panama and spread, but they are making a comeback. Comeback, they look alright to me.
The two bridges connecting Paradise Island, playground to the wealthy
We stopped to watch the MailBoat pass
We had to admit the Atlantis Hotel does look impressive
It took us about three quarters of an hour to walk into town, there was a mix of colonial, modern, derelict, carefully owned and at the end of our walk the usual cruise ship dock. Nassau having an International airport is the start and finish point of most cruises. We saw many pale skins and those who had been here all day - that lovely shade of lobster. To save our tootsies we got a taxi back and headed to the Poop Deck Bar for sundowners. Sat in the corner we had a constant stream of people welcoming us, stopping by for a chat and generally passing the time. The crew from the boat parked next to us - In Concert - gave us lots of tips about the ICW and their home port/town. An Irishman who was thrilled the Queen was finally visiting Southern Ireland but was so tipsy we heard it many times.
The classic goes to our fellow corner dweller..... Soundo. Time to stand in the first shower ashore since St Lucia for me and St Kitts for Bear (he had warned off with stories of mosquito, so I stayed aboard) and as Bear wants to hire a car tomorrow, bedtime. Amazing changes in one day in just thirty five miles.
ALL IN ALL A SHOCK AFTER THE EXUMAS, SO MANY PEOPLE AND TRAFFIC, SIRENS..... WHAT ARE THEY?
VERY DIFFERENT, GOOD TO ACHIEVE
---