Sacsayhuaman 2

Beez Neez now Chy Whella
Big Bear and Pepe Millard
Fri 10 Sep 2010 22:45
Sacsayhuaman - Up the Hill
As we went up the hill we passed individual houses with traditional animals decorating the walls. They MUST only be single story, the equivalent of planning permission.
The team onward and upward
We got back on the coach and went further up the hill. What was not clear initially was we were actually on the same site as down the road - the enormous gap was produced by the Spanish taking many of the stones to build the Cathedral. We got off and walked up a path for ten minutes or so.
We came to what Fernando called Mother Earth's Seminal Fluid. He told us that this water was considered to be the fountain of youth and it had miraculous qualities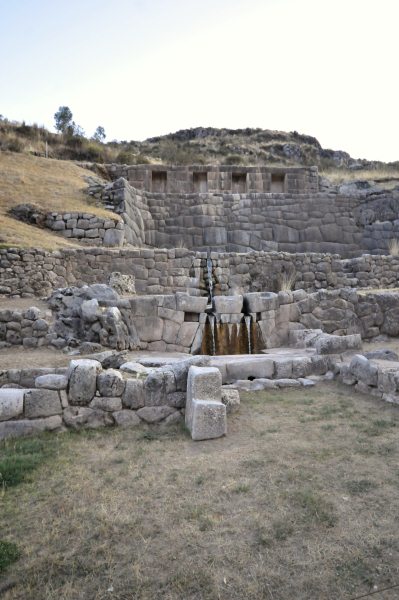 A little farther on was another fountain - never dries up, again magical
This made quite a picture
Just to the right is the very start of the Inca Trail to Machu Picchu - Anne being our able model
Back at the bottom we had time to be offered every tourist trinket, jumper and blanket
ALL IN ALL GREAT TO SEE THE START OF THE INCA TRAIL
FASCINATING THAT NO-ONE SEEMS TO KNOW WHERE THE WATER COMES FROM
---