Summit Garden

Beez Neez
Skipper and First Mate Millard (Big Bear and Pepe)
Sat 3 Oct 2015 22:47
The Summit Tropical Garden, Efate Island, Vanuatu
The Story taken from the gardens newsletter: Jim and Lesley Batty had been fortunate to visit Bali, Java and Malaysia several times whilst living in Darwin, and developed a love of the best tropical gardens. The spectacular views from The Summit presented the opportunity to build a large-scale garden. In 2000, Mr Adam Ehlmann, an American tropical landscape architect who was residing in Port Vila at the time, developed a plan to upgrade the existing gardens which were fortunate to have "good bones" of huge rainforest trees, tropical shrubs and grassed areas. He produced a series of plans based on the "Balinese" style of garden that was very popular in those days and spent fifteen months supervising the construction of the Terrace Gardens and several other areas. Adam departed Vanuatu in 2002 but left behind him a number of sketches for future development in the garden. These plans, and much more, were implemented with Lesley taking the reins and directing an all Ni-Vanuatu workforce of gardeners and craftsmen to bring it to its present state.
What started off as a hobby became a driving ambition to create something beautiful that would showcase the beauty of Vanuatu and its people. It seemed a logical next step to share the Summit property with interested visitors and the gardens were opened to the public on the 1st of November 2011. The Summit gardens have been developed to provide maximum pleasure to the visitor. The eleven named gardens are spread over six hectares, are all distinctly different, unfolding as a series of surprises as you follow the meandering pathways. With thousands of different species originating from all over the world, The Summit gardens remain colourful all year round.
We began with the view and followed the pathways. We saw dove-tail lilies – originally from Southern Mexico to South America, butterfly bushes from Africa, Kenya and Uganda, black bat flowers from Southeast Asia, Tahitian and beehive ginger from Malaysia, turmeric from India, allamanda from tropical America, desert roses from Africa, Mexican hats from Madagascar and the tillandsia creation from the Netherlands to name a few.
We bimbled all over the garden and marvelled at the amount of work that has clearly been put in since Cyclone Pam devastated the area just six months ago. We would have been more than happy to pay an admission fee but the owners feel that charging is not appropriate as small areas of the garden are 'under construction', so in support we had lunch in the restaurant that only opened yesterday - in what used to be the owners private residence , now swopped with what was the restaurant.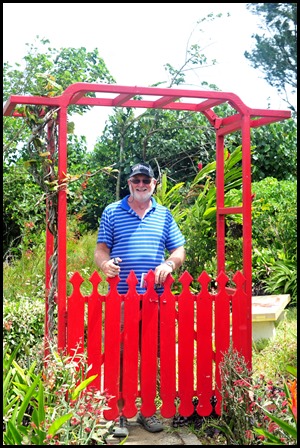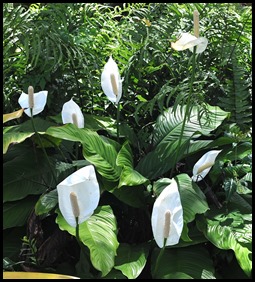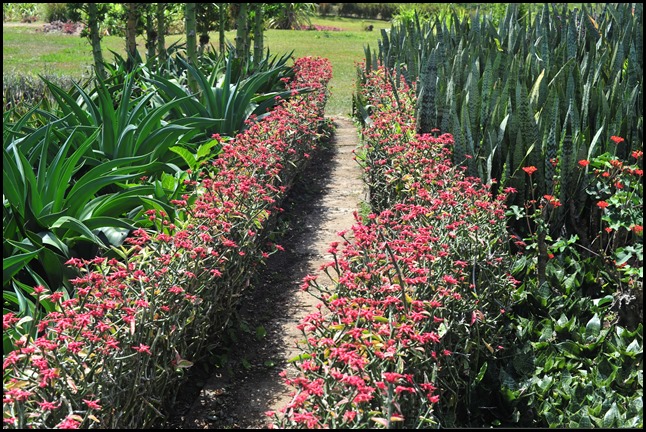 Quite a road – Devil's Point – on the way down, don't fancy the escape lane much........
ALL IN ALL A LOVELY GARDEN
BEAUTIFULLY LAID OUT AND TENDED
---