Villa Week 14

Beez Neez now Chy Whella
Big Bear and Pepe Millard
Sat 27 Jun 2020 23:57
Week Fourteen at Sleeping Indian
Sunday the 21st of June. Happy Father's Day Bear. I really enjoyed my Aunt Ett's and Bear's egg events were noteworthy. This lovely dad answered his FB wishes and then re-fitted the newly polished patio lights. I snuck a backgammon win (haven't played for days) and lost soundly at Mex Train (our first game for a week). We then had quite a surprise......
.......Black headed gulls got down to business and the comical bit was the adjudicator sitting on the pole ready to mark the performance for artistic quality and satisfaction. Very overcast with the threat of rain so I had a cooking frenzy – nothing worse than being shattered after a long day in the saddle cantering around on a paintbrush then having to think of what to cook for a change and then cooking it for Bear. I knocked up four carbonaras, four spag bols, prepped Sunday veg and chicken masala to cook later. Next job was to set about the first coat on each side of the dock in slate grey. Using the boys work pontoon was a bit tricky so Bear became my land-based skipper and moved me along. Just as I was finishing a couple of beams under the lip of the tiled patio – Oh No - I knocked my trusty little roller into the water. Very sad as we have seen miles and miles together.
Couple of drinks on the balcony and then I did Bear roast pork dinner and I settled to corned beef salad after cooking up the four chicken masalas. For this meal we had a lovely sentinel. Wash up, showers and then settled to enjoy another Designated Survivor. Love the progress of the character played by Keifer.
Monday the 22nd. Full moon at dawn, the wind is up and there is a haze over North Finger, apparently it is Sahara Dust. Bobby arrived and got on with some top coats, Mr.Brush stayed for a little while but went to his workshop to finish off the kitchen cupboard doors. I cycled to the chandlery to replace my little roller and bought two more sponge pads for it. Stopped off to say 'hello' to Lady Ronnie and get my breath back – Bear had sent my off wearing a facemask but Lord Ron said as I exercising I need not wear it.......thank heavens, the relief taking it off was immeasurable. Once back, roller set up, I headed back to the floating pontoon for the second coat on the dock edge. Bear cut replacement pieces of wood for five iffy slats but mid-way through the job he helped me steer the pontoon as the wind was too much for me by myself. Time for a coffee, lunch and a sneaky win at backgammon. Huh, you took me for a wad of dollars. No, not that many..... Bird and the boys video called and it was wonderful to see them. I was trashed for the fourth game in a row at Mex Train, call it payback. Growling......
Tuesday the 23rd. I finished the top spray coat on the coffee tables for the lounge. Bear replaced the five boards on the dock and filled the screw holes. I got a great view. Painters didn't show up so we messaged Sharmone who said we could use her car. Off we went to the airport to pick up the poorly alternator that has been on its 'olidays to the States and returned here. Bear spent an hour and came away empty handed as Fedex has to do something to the paperwork......... Next we went to pick up the glass for the bedroom units and dining table. They tried to hand over sharp-edged glass....... "Come back tomorrow it will be polished." No word of apology.......As we settled back in the car Kate video called to say Virgin are not flying to Antigua until October meaning Team Tinson cannot come in August for their planned time with us...... Can the day get any worse...... Went to the paint shop, chap sitting waiting for the mixer who "was upstairs." After waiting fifteen minutes I went in search of a lady who went to fetch him. Computer not playing to mix two tins of grey for dock and drive. Another thirty minutes and we had to race back to Sharmone. Luckily, she had a client in her treatment room and fitted me in for a hair cut whilst Bear went to unload the car. Only good thing was picking up lots of parcels from the shipping / flying agent.
Wednesday the 24th. Cutie (Benji) appeared in the now 'healthy' truck with the rest of our kitchen and bedroom drawers. The worst paint / spray job I have ever seen. I drew lots and lots of pink highlighter around nicks, runs, missing bits and only primed stuff. Not one bit pleased I took it out on first coating the top of the dock at high speed, brush and roller sparking. Bear filled the cracks in the car port posts, both of us truly fed up. I guess in hindsight when we saw the standard of the terrible door jobs we should have cancelled and done the kitchen ourselves. Mmmm. Now typing this a few days later there was a comical (unfunny ) side in that we found an onion skin, a chicken feather, a thumb print and some over-painted sand, therefore zero out of ten for prep work methinks...... Mr. Brush appeared for a few minutes, filled some dinks and promised faithfully to make all good on Monday with his spray gun. Fingers crossed.
Thursday the 25th. Dawn over the Fairway, another windy day that remained largely overcast.
Bear set about sanding the car port posts and I put the first coat on the top of the dock. After a coffee break Bear helped me pot two of the Mickey Ears into 'forever homes', each has two bulbs (no idea what they are or will become) and a few blue pansy seeds. They will stay on the kitchen floor until I know they are happy.
Friday the 26th. We both set the bar pretty low for today in terms of jobs and achievement. Bear drilled me three tiny holes in a old, plastic ramekin and helped me add wire to hang under the bananaquit nest, also known as the sugar bird they love and soon were enjoying brown sugar.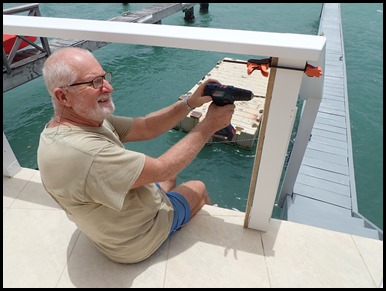 I finished the prep in the downstairs toilet (for tiling) and Bear made a guide for drilling the holes in the posts for the Australian wires. I settled to the third coat on dock as Bear drilled the deck posts. By eleven, holes drilled, little black grommits added to the holes – all ready for the wires.
Lunch and showers ready for Family Quiz, brilliant fun.
Saturday the 27th. We actually lazed around and chatted until nine then spent an hour getting the paperwork together for our Visa extension meeting on Wednesday. All done save for a letter to be written to the Chief of Immigration. Going downstairs I was filled with a huge amount of gloom. A tough week and this is the lounge to the left and right. Not what I had expected to see on the eve of my sixtieth birthday, so pleased we have not invited anyone for snacks or supper..... however, Bear was to cheer me up enormously........
......he began to wire. I thought it would it would takes hours and hours but by lunchtime two were in place and Bear had also nipped to the supermarket for steaks for my birthday. I would do your special 60th supper, but don't want to mess the meat up but I can cut the salad and boil the new potatoes, oooo and chill your favourite rose wine. Sounds like a perfect deal. I decided to put two coats of emulsion on the patio walls. They looked OK but not as bright and clean-looking as I had wished. So grey of the dock to white, made a 'nice' change and a different colour to somehow spatter all over me...... A mosquito decided to take a chunk out of my shin, I smacked it with my brush and yes, more body painting. Next stroke of the brush I had to pick the remains of the dead beastie off the wall and go over the now-mixed-in blood.
By four thirty Gerry was back in his rightful place, soon followed by Jerome and the dangly fish friends.
We swept and washed the deck, then set about polishing the glass on the patio table, just about to lift it back in place and 'slodge' - the calling card of a black headed gull – we'll take it as a good omen.......
Our view. By five thirty I felt so much better and we had a bit more complete, still a long way to go though.
ALL IN ALL WHAT A WEEK
JUST STARTING TO GET TO THE BEND
---