Arrival & Settlers

Beez Neez now Chy Whella
Big Bear and Pepe Millard
Sat 12 Aug 2017 22:57
Newquay Arrival but Settlers Take the Headlines
All packed and ready by nine, I took the opportunity to do a load of printing for the family tree I'm putting together for Steve (Rachel's dad). We set off from Eva at one. She is going to bed for two and a bit weeks as we head for Newquay to spend a week with three quarters of the family. Then a week in London with Harley followed by a few nights in Buith, Wales to see Uncle Les, Aunty Pat and cousin Vicky.
Traffic wasn't too bad and we were soon bimbling around Asda in Bodmin gathering a few basics for the week ahead. Arriving dead on four to check in, collect keys and find number 8, Greenacres. Adam and Jen will check in to number 1 this evening, Miff and Rachel are setting up on the touring bit and Joe and Vicks arrive Monday somewhere beyond Miff. Kate came bounding toward us as we were just about to move the car. Shopping loaded in our static, Mark and the boys appeared. Beds soon settled in his new 'digs' and a serious catch up began.
Bear and Mark test drive the lounge along with a couple of sherbets.
Jack and Seth play outside in the sun, Arriving early to avoid the worst of the motorway traffic, the boys had tested and enjoyed the swimming pool.
We headed out to see Miff, Rachel and the boys. Jack and Seth were kindly invited to eat lasagne and garlic bread – I ducked away from that aroma. By the time we arrived back at Greenacres Adam, Jen, Faye and William had arrived. Now, during the week Alex said he would visit, I asked Jen if it was OK for him to bed down on their sofa bed..... "No problem" said she "and can you ask him to bring Settlers with him".........Me being me and as I was in Asda I indeed picked up a box of Setlers........Old fashioned I thought but each to his own...... No sooner than I had kissed everyone than I dutifully crossed the short space to number 8 and returned to number 1 with the box of WIND SETLERS...... Oh, the laughter.......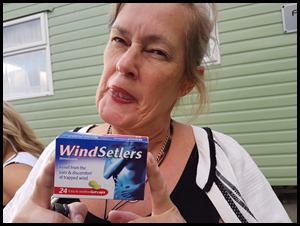 This is the Settlers they were referring to.........not.........
..................Wind Setlers. Mmmmm, a forever memory.
ALL IN ALL FAMILY FUN WITH A BIT OF CHAOS
GOING TO HAVE YOUNG FUN
---