Fiasco Day

Beez Neez now Chy Whella
Big Bear and Pepe Millard
Fri 20 Sep 2013 22:57
The Day of Rest That Turned into a Real Fiasco
Today began as planned. Bear was going to do a bit of soldering, I was going to edit some pictures and write a blog.
Bears favourite shot glass was on the draining board from having had a mango rum last night. Yes, it really does lean over like that.
We had been warned that the anchorage can be very rolly, especially when ferries come by, fisherman roar past thinking it funny to rock a yacht and at tide changes. One such roll and I rushed to save Bears little glass as I heard it clonking. Bad move, whilst I was gone -for all of two minutes - my litre of juice had fallen off the shelf in the bedroom and soaked the bed. Bloody marvelous.
Now my glass has a very poorly lid, badly needing to be replaced, but it held fast. The juice escaped from the breath hole and straw.
Somehow my packet of licorice allsorts got partially drowned and ended in a sticky mess.
So, bed stripped and bedding in to soak, that eliminated the decision as to when to wash the bedding next. The newly scrubbed cockpit covered in smuts from the hill fire, nothing for it but a game of backgammon. I got back from four zero to four all. Down to the wire. I had a man on four and a man on two. Not a massive throw needed to win. What did I throw – a four and a one, Bear threw a double five to beat me with a sinewy smile. I'll just open the wine methinks. Incandescent........................
In the supermarket yesterday we bought each other a bottle of wine, over a year since that has happened. Food wise, a bag of cooked prawns the size of small fists at a cost of a fiver. Cocktail sauce, salad and a dollop of mash, please. Planned party back on track. Sun should have come out and we should have spent the afternoon by the pool. No sun, in fact it poured down. No bad thing as Bora Bora has seen no rain in two months and the hill that was burnt can now be considered fully doused.
A real rarity, the boat in the background has a Brazilian flag.
Watching the world go by on a dull day. Upword then.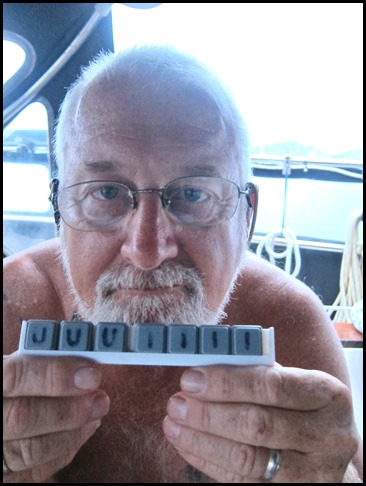 Revenge is sweet and payback is .................. I trounced Bear.
ALL IN ALL WHAT A DAY
GREAT PARTY, EVERYTHING ELSE A CHALLENGE
---