Mekong Fruit Stop

Beez Neez
Skipper and First Mate Millard (Big Bear and Pepe)
Wed 27 Dec 2017 23:17
Mekong Fruit Stop with Singing and Honey
We leave out tour boat and climb down into the paddle power of a husband and wife team. We turn left off the main river and head up a skinny tributary.
Until yesterday the river was up two metres as a result of the latest typhoon, the riverbank was messy in part. Our twenty minute ride saw pouring rain (useful when your anorak is on the coach.....) and a traffic jam at one of the stopping places.
Riverside dwellings along the way.
A big girl who had taken shelter from the storm. A footbridge, we thought, rather fancy.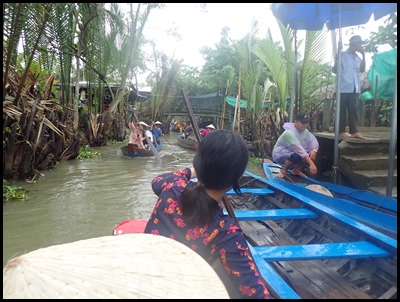 We enjoy the ride and stop with clambering to get ashore.
Jackfruits and many other fruit bearers as we walk through this large plantation, strange to see a few flowers and a pretty hibiscus out of place amongst the huge durians and bananas. We arrive at a market for tourists and are seated to sample "tropical fruits with some singing".
Fruits, not unusual to us but delicious none the same. The singing was pleasant but a bit warbly. The final lady was extremely passionate but could have been singing about her shopping list for all we understood.
Lovely colours as we pass a market stall en route to our tasting.
We sit, a lady puts some honey in a cup, some pollen, hot water and a squeeze of lime juice. Very tasty, our server lost interest when she knew we didn't want to purchase five jars of royal jelly with one free. We tried to placate her by buying a bag of honeyed-dried bananas and some nut brittle. Off once again by bigger tour boat passing diddy bee hives.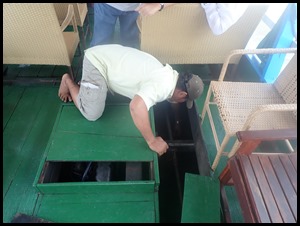 No sooner than we had got going than the water pumped failed. Our skipper let us wallow as he took floorboards up, a scratch of the head, a quick turn with a screwdriver and a trusty clonk with a hammer and brown water began spurting out. Off we went once more.
Header tank settled. Boom box blaring and a very happy Bear enjoying himself immensely.
Crossing the Mekong River.
ALL IN ALL A JOLLY STOP
AMAZINGLY TIDY CONSIDERING THE WATER LEVELS OF YESTERDAY
---