To Amelia River

Beez Neez
Skipper and First Mate Millard (Big Bear and Pepe)
Tue 31 Jan 2012 23:57
08:15. Up went the anchor at lowish tide and I continued my gunkholing experience with everything from 0.2 to 12.9 metres below me. I was a little disappointed when this lady stalled mid air, braced her shoulders and really looked about to dive, just as suddenly changing her mind and flying off.

Soon we were out into the sound and watched as the crabbers and their companions got about their days work
Passing the bridge I was sad to see no car carriers coming at me as on our journey north, but on closer inspection saw a couple of chums parked, so made do with that
"Do you want me this way, or that way."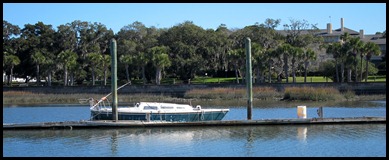 Off duty I go down to prepare beef stew, Bear takes over and the photos take on a different mood. I do remember the now sad looking Smilys Girls (at the bottom) on the journey north but she certainly looked in better shape then.
All well at King's Sound. Only change was HOS Black Powder had swapped places with HOS Westwind. A couple of working ladies were busy parking a sub.
The two pictures above were it as far as the King's Sound went, as this time there was loads of security (sub just come in) with a couple of patrol boats, blue lights flashing and lurking close by, so the said two pictures I snuck by standing downstairs and snapping through the lounge window – hence not great pics. Since then we had an email so I have put in the picture above taken of the two HOS girls on our journey north (on the 3rd of May – to Wallys Leg) as a recap. The brief info I wrote the last time was - Motor Vessel HOS Westwind is one of the eight Submarine and Special Warfare Support Vessels that are part of the 26 ships in Military Sealift Command's Special Mission Ships Program (that's quite a title). She has a civilian crew of 11 and is chartered. Her vital statistics are - length 250 feet, beam 54 feet, draft 14.7 feet, displacement 2,850 tons and her usual speed is 10 knots.
"You sure brought back memory's, the HOS Black Powder was the boat that I was going to be the captain of when I came back from Brazil, but I retired instead. There was something else, their job is to run interference in case of an attack on the sub, another word is you get blown up first."
Thanks Mike, we're delighted you retired instead. See y'all down the road. Fat hugs from both of us. xx xx
Bear's Fort Clinch pictures, he's very proud of his cannon shot. I'm just very shocked he didn't anchor and insist on a quick bimble. He says his trigger finger was somewhat satisfied on his shutter button and he is confident in my promise to satiate his needs in St Augustine.
Fort Clinch is a 19th century brick fortress begun in 1847 after the end of the Second Seminole War. It was named in honour of General Duncan Lamont Clinch, important figure in the First and Second Seminole Wars. The only battle to occur at Clinch was when Union troops recaptured the fort in 1862 after Confederate forces seized control the previous year. Fort Clinch served as the base of Union operations in the area throughout the Civil War. In 1935, the State of Florida bought 256 acres that included the then-abandoned fort and the surrounding area. Fort Clinch State Park including the fort, opened to the public in 1938.
Passing Fernandina Beach, Bear thought these were handsome chaps and can you see the man up the 'cherry picker', enormously high up the tower
As we settled for the night in a side turning off the Amelia River a local lad came to check us out
ALL IN ALL A MIXED OLD DAY
.
---