Nat Arboretum 1

Beez Neez now Chy Whella
Big Bear and Pepe Millard
Fri 21 Apr 2017 22:37
We packed the car, ate breakfast and set off from our B+B in Lichfield, just five miles away is the National Arboretum – a not to be missed memorial. Soon parked, we spent some time bimbling about the beautiful Visitor Centre.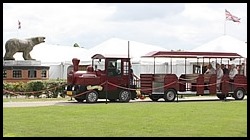 We took the little train around the park to see as many memorials as possible. That done we walked to the Armed Forces Memorial to pay our respects to Smudge (Joe's friend who lost his life in Afghanistan. Joe served two six month tours, we are eternally thankful he came home, so many, like Smudge did not) and then we went to pay our respects at the Bastion Memorial (own blog).
The National Memorial Arboretum includes 150 acres of trees and memorials devoted to the concept of Remembrance. 50,000 trees have been planted and as each tree matures it will provide a variety of woodland areas and open grass spaces.
The aim of this living memorial is to offer families and friends of those who have made the ultimate sacrifice for their country a green and pleasant land to remember their loved ones.
The National Memorial Arboretum was created in 1997 in the centre of England at Alrewas near Lichfield in Staffordshire. It is a living tribute to the personal sacrifices made by the armed and civil services of the United Kingdom.
The rivers Tame and Trent flow through the site and there is an abundance of birdlife and wildlife to be seen, especially in the meadows and on the rivers.
The Polar Bear Association Memorial was the first monument and sculpture to be erected at the National Memorial Arboretum. It is a tribute to the 49th Infantry West Riding Division and was dedicated on 7th of June 1998. In the Second World War they were stationed in Iceland and because they were snowed in under 20 feet (6.1 m) of snow for most of the campaign, their commanding officer called the men 'his Polar Bears' and the polar bear on a block of ice was soon adopted as their mascot and shoulder flash. Made from yellow hardwood, the bear is 9 feet long (2.7 m) and 5 feet high (1.5 m) and weighs 2.5 tonnes; he was created by the Essex Woodcarvers and took six men a year to carve. Inside the bear is a capsule containing the names of the members of the 49th Division who died, together with relevant letters and documents. Now for some of the memorials we saw in two blogs.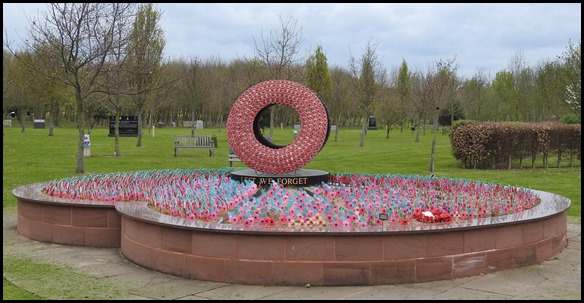 Continued............
---