Sunday Best

Beez Neez now Chy Whella
Big Bear and Pepe Millard
Sun 28 Jun 2015 22:57
Sunday Best on Kioa Island
Sunday Best – Chris, Steve, Me and Bear
All ashore for ten o'clock Mass, the first time in my life I have been segregated, ladies on the right, men on the left. Despite everyone speaking perfect English, the service was in Tuvaluan but the minister did 'welcome' us in English and we did pick up a few words here and there. The singing brought goose bumps and after the adults left the church the little ones began their choir practise. We spoke to an elderly lady who would gather a craft sitting tomorrow morning at ten o'clock.That organised, we went for a walk along the beach.
A kitchen set at a jaunty angle and a carefully owned home.
We followed a chap pushing a wheelbarrow and he told us about his pigs. This is where families build their pens and the tide washes the waste away. If the tide is in they have to come and feed them by boat. We may consider the pens a little too rustic but these are clearly not pets, we watched them eat for a while. We may think trapping turtles is terrible but meat is meat and nothing is wasted.........
Harsh but true. Life for pigs on a Pacific Island.
Beez Neez sitting quietly.
A pose from Big Bear.
A chap happy to pose and one who thought he was well and truly hidden.
Brittle stars at the edge of low tide were busy fishing.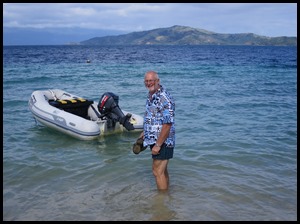 Time for Bear to take his skirt off and tether Baby Beez.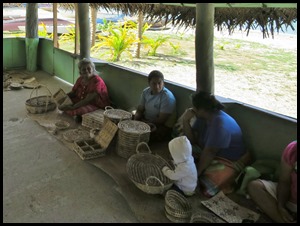 Monday. No sooner than we were ashore the ladies gathered and laid out their stalls in front of them in the Meeting Room. Very brisk business was done, we didn't barter a jot as the prices were amazingly low. Maj and I bought something from each of the ladies and we had lots of fun. These lovely people had asked nothing of us, no fees, no mooring charges and this was our way of helping the village as a whole.
We spent about fifty pounds on this lot and now have bags and bits for all the girls.
We settled our purchases into quarantine in the cockpit, lifted the anchor and settled back in Buca Bay. Tuesday. Bear gave Steve a lift to the wharf. There a very smart taxi took him on the long journey via Savusavu, to the dentist in Labasa. Return trip, lunch, a filling with a very nice dentist, all for less than a filling in the UK. This made an excellent day for chores and housework. At brunchtime Bear radioed Maj to join us for boiled eggs, sadly, no events and we all enjoyed the afternoon sun before returning to our jobs. Washing dried beautifully and later Bear delivered Steve home safely. Tomorrow off to Katherine Bay.
A happy Sunday best to end.......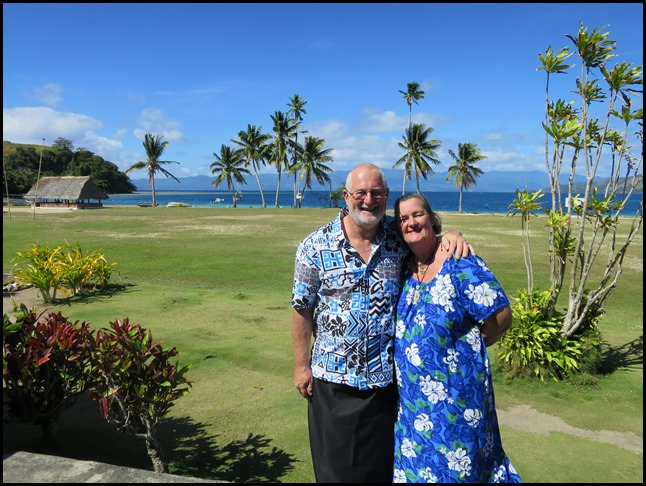 ALL IN ALL A LOVELY PLACE, SADLY TIME TO MOVE
VERY SPECIAL PEOPLE
---