To Nuwara Eliya

Beez Neez now Chy Whella
Big Bear and Pepe Millard
Mon 18 Mar 2019 23:47
To Nuwara Eliya
We bimbled from our digs to the train station, had to stop for these lovelies..........
.............. and ten minutes later stood waiting for the 9:23 to Nuwara Eliya. Our train coming in.
The painted sign told us we had a 64 kilometre journey with an average speed of twenty five mph.
We pulled away on the dot of 9:23, passed Ella valley and on to vegetable plots.
The prettiest cabbage patch we have ever seen complete with lily pond.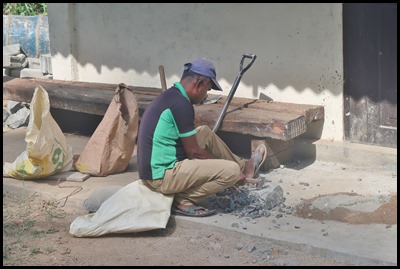 At our first stop we watched as a pile of rocks were hand-smashed by a patient man into the gravel you see around sleepers.
Several miles of small allotments and fields of vegetables.
Approaching Bandarawela.
A parked travelling van, a resting girl and the station name in flowers.
We rose in altitude and passed many villages and small towns.
Terraces and mountain backdrops.
Great to watch the train as we went over bridges and round sweeping bends.
Slowly the steeper valleys gave way to terraces............
.........and we saw more tea bushes.
Even higher.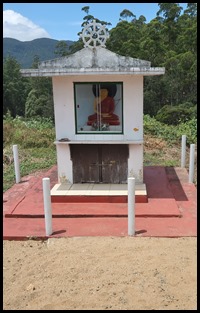 We stopped at our highest station – Pattipota.
Neat vegetable drills and terraces.
Then nothing but tea bushes, these being tended to by ladies.
Neat rows from years of tending........
We began our journey at Ella station at a height of 1041.46 metres. Highest point called Summit Level was at 1898.10 metres. Pattipota Station was the highest at 1897.56 metres and arriving at Nanu Oya (Nuwara Eliya) station which is at 1613.1 metres.
ALL IN ALL VERDANT, LUSH. GREEN AND PRETTY
BEAUTIFUL SCENERY FROM AN AMAZING HEIGHT
---