Busy Week in Jolly

Beez Neez now Chy Whella
Big Bear and Pepe Millard
Sat 9 Jun 2018 22:57
A Very Busy Week in Jolly Harbour
Sunday passed in a blur of jet-lag, our bodies are still twelve hours in front. I was wide awake at 2 am but it was a useful time to prepare spreadsheets, notes and sort through the Chinese photograph folders for blog pictures. 5am and 6am I was treated to the first chinks of light and early daylight over the Sleeping Indian.
We so hope that one day this will be us passing by but hope our ensign looks a little less scruffy....
Monday.
Awake at 2 am. It has long been our dream of buying a villa here on South Finger to spend three months of the year settled, four months in the UK based on Eva and the rest of the year spuddling up and down the Caribbean on Beez Neez. What a dream. We had anticipated buying in 2020 or 2021 but our dear friends Roger and Margaret (met in Trinidad in 2010) are selling now and as we speak their yacht
Golden Fleece
is aboard a ship heading for British shores. We knew this villa, having looked at it 'for sale' in 2009 and always said it was "the one for us" but knew we may have to see how Lady Luck played availability. So here we are via Malaysia en route for our family visit in the UK. Much to be done. Today, the smashing Joyce who keeps the place spick and span came to see us, happily she will stay on for us. That's a great start. We had a meeting with Cathleen (wonderful MD of TT Antigua) and thankfully she will keep us on as Rental Manager meaning a natural flow for the diary.
Tuesday. Awake at 2 am, laid still until three but no good, blogs to write. This morning Bear measured the dock and pottered about.
We bimbled back to see Cathleen with a few questions and she took us next door to meet the very efficient and nice Ronda, we sat with her and she kindly took us through all things insurance. We booked an appointment for next Monday to open an account in CUB, the bank and bimbled over to West Marine. The last time we were here it was much further toward North Finger, this shop, over two floors was bright and well-stocked. After a late lunch we finally made it to the beach for a swim and sat for an hour watching the deep blue of the sea. Heavenly.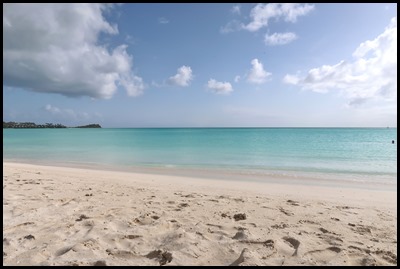 Lignum Vitae Bay looking left, the tiny dot is Bear and looking right.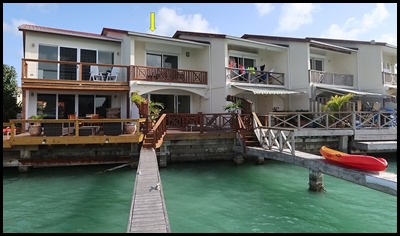 Wednesday. Awake at 3 am and blogging. Villa 234D from the front (left of the one with the golf cart) and looking from the end of the dock looking at the back. Where we are in Jolly Harbour (thank you Google Maps). At 10:30 we went to see our Solicitor Rika, immediately liked her very much, she has always been so prompt with email responses and making things easy for us. Fingers crossed Sleeping Indian will be ours on the 2nd of December 2018. We popped in to another insurer but unlike Ronda, nothing heard.......
Managed another hour-long visit to the beach after a late lunch. So love the colour of the sea.
Thursday. Awake at 3am and blogging. Spent the day buying a car, a gorgeous-looking Hyundai I40, thank you Adam for all your help. Sad when we have to sell in September but it's the only way.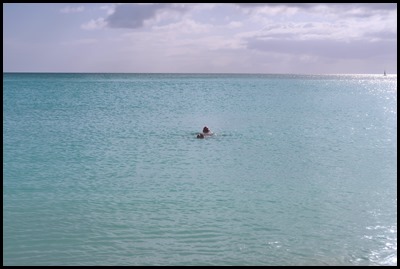 Snuck a late hour on the beach. Trade winds bring swift moving clouds. Bear loving the water.
Friday and Saturday. Yes, you guessed it, awake on the dot of three but Bear says that will be perfect for UK time. Spent time bimbling about. Made several spreadsheets and feel less overwhelmed by paperwork, jobs and tasks. Margaret and Roger have been wonderful answering questions and queries via email. Also, it's all beginning to feel real. Sleeping Indian, plans for the Indian Ocean and getting Beez here.
ALL IN ALL A PRODUCTIVE, HECTIC AND BUSY WEEK
BUSY BUT WARM AND SUNNY
---