Oldest Hotel

Beez Neez
Skipper and First Mate Millard (Big Bear and Pepe)
Tue 5 Aug 2008 22:30
The Hotel Hostal dos Reis Catolic, Santiago de Compostela
Is quoted as being "Probably the oldest hotel in the world" not so if you check The Guinness Book of Records. But it does have the oldest original doorway.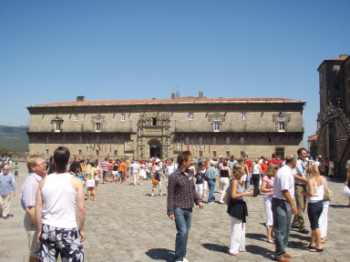 A photo of the whole hotel, Bear in front of the hotel which takes up one whole side of the square, the Cathedral is to the right. Me by the door.
The hotel was originally The Royal Hospital built in fourteen ninety nine, as a shelter for the pilgrims, perhaps with foot specialists??. It contains four cloisters of immense beauty.
Bear by the fabulous front door, definitely the most intricate in the world. Bear to the left of the terrace, I kept saying back a bit, back a bit, he held onto the chain as there was a thirty foot drop behind him down to the San Francisco Road. You can see (in the picture of me) where I got Bear to stand, at the furthest end over the man in the white shirt. Me with the terrace cafe to the left of my head. I had a quick look at the drinks list. I always use a bottle of Moet et Chandon as my marker. In Tesco thirty euros, in the Marina bar in Portosin twenty nine euros, not bad. This terrace cafe charged eighty eight euros ninety five. Ouch.
We didn't go into the hotel, so I took these photos from the hotel web page. The terrace cafe with Cathedral behind, a typical bedroom and the dining room.
The hotel has one hundred and five twin bedded, fourteen double, twelve single rooms and twelve suites. A standard double is two hundred and ten euros per night per room. A suite with living room is five hundred and twenty five euros. Lunch and dinner cost thirty three euros each, breakfast eighteen. So for the two of us DBB in a standard double would work out to three hundred and seventy eight euros per night plus drinks. When I was researching for Bear's fiftieth treat, I certainly didn't come across any search engines that led me to this hotel. Maybe they want to keep it a secret??? Or they don't have to widely advertise??
---