Coils and Umbrellas

Beez Neez
Skipper and First Mate Millard (Big Bear and Pepe)
Tue 5 Dec 2017 23:37
Kayan Ladies, Their Neck Coils and Shan Paper Umbrellas
I was so excited when our boat driver told us that our next stop would be to see the ladies who wear coils around their necks, in the village on stilts called Ywama. I was off our longboat and up the steps in a flash. What a warm welcome from the three Kayan ladies. We both remember watching the television as youngsters seeing these ladies on documentaries and had both been told that the coils "stretched their necks and if they ever took them off the ladies would die". Pleased to say neither fact is true, it's not even true that the coils stretch their necks, it's their clavicles that get pushed down a bit.
How thrilled I was to be chatting to members of a peoples I could only have hoped to meet, and tick a huge wish off my Bucket List. This young lady spoke very good English and told us that the older lady is her grandma, the lady weaving in the next room is grandma's sister and the other young lady is her cousin.
Although the brass neck coils were an important part of their identity, my new friend agreed the tradition of wearing coils is falling out of fashion but hopes one day to have a daughter who, at the age of nine will have fourteen rings - nineteen by her tenth birthday. Both young ladies were happy with their fourteen and had never had any wish for anymore (the cousin above has no wish for any daughters she may have to wear the coils). Kayan women also wear metal coils on their wrists, knees and ankles, (although these four ladies had beads around their ankles). Other traditions remain firm - the square-cut fringe, many threads and strings tied around their arms and legs which bring good luck and protect them from evil spirits.
Huge shock when I picked up a twenty four ring coil - six kilograms, leg ones are a kilo apiece.
The Kayan People are a small ethnic group originally from eastern Myanmar, (i
t is thought that there are 600 living in Thailand – fled due to conflict and persecution, 600 in Vietnam and in Myanmar 20,000 in Kayah State and 40,000 here in Shan State). Their groups are made up of Kayan Lahwi (also called Padaung), Kayan Ka Khaung (Gekho), Kayan Lahta and Kayan Ka Ngan. It is the Kayan Lahwi group who are associated with the brass rings. Thought to be a sign of beauty, as protection from tiger bites or to look more like the dragon.........the stories are endless.
The Kayan people live in remote areas in long, wooden houses, many of them still practise animism which involves spirit worship, totem poles and a big dose of superstition. The kitchen is the heart of the Kayan people's home, food is cooked over a fire in the centre of the room, meat and sweetcorn are smoked above. There is always a jug of homemade rice wine which is passed around the fire and sipped from a bamboo straw.
Grandma held a stunning pose for me, that was, until she found out that Bear was three years older than her, then she cracked up.
Grandma's sister was weaving but smiled happily.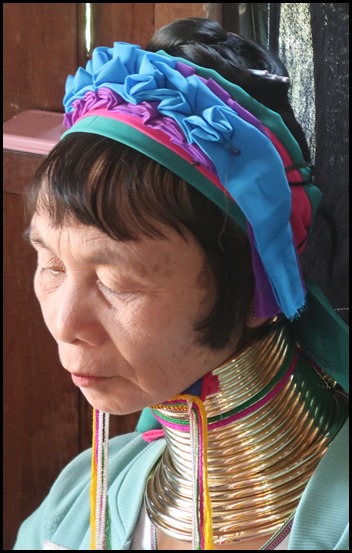 Up close, we could see the bottom piece of the neck set that unclips for work and sleep.
This sweet lady let me take lots of video clips and smiled often.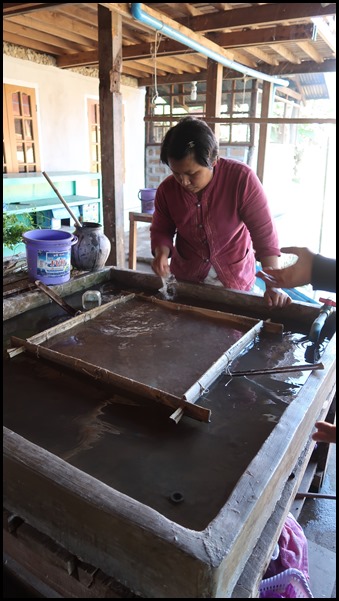 In the same building we were invited to watch Shan paper being made that would be turned in to traditional umbrellas. The pulp maker and the paper maker.
The mushy, wet stuff in the first bowl began life as mulberry tree fibre. After being hammered smooth it can be used in a fairly unique way.
The next lady lays bits of the smooth, paste-like substance in a submerged rack, swishing the water to get things level. She then added bougainvillea petals as decoration and then slowly lifted the rack.
The wet paper is quite stable and can stand to dry in the sun. The finished paper looked rather good once it has been peeled from the frame.
The lady inside was assembling an umbrella frame.
Racks of finished umbrellas. Sunshades and parasols until they are waterproofed. Here they also make lantern covers for ceremonies, notebooks, book covers and small bits and bobs.
The umbrellas looked lovely when seen in a group.
A giant umbrella really shows off the skill, each lady earns around one pound fifty a day.
I couldn't help but nip back for one final picture with grandma, who blew us a kiss as we sped off and waved.
ALL IN ALL ADORABLE LADIES AND PRETTY UMBRELLAS
THE LADIES WERE LOVELY AND FRIENDLY, UMBRELLA MAKING VERY SKILLED
---