The Collection

Beez Neez
Skipper and First Mate Millard (Big Bear and Pepe)
Sun 3 Aug 2014 22:47
Just Some of the Collection at E Hayes and Sons
A 1957 Ford Thunderbird 312 CI engine. The top unclamps to make a Roadster.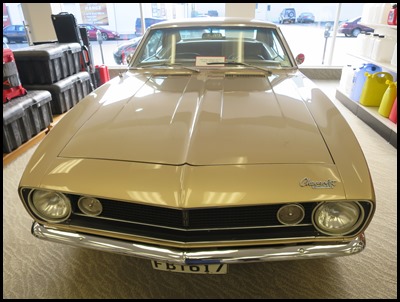 1967 Chevrolet Camaro, 39,440 miles from new.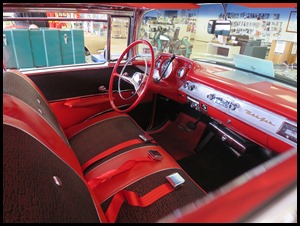 1957 Chevrolet Two Door Hardtop 293 CI engine, fitted with Continental spare wheel/ A $127.00 factory option and my favourite.
My favourite bike is the 1965 LVVTA Corvair, built in the USA, a one off special. This Chevrolet Corvair has 6 cylinders horizontally opposed engine with two speed automatic gearbox. Rebuilt in 1980 and fitted with disc brakes. The comment beside it is classic – Ideal for towing a caravan up Mount Everest.
A 1911 New Hudson 500cc. Side valve engine, belt drive, three speed Sturmey Archer gears in rear wheel. This thing is high geared, once in top gear it fires about once every second day. Behind a very special lady.
The 1954 Chevrolet car used in the 2005 film "The World's Fastest Indian".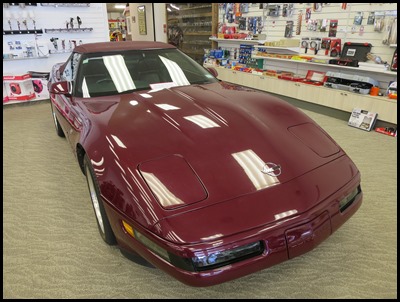 1993 40th Ruby Anniversary Chevrolet Corvette. One of four factory right hand drive cars built. 350 CI engine and Bear's favourite car.
His favourite bike was the Beez coloured 1972 production Norton Commando 750.
1954 German Victoria Bergmeister 350 V twin shaft drive, the gearbox consists of four sets of chains as opposed to gears. 1979 Crouch Special, built by David Crouch of Christchurch. A.J.S. frame, Austin Seven car engine, Triumph fuel tank and gearbox, Suzuki front end. The primary drive was cast and machined by Dave, the wooden patterns he made by hand.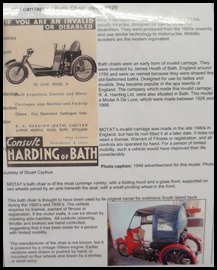 1920's Bath Chair.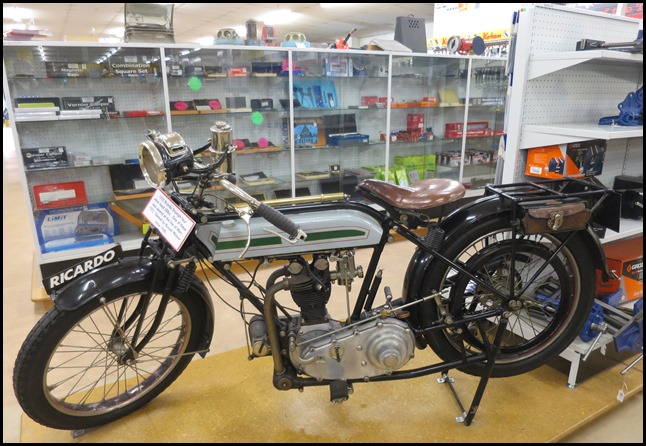 1922 Ricardo Triumph 500cc, four valve head. One of these bikes was second at the Isle of Man 1922. This bike has been owned by Russell McIvor since 1960.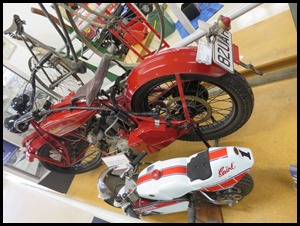 Just passing by.
It is not certain when the first wheelchair was invented or by whom, but the first known wheelchair on record was gifted to Philip II of Spain in 1595 and was called an invalid's chair. King Philip II's chair back was padded with horsehair for his added comfort and had movable arm and leg rests. The three-wheel chassis was a design seen in 1655 by Stephen Farfler, a paraplegic watchmaker, who built himself the first self-propelling 'rolling chair' by adding a lever to the front wheel so that he could crank it to move forward. It wasn't until 1933 when Harry Jennings invented a lightweight, collapsible steel wheelchair for his friend Herbert Everest that we get a glimpse at the wheelchairs we know today. The duo envisioned the new prototype's potential and so established Everest and Jennings International, the first mass-manufacturer of wheelchairs.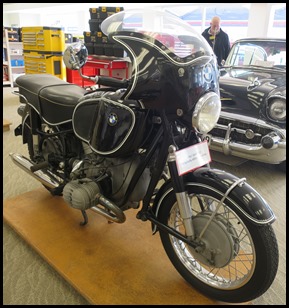 1951 Vincent Series C Rapide 1000cc vee twin. Original condition and unrestored. 1967 BMW R60 originally 600cc now 650cc.
1940 Imperial 58. Imperial typewriters originated in 1908 in England and were manufactured until personal computers became popular in the 1970's. The company was sold to Litton Industries in 1966 and the typewriters were no longer made in England by 1974.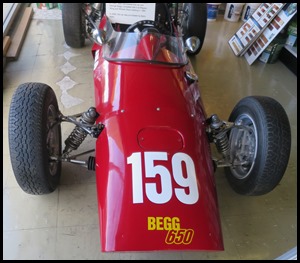 The Begg 650 was designed and constructed in 1963-1964 by George Begg. Multi tube space frame, front hubs and brakes from 1940 Morris series E. Rear hubs designed and built by George. Morris brakes were used. Engine early 1950's B.S.A. twin motor cycle engine and gear box. The car first competed in a Hill Climb in November 1964. The car went on to have some success, winning several events for New Zealand built specials. The car was sold to the McCully brothers in 1966. It then passed on to three more owners until in the late 1970's George purchased the car back minus the engine. Over several years George acquired and fitted a B.S.A. motor cycle engine the same as the original. The car was sold to Wyn Martin of Timaru in 1993. Wyn refurbished the car and George competed with it at Wigram Wing and Wheel Race in 1995. In 2005, the car was purchased by Barry Keen. How lovely to see it here today and know its colourful history.
1918 Indian Power Plus 1000cc 3 speed gearbox, early swing arm suspension and so much more to see.
ALL IN ALL SUCH A JOY TO BIMBLE ROUND
AMAZING, SO FAR FROM HOME AND IN CRACKING CONDITION
---