To Banda Neira

Beez Neez
Skipper and First Mate Millard (Big Bear and Pepe)
Tue 26 Jul 2016 22:57
To Banda Neira
Up this morning at daybreak for the 191 mile overnighter from Tual to Banda Neira.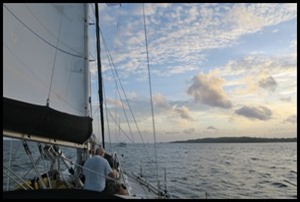 We set off at twenty past six just behind Afar VI, up came the sun and we had plenty to see on the AIS. We have never travelled in a fleet before and it's fun to see boats we have come to know all around us – expecting everyone to overtake as we settle to play games and have a tranquil journey on calm seas and good winds.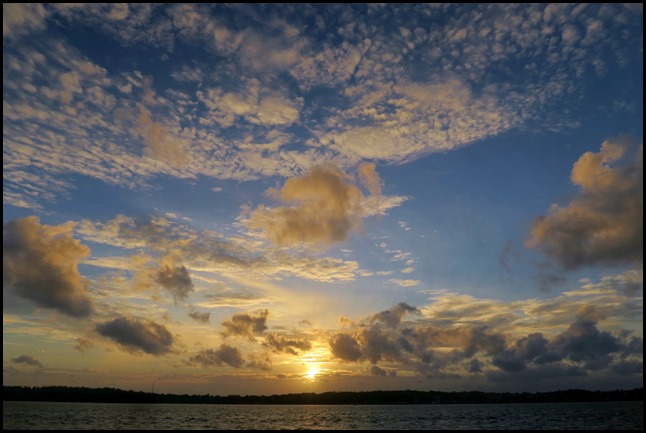 Very lovely sky.
All too much for the skipper as he took a trouncing on the backgammon field. Huh. Out between the islands in very deep water – makes such a nice change from constantly watching the depth. A local freighter passing by.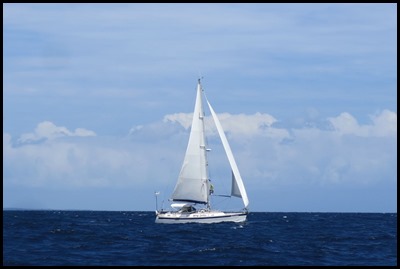 Antares as she overtakes and a full list on the AIS.
Overnight was easy, I listened to and thoroughly enjoyed Mr MacGregor by Alan Titchmarsh and Bear came on to read an Alex Cross novel. After breakfast we played until lunchtime. All packed away in time to approach the Banda Islands (famed for growing nutmeg and cloves).
These volcanic islands simply spring up from the sea floor, very deep water all the way to the craggy edges.

No sign of a beach as we near the first island with an impossibly long name.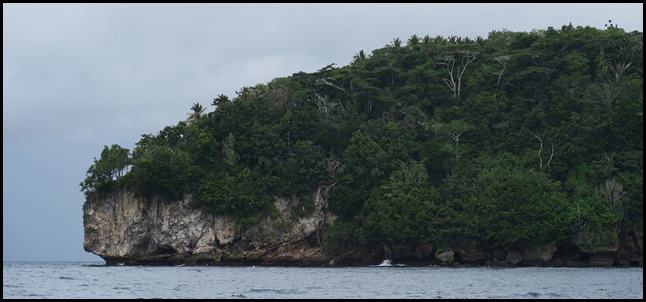 All we could see was steep rocky faces and trees.
The main town around the next bend but the water between here and there is reef strewn so we have to head in from the north.
The island on our right turned the wind off completely for several minutes.
A squid fisherman's set up.
Out at sea a chum ??? no a rock. The water too deep to register on our reader.
Local traffic scooted in front of Beez at quite a lick.
Our final bend just as the heavens opened.
We found a ledge close to the black volcanic sand beach to drop the anchor in seven metres and within seconds are back in thirty metres. A local lad enthusiastically waves and bails at the same time.
ALL IN ALL STRANGE TO TRAVEL IN A BIG GROUP – BUT A HAPPY CHANGE
A CRACKING SAIL IN COMPANY
---