Duncan's Birthday and Bingo

Beez Neez
Skipper and First Mate Millard (Big Bear and Pepe)
Mon 10 Oct 2011 22:34
Duncan's Birthday and Bingo in the Emergency Services Hall
We all got on boatyard bikes and headed out to eat to celebrate Duncan's birthday (Hunda). I stopped to take a couple of pictures of the trees in 'fall' colours, looked up the track to see Dorothy in the ditch. I peddled toward her and as she was giggling I assumed all was well. Apparently the back peddling to slow down is not for her, she also said that the three strong Bloody Marys may have a little to do with it.
We stopped at the first eaterie (closed). Once again Dorothy's method of stopping was to through herself into a bush, this time an injury........
Duncan showed us his beer can go faster rev handle and his new T-Shirt that arrived from his daughter and grandchildren.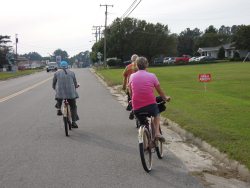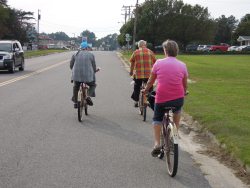 A total of one and three quarter miles of certain people not riding in a straight line we made it to the Galley
Duncan and his birthday card and showing us his rudder
We ate heartily, downed several 'sherbets' and wended our way to bingo, expecting it to be a small, amateur affair, we were all shocked at the professional set-up. The instruction sheet was too much for us so we settled next to some "ol' hands" who led us through, had it been line and house we could have managed but between books there were all kinds of different sheets AND each game was different. Not allowed to use pens or pencils we each bought a 'dobber' for a dollar. The ladies showed us their impressive 'dobber' bags and told us they come every week - driving some forty five miles each way for the pleasure. We each bought three books as the effect of the sherbets prevented us from trying more on our first visit. The lady next to me ran six books and slid her selotape machine out to steady the masses.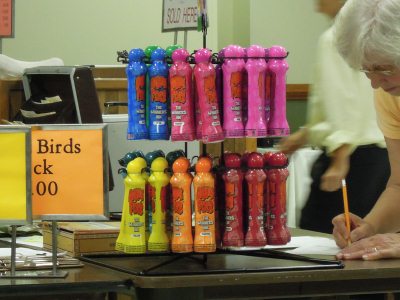 The selection of 'dobbers' to buy was very impressive. The label stands show just how many different games there are. Above the table was one of the electric displays, this particular game was to make a square of four numbers for 'the line' win. Some games we had to make a 'Y', an 'L', a block of four and a line, and many more variants, very few were for a full house.
We were chatting away with our neighbours and missed what the caller said we were playing for on the Bonanza Game. Dorothy chirpily shouted house and was flabbergasted to win nine hundred and seventy dollars, her face soon went from shock to pleasure and said she would treat us to a meal on Sunday and invite Anthony (Wild Fox) due in on Wednesday. We have decided to go next week but have nothing to drink before we attempt to play, things may seem a little clearer, easier and straightforward, still complicated though so must cozy back up to our new friends for their lead. We were wished a safe ride home and everyone said we were welcome any time. I had felt no bubble of success, Bear came close a couple of times, Duncan didn't notice one way or the other but the night belonged to Dorothy and her unexpected win.
ALL IN ALL WHAT A NIGHT AND HAPPY BIRTHDAY DUNCAN
---