Christmas Eve 2016

Beez Neez
Skipper and First Mate Millard (Big Bear and Pepe)
Sat 24 Dec 2016 23:57
Christmas Eve 2016 – Rebak Island, Langkawi, Malaysia
We left our boats at half past six for happy hour at the beach bar. En route, Claudia (Gallivant) asked for pictures in the late afternoon sun. Craig posed but had to wait for Claudia to get in the picture, then we had to get a shot of her lovely henna patterns.
Next, Mark and Helen (Coomera) – this lovely lady will not mind me telling you that she is seventy two years young.
The ladies pose.
We were next, Bear looking grand in his sula and batik shirt. I didn't get a picture of the backs of my shoes – so here they are.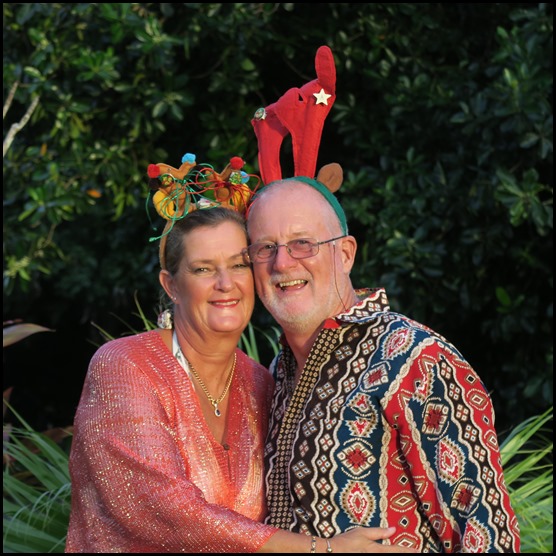 Our 2016 Christmas picture.
We get to the beach and I have to totter on the sand.
We all settle for a half price drink – rude not to.
We move to Senari Restaurant (at the resort), Craig uses his napkin as a hat and on go our flashing brooches.
Bit of alteration needed with Melian's but soon posing in her Christmas eyes.
Ana and Margot (Manatee) – these gorgeous ladies celebrate their silver anniversary on Boxing Day.
Turkey and all the trimmings.
The chefs in charge of the barbecues. Inside a selection of extras.
Cold foods and beyond a huge selection of Indian, Malaysian and Indonesian food.
Melon cabinets.
The cake and sweets table and Santa visits our table.
ALL IN ALL A GREAT SPREAD ENJOYED WITH FRIENDS
A WONDERFUL START TO THE FESTIVITIES
---