HK Blue Route

Beez Neez now Chy Whella
Big Bear and Pepe Millard
Fri 28 Dec 2018 23:07
Big Bus Hop On Hop Off -
Blue Route, Hong Kong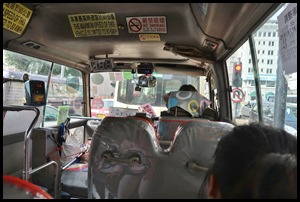 We got up this morning and after Bear had eaten his breakfast served in our room's service box and I had eaten my carrot and drank my Total Fibre (we know how to party), we set off in a tiny bus from the back of our digs. Yet another nippy journey of high speed and hard braking but you do get used to it....... En route we passed the Li Ka Shing Building. Sir Li (23rd richest person in the world) retired this year at the age of ninety handing over the reins of his hundred billion empire to his son (his other son is chairman of another company). Sir Li is known for living a frugal life, wearing inexpensive suits, ties, watches and is second only to Mr Gates in the philanthropy division. In 2017 one of Sir Li's buildings, the fifth tallest in Hong Kong at the time - seventy-three storeys - sold for a city record of five billion dollars (£3.7 billion). To the left, one of the cities university buildings currently swathed in scaffolding - all the scaffolding used here, remarkably, is bamboo.
Once again we got off at the bottom of Nathan Road and turned left. Was that here yesterday ??? for not noticing the Christmas Train I made Bear pose at the back amongst the pandas..........
We cut through to the road with an entrance to Kowloon Park and just beyond is a mammoth rubbish pile, it never seems to get any smaller despite regular collections. Just steps further and we are opposite high end shops, there we turned right to get to the Apple shop to pick up Bear's IPhone, now proudly owning a new battery. That done we head for the nearest Hop On Hop Off stop.
The Blue Route is all around Kowloon.
We cut through the subway, yesterday there was a very loud saxophonist, today a man balancing a big pot. We meet a Big Bus employee with very scary false nails who deals with producing our tickets, miles of them in fact, she rips into sections and staples all over our pass. Included in our two-day ticket are eight ferry tickets, a night tour, a sampan ride and a pair for the Peak Tram. Settled on the bus we are ready. The first notable building is affectionately known as The Pen.
The Peninsula opened in 1928, has three hundred rooms and eight restaurants. An ordinary double sells for five hundred pounds for the night, breakfast is forty one pounds per person extra. Until I began researching for this blog I had no idea on prices. Tea at The Pen is in the 1000 Places Book, in the evening as I sort pictures and type, Bear looks things up for me. I thought I could probably suffer, albeit painfully, ten pounds for a cuppa.
No, it's High Tea at The Pen at.................wait for it.................seventy six pounds for the two of us.
We'll make do with just a picture then. To the right, just behind the fountain are three of the fleet of hotel cars.
Since December 2006, the hotel has had a fleet of 14 long wheelbase Rolls-Royce Phantoms painted in the hotel's signature green.
It was the largest single order placed with Rolls-Royce in the history of the company. It replaced a fleet of Rolls-Royce Silver Spurs. That night on our night tour we got to see more of The Pen, all lit up.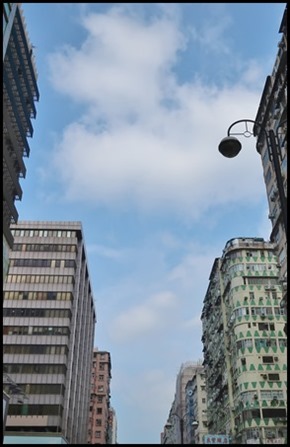 All along Nathan Road the banyan trees are protected, some planted a very long time ago. Each side of the road are blocks of flats – each one has the potential to be sublet and sublet again. It is estimated that about 206,000 people live in an average space of ten square feet. Families of four live in a room the size of an average English bathroom making Kowloon one of the most densely populated areas in the world. Despite the overcrowding Hong Kong, along with Japan have the longest life expectancy on the planet at eighty-three and a bit......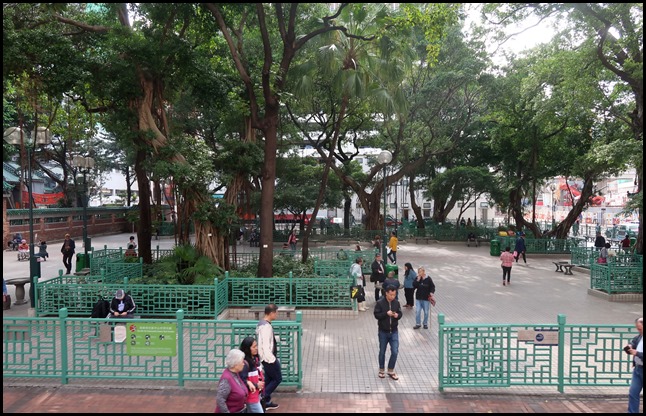 Understandable then why Tai Chi and sitting in public parks is so popular.
A temple for mariners.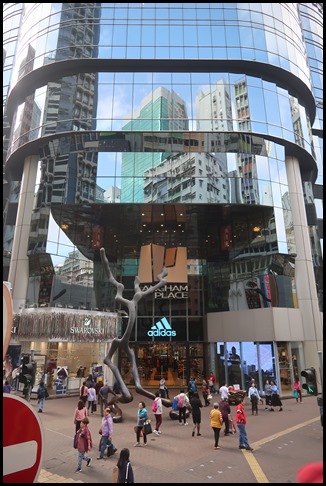 Langham Place is a HK$10 billion development of offices and a mall opened in 2005.
Plenty of building projects on the go, Bear liked this one as the crane driver had a parasol.
Odd one, gold one.
Dreary and more dreary.
Away from the designer and posh shops – typical downtown Kowloon.
Posher bit.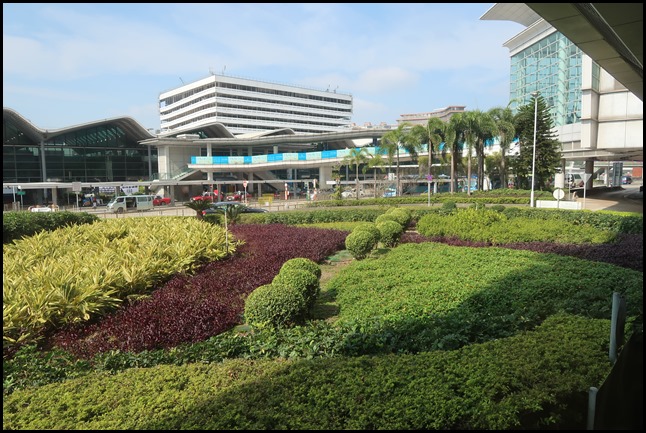 Good to see a roundabout with pretty planting.
Down by Victoria Harbour we saw a tourist junk.
The 1915 Clock Tower is all that remains of Kowloon Station. Standing at forty-four metres the original clock face was reused from the demolished Pedder Street Clock Tower, the other three clocks were added in 1920.
We went all the way round on the Blue Route, leaving where we joined then nipped under the subway to pop out at the Star Ferry Pier. Next stop Hong Kong Island.
ALL IN ALL A GREAT FIRST LOOK AT THE CITY
VERY INFORMATIVE
---