At Sea - Week One

Beez Neez now Chy Whella
Big Bear and Pepe Millard
Sun 26 May 2013 12:00
Week One at Sea en Route to the Gambier Islands
Day One (Own blog).
Midday Position: 02:01.26 South and 92: 26.26 West.
Miles covered: 107.4
The skipper on one of his chafe inspections
Day Two. Tuesday 21st of May
Midday Position: 03:25.54 South and 94:40.66 West.
Miles covered: 160.01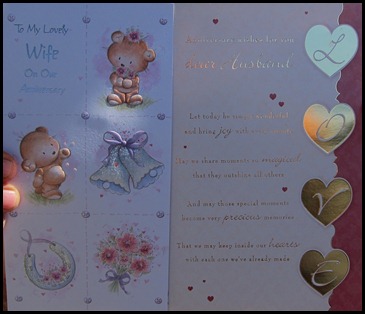 I got up this morning and we exchanged Anniversary cards. During handover Bear announced he had seen quite spectacular 'herring skies'. A new one on me, I would have liked to have witnessed that as I only recall having seen mackerel skies............... Oh.
Later in the day I had my cockpit shower, way too much effort to have one indoors, what with Beez movement and the effort of wiping everything down we do find it simpler to al fresco. Well as it happens, I looked down to find a medium sized spider trotting down my inner thigh trying to escape from the deluge – rude comments from the captain, not in good taste to quote here but included references to Miss Haversham. Mmmmm – I feel sure I'm due parole SOON...........Happy Anniversary.
We had a party lunch that saw me handing everything outside, as inside was a bit too lively. Bear opted for rolls and I was going to use up leftover mash with ham salad.
By the time I had myself settled at the table Bear had already 'constructed' his first roll..... This is the first time in my life I have seen anyone put a slather of mash in anything bread based.....and don't mention the goliath size of the thing. I shall need a win at backgammon to put myself right and loads of dollars at Rummikub. Huh. Don't you Huh me. No dear.
Supper was savoury noodles and mushrooms.
Day Three.
Midday Position: 04:46.40 South and 96:52.73 West.
Miles covered: 154.8
I jumped up this morning to ask the captain about his herring skies – with that he laid in his cockpit nest and snored loudly for two hours.......Mmmm. We didn't fancy too much in the way of lunch so Pringles, cheese and watermelon made a nice change. Supper, burger, mash and mushroom gravy. I think it is now quite clear Bear loves his mash. His favourite potato though is roast, however I cannot justify the gas usage when I'm not too sure when our next top up will be.
Sea bird numbers getting less today but the Elliott storm petrels keep us amused.
Day Four.
Midday Position: 06:00.22 South and 98:56.44 West.
Miles covered: 143.7
Today we lost a fish. The second the back view of Beez entered its beady eyes it went nuts. Jumping, diving and eventually it was the spinning that rendered freedom, Oh well, better luck tomorrow.
I took a few little videos of Beez movement, hope to post on FB as soon as I can.
Backgammon was on Bears personal limit. The table was leaning so much I felt the dice were rolling too much in the captains favour so we rolled a towel and I put my lined beaker on the board as a Blue Peter spirit level – I could feel the pleasure in Valerie. As I lost, I may suggest the leaning board suits me better...............
A couple of tiny chaps found on chafe patrol
Day Five.
Midday Position: 07:25.53 South and 100:59.53 West.
Miles covered: 149.5
My last two five o'clocks have been dark and Bear has come on with no sun up. Better put the clocks back an hour then. OK, done at midday. There is always some question as to when in the day a yachty does this – eleven to have two lots of tea break, early evening to have two lots of sundowner. We chose mid day as this is when we do the blog ping, funny though to have lunch so early though.......and two more such events before we get to land.
One of Bears chores during his twice-daily chafe patrols is to return the flying fish and squid back to the deep, this morning he stepped back and stood on one of the latter, messy business..........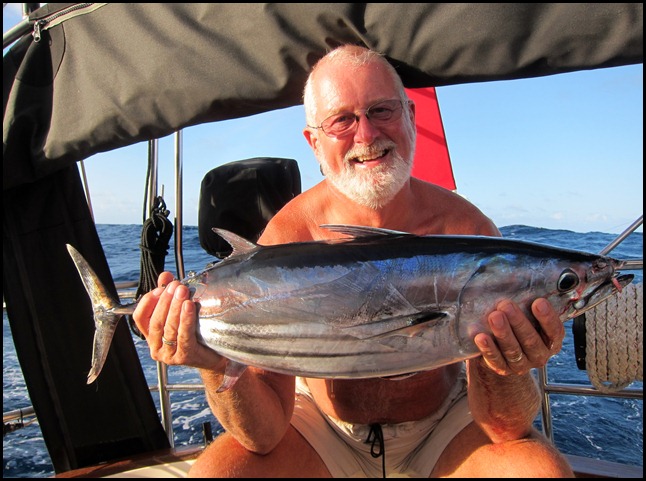 At 16:00 - right in the middle of a game of Rummikub - the reel went mad and the line went off at high speed. Leaping up I sent tiles all over the show and slowed the beasts fleeing to a jolt to ensure the hook was well embedded. I made a firm resolve not to lose this chap as our dry spell was now at Guinness World Record level and not at all welcome. It took the two of us the next forty minutes to land a very handsome chap.
He produced four big fillets for the skipper and four half fillets for me - that went straight into the freezer. A small fillet each for supper and the tail end, which were in the oven as soon as the cockpit had been returned to order and I had showered my Billingsgate aroma off. My great plan to have my ablution at half three and a couple of hours shut eye before my six o'clock shift fell by the wayside. Well you always say afternoon zee's don't suit you. But I would have liked the opportunity to have a test run. Yes, but look at the fun we've had. Above is the rather beautiful blue-fin tuna who gave us a great fight with his well toned muscles and where the greedy boy was going to stuff the lure in amongst his already full stomach (below).
Supper was not so much candlelit as red head torches and much laughter as I grabbed a tissue to find it was a bunch of lettuce and Bear caught my tuna as it went air born. Much to be said for mucking about in small boat at sea on the Specific Ocean.
Day Six.
Midday Position: 08:27.05 South and 103:15.03 West.
Miles covered: 147.0
I was awoken this morning to a particularly naughty wave. No chance of going back to sleep so I set about getting the bucket full of soapy water to soak the washing. Next was fileting the fish I cooked last night - a steak to have with salad and the tail end to go into a curry sauce to set on top of noodles or rice. Marinade prepared outside as has become my norm (Bears hotter than mine) in dishes to absorb the flavour. The skipper has taken to his new roll of second chef like a duck to water.
Spag Bol for lunch. Bear announced that todays games were like playing on a roller coaster at my speed limit. How good is whizzing along at eight knots though.
A few spots of rain this afternoon, really odd to have a day without full sun, but in no way cold, not at twenty eight degrees but cool for us and typical as the now covered cockpit looks like Mrs Woo's laundry.
Day Seven.
Midday Position: 09:33.70 South and 105:28.33 West.
Miles covered: 148.5
I came out this morning at ten o'clock to find a gloriously sunny day, Beez rattling along at 6.2 knots in calmer seas with the odd biggy. Mileage showed 998.6, Hurrah, I didn't miss the important one thousand mile mark, celebrated with a Bailey's at 10:19 – the sun will be setting over someone's yard arm. I lost at Upword 474 to 440 (no worries for my crown at year end Huh) and also lost at Backgammon 5 2. Not a good start to the new week but who knows what will happen next. Marvelous. Bear constructed yet another mammoth roll for his lunch, I only left him for a minute to get juices out of the fridge............
Comments on the week:
If the rest of the journey is like this last seven days we will both be very delighted. IF and it is a very BIG if we averaged five knots for the rest of our journey we will be in to Rikitea in two weeks time. When we have read other blogs, many have talked about wallowing around in zero wind, being overtaken by a turtle and even going slightly backwards. We know we have been incredibly lucky and hope it continues. Big Bears initial guestimate was arriving on the 14th of June, mine three days later. We revised both our guesses this morning to Bear on the 9th me on the 11th. Fantastic if that's the case. No worries if not as crew morale is very high.
Bear has spent his ten till two late shifts watching favourite films on his IPad and listening to his IPod. Overnight I have been listening to my new Michael Connolly books and playing Zuma on the skippers IPad.
Electric balance has been spectacularly good. The towing generator, the D400 (wind genny) and the solar panels have done incredible jobs.
We haven't seen a single soul, "No one out here but us kids" is what we always say at hand over.
Neither of us can get over how quickly the days pass. Our average for the journey so far has been 5.97 knots per hour, brilliant. If you take off the slow first day our average is 6.22 knots or a fabulous effort from Beez.
An amazing fact has been engine use or lack of it. We began by idling for twenty minutes before the anchor came up and two hours motoring to clear Beez to deeper water and into favourable current - out of the one hundred and sixty nine hours so far pat the girls sailing ability on the back. Bear switched on for two hours the other day (but in neutral) just to make water and heat the tank for our showers.
Perhaps the most impressive fact is the sails have not been touched once. Happy Hydrovane has been adjusted little and in big seas we have tethered the steering wheel in an offset lock to give Happy a hand. He truly is the third member of Beez crew and the best there is.
TOTALS FOR THE WEEK:
Backgammon: BB 6 – Me 3 which puts the year totals to BB 63 – Me 70
Rummikub: BB 41 – Me 64 " " " " " to BB 173 – Me 355. My $906 up from last week – new total 5176 Huh. Actually that gives an average per game as only $8.62 – that's still a fiver per game – Double Huh. My biggest loss was $58 and mine......$159 Treble Huh.
Miles: 1019 or a third of the way there. 1976 to go.
Beez Neez is indeed the Queen of the Sea.
ALL IN ALL VERY COMFY WITH THE ODD MOMENT
TREMENDOUS, MUCH QUICKER THAN ANTICIPATED
---