To Q Dock

Beez Neez
Skipper and First Mate Millard (Big Bear and Pepe)
Mon 16 Dec 2013 22:30
To The Quarantine Dock, Opua Marina, New Zealand
This afternoons important event was the flag ceremony, then of course games, no one out here but us kids.
Land faint on the horizon. It's a lot of land, maybe, just maybe, because it's a country......
Bear got revenge for my beating him yesterday by one in Upword, today he beat me by five. The boys were still partying hard downstairs, in fact the general mood on board was one of excited anticipation, some degree of relief and a huge sense of achievement. So many smiley faces.
New Zealand, a new country, a new continent.
Family are never far from our thoughts anyway, but, come into our sailing life as we see Bird Rock and Twins Rock.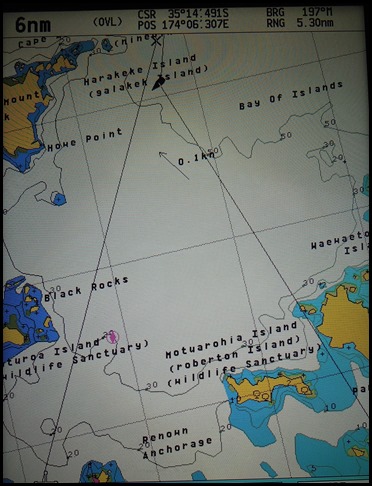 We always know we must be near when we drop through the scales on the chart plotter, now six miles.
The Bay of Islands, in the 1000 Places To See Book, so many rocks, islets and islands.
A delighted captain. Note to self, deal with the elastic in trousers, I'll buy you a set of braces, thank you skipper.
The ever changing sky ended up with its own blog.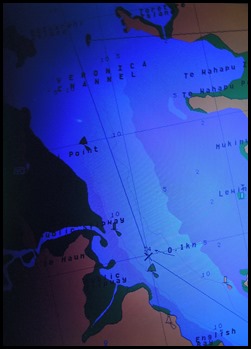 All the way in there was a well marked channel. All the way in I had to keep hitching my trousers and Bear passed me drinks, helped keep an eye out and watched with me as I helmed, better that way in the half light. The charts were incredibly accurate and the water below the girl never went below twenty five feet. What does the above look like in reality........

.............a wide expanse of water. Soon we passed the town of Paihia and some anchored boats.
A gentle left turn took us to the curved line of four black dots – the Quarantine Dock, plenty of light from the marina buildings opposite.
1086 miles completed. In the seven days and 9 hours or 177 hours, we used the engine for 14, but, had we decided to sail overnight and get in tomorrow, the total would have stayed at just 3. Our average speed was quite a high one for Beez at 6.13, how thrilled she is with that, so are we – Well Done Girl. Our total mileage for this year now stands at 8823.4, bringing our total in five years, six months and ten days to 21,246,01. Our sailing total overall is 24,491.71.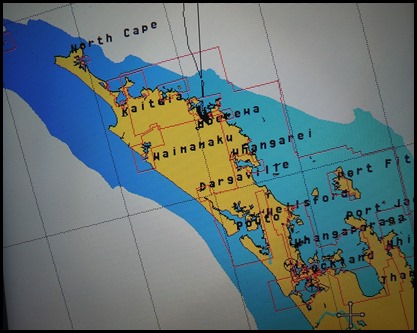 22:30 sees Beez settled Opua, North Island, New Zealand
ALL IN ALL ECSTATIC AND ELATED
YEEEEEEEEEEEHAAAAAAAAAAAAAAAAA
---