Memorial Hall

Beez Neez
Skipper and First Mate Millard (Big Bear and Pepe)
Sun 5 Nov 2017 23:07
Nagasaki National Peace Memorial Hall
After we had walked around the Peace water feature, we took the lift down, walked to a very welcoming lady who pointed out the route we should take. We left her at the Information Desk (number 7).
We passed the library.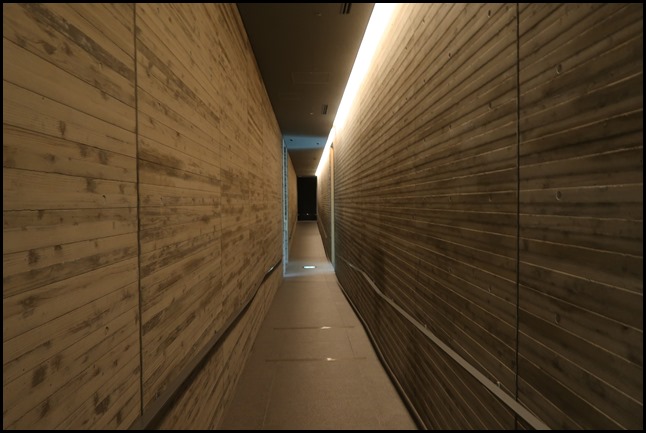 The very long corridor focuses the mind as each wall tile represents a victim.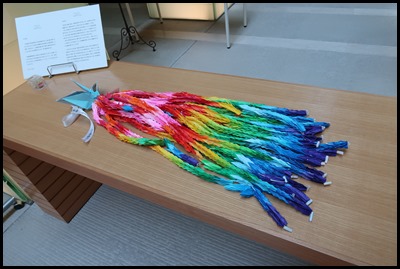 A burst of colour from the paper peace cranes as we entered the Hall.
On the table was a peace crane that President Obama folded, with Caroline Kennedy and copies of the letters he sent to the Mayor of Nagasaki, the Honourable Tomihisa Taue and to the Nagasaki Atomic Bomb Museum.
More paper cranes and collages to our left.
We walked to the far end of the hall and turned. Wow. Glass pillars.
Time to look, sit, think, contemplate and pray.
The Registry Shelf. The names of all who perished in the atomic bombing are kept here. When looking at the shelf we are facing the atomic bomb hypocentre.
Information Sheet.
In the room opposite the Memorial Hall, we signed the visitor's book and stood for a long time looking at pictures of the victims, many children and innocent people. The top row would fade out, new pictures would appear and then the bottom row would fade out and so on. We can always keep 'stiff upper lips' due to our past careers but we allowed our guards to drop and to feel. Remembering the children's memorial we saw outside, I thought of just some of the teachers we know, Kate, Andrew, Nick, Chris.........and how (assuming the bell had rung at 11:00) they would have been settling the children to their lessons at 11:02, "come on children open your text books at page...............". Now the lump is forming.
We watch the pictures, the only sound was that of the water feature. The only guard taking a turn around the Memorial Hall to leave us alone for a while. As we left, he knew we were clearly moved and gave us the deepest bow we were to have during all of our time in Japan. We slowly walked the next very long corridor to another water feature, this one with a tiny light at the far end.
We take the lift up and read the information.
From the window, we can look down into the Memorial Hall.
White paper cranes and a box of coloured ones stark against the black table.
In the next room a huge collection.
Information in Japanese we cannot understand and a picture of Nagasaki we can.
We take one last look down the far, long corridor.
Out past the water feature that trickles down the wall and out into the sunshine.
ALL IN ALL INCREDIBLY MOVING
STUNNINGLY BEAUTIFUL
---