This and That

Beez Neez now Chy Whella
Big Bear and Pepe Millard
Sun 21 Oct 2012 19:51
River Life
The Captain's eggs this week did not disappoint producing quite a classic
With rare boldness (stop tittering at once), I as First Mate and Chief Navigator aboard the sailing vessel Beez Neez jumped up and emailed John, manager of the Shelter Bay Marina, Colon, Panama. YeeeHaa. I took to heart the children, when en masse in March, asked "When are you going to get on with it." I have to agree the flags on the blog DO look like we have bimbled up and down quite a bit with not too much westaboutness. I have had a reply from John confirming our place from the 28th of January 2013.
I know I cabbage patched you in the corner but now it's proving positively dangerous.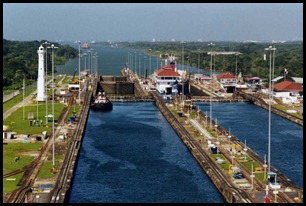 Whilst I had my planning hat on I went completely mad and emailed Erick, one of the Panama Canal agents to get the ball rolling. Double YeeeHaa. I have now filled in the preliminary paperwork to organise our transit, fingers crossed mid February. Treble YeeeHaa.
Bear had been mumbling in his beard of late that we may have to delay another year, mild El Nino year, yadder, yadder, yadder.
I feel I / we need to cross the Pacific while we still can.
Yes Dear.
Nerves showing clearly now across the Captains well honed face, threatened me with an outside job, anything to get you away from your bloody laptop - steel polishing – poured down for three days. Serves me right, I suppose I have to give in with good grace.
So while I still had my pencil on my ear, clouds still tipping out the wet stuff, I had time to put in a plan from here to there. Quadruple YeeeHaa.
Oh Ooooo
All things being equal. We will leave here mid December, go over the 'speed bump' at Livingston, out a bit to sea, turn right and slip in to Roatan for Christmas and New Year. A few stops along the way, Bear hoisting the Panamanian flag and spuddle through the Big Girls in the busiest shipping area in the world, to the flat calm of Shelter Bay.
Cannot Wait.
Sounds like a plan I have to admit. Stop gritting your teeth then skipper......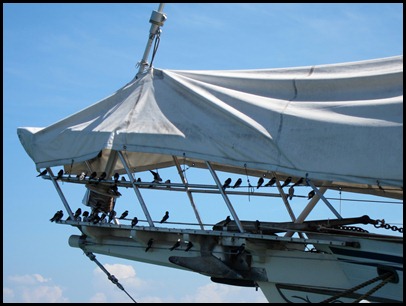 Most days we see and hear these little chaps jockeying for position out of the sun
Bear has a new habit, he updates the BBC News on his IPad and over breakfast gives me the latest headlines.
There have been no pirate attacks in the Indian Ocean this month and only one last month, fingers crossed this stays so. We both feel very sorry for the blind man who had his white stick mistaken for a sword and got tazered.
River news this week. Chico's on the opposite side of the river have restocked my vodka supply at 3 pounds 80 a litre, and funnily enough it's made in Morocco.
The worst thing this week was rubbing an itchy right eye to find I had ground a mosquito into it.
We had been sitting having a farewell drink with Peter, our next door neighbour, who has just sold his boat and is getting ready to leave the river forever, (made us shiver) but he is now looking at a trawler to putter up and down the St Lawrence River and perhaps do the Great Circle. We wish him all the very best.
So there we were having a drink with him. Bear had noticed a few really big chaps land on him and had successfully swatted them off, until one bit him near his eye. Definitely time to go home .......... Dusk is the only time we are at any risk and we usually time our afternoon swim, shower and return to the girl before the little horrors come out to play. The local population seem to be very big, black and bizarrely prefer to attack elbows and below. My resultant small, black ball with legs sticking out with a messy blob of blood on my fingers was a new one on me. I went home and washed my eye but by now was incredibly painful. The thought of rubbing someone else's pump fluid in to my conjunctiva didn't bear thinking about.
I happily took my painful eye to bed doing my best impression of Rooster Cogburn, the only difference being my patch was made from a wet pad of white toilet paper. I really want to know who stole it from me in the middle of the night and replaced it with a spoon sized Shredded Wheat ??? Needless to say an experience I don't feel the need to repeat. It hurt for a few days and (raise pitch and volume in voice) itch, I wanted to take my hair brush to it to satisfy the need.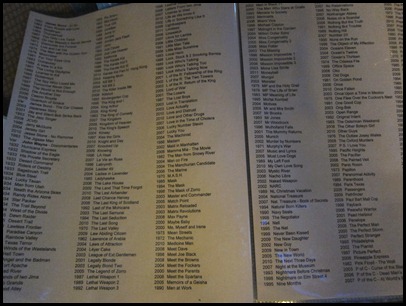 Loads of chores have been keeping Bear busy. The new fluxgate compass fitted, means when we first come off the dock, Beez will have to go round in circles until I here it's set. New netting has gone up round the front half of the girl - this is not for small dogs, but to stop the fore sail or the gennaker going for a swim. Wiring has been finished so at least the ceilings are safely all back in place. As usual all my pink jobs are hidden, all except the production of an up-to-date DVD list, all now backed up on big hard drive. Oh and some sparkling steel outside, but all too soon rain marks and a certain persons paw prints in evidence.
I have had mixed fortunes when it comes to RummiKub. Bear showed me his incredibly low pickings and I showed him my complete opposite. At least you've got Smiley Faces in yours. Mmm what about the rubbish I got left with in the end. Mind you, I have had a good run on Backgammon.
Grrrrrrrrrrrrrrrr.
Jefe (pronounced Heffay - Spanish for Chief), the marina dog is a Guatemalan Fighting Dog. He looks a bit like a boxer dog, he's all muscles - a true heavyweight but the sweetest thing you could ever meet. He puts out an occasional bark when a strange boat or launcha pulls in, but otherwise is a perfect gentleman. When we pulled in from our road trip his entire rear end waggled and he rushed over to us for a hug as we emerged on to the terrace. The one thing about him though, is, he HATES water. He can't float or swim and will do anything to avoid the stuff, so much so that as soon as a hose pipe comes out he actively disappears. When the staff here were spring cleaning he parked himself as far as he could away on the other side of the marina and had to be coaxed back for supper.
Bear stuck his head through the door and asked for the camera, quick, Jefe's been got by Alex (one of the lovely lads that works here, whose English has come on a lot faster than our Spanish). Bath time.....
You can just feel his woe
The begging paw, Is it over yet ??. No, not yet. Nearly though
On the subject of dogs. This will be the result of this blogs Arrrrrrrr photo below. These are Bergamasco's or Italian Sheep Dogs. The pups below all belong to one litter – all thirteen of them. Moth and Alasdair are the proud owners of Ella, known affectionately to me as Small Person. Well done girl and a BIG hug for Biaga who does a sterling job as both maiden aunt and pup rear end checker.
Aaaaaaarrrrrrrrr
ALL IN ALL AN EXCITING WEEK
.
.
---