Kirstenbosch Garden - Part 2

Beez Neez now Chy Whella
Big Bear and Pepe Millard
Mon 13 Jan 2020 23:27
Kirstenbosch National Botanical Garden – Part Two
I cannot seem to get enough of the many agapanthus, to the point I'm picturing having a garden with lots of pots in a line making for a blue and white border...... Mmmm. For now we follow a path on our map to find.....
Mathews Rockery: When the aloes failed to thrive in the poor sandstone soils of Koppie, they chose these warm, north-facing slopes with granite-derived soil as the site for the new succulent garden. Unlike the Koppie, there were no rocks here – every rock you see was brought here by sledge and mules, and manoeuvred into place by hand. The site was laid out and some plants planted in 1922. Construction went on as and when funding from the Botanical Society was available. The middle section was begun in 1922-23 but could only be continued and completed in 1927-30. The western end was constructed in 1932-33 and the Concert lawn side in 1938-39. In 1950 it was named after J.W. Mathews, the first Curator, who was responsible for the elaborate and imaginative construction work. As you can see, many aloes and succulents do very well here, in spite of the heavy winter rains.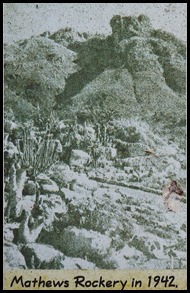 Joseph William Mathews (7th April 1871 – 28th September 1949) Curator of Kirstenbosch 1913 – 1936. "The work at Kirstenbosch should be a labour of love in the greatest job ever begun in the botanical world, and I feel that it is an honour to have had anything to do with that job." J.W. Mathews on his retirement.
It was Pearson's vision and Mathews' practical skill and common sense that brought order to the jungle that was Kirstenbosch in 1913 and laid the foundations for the Kirstenbosch we see today. R.H. Compton, Director 1919 – 1953, wrote on his death: "He was a gardener of the old school: stocky and sturdy in build, a fount of energy, not sparing himself and expecting the same of others, sternly economical and practical to his fingertips, loving his plants first and foremost, devoted to Kirstenbosch."
We bimbled to and over the Canopy Walkway which gave us a birds-eye view over the trees.
Restored and thriving: By 1913, when Kirstenbosch Botanical Garden was established, what little forest was left was infested with weeds and the rest destroyed by alien tree plantations. The clearing of alien plants has been undertaken since 1913, but it was only in the 1960s – 70s, with the dedicated alien eradication programme run by the then Curator Jack Marais, that we finally got the better of them. Since then, and left to recover naturally, the forests of Kirstenbosch have returned. With fire effectively excluded from these slopes for decades, it is possible that the forests cover a larger area today than they did 400 years ago.
The Dwarf Coral Tree (Erythrina humeana): This is the only South African Coral Tree that flowers in summer. To see the others you must visit in winter-spring (Aug – Sept). The brilliant scarlet flowers produce a lot of nectar and are visited by nectar-feeding birds like sunbirds, who do the job of pollination. In traditional medicine, roots are used to treat TB, bronchitis and other chest complaints, and are applied as a hot formentations to sprains. Burnt and powdered bark is applied to the umbilical cord of newborn babies.
The Dwarf Coral Tree can be seen growing wild in scrub, bushveld, grassland, coastal dunes and rocky slopes, from Mpumalanga, Swaziland and KwaZulu-Natal to the Eastern Cape. Coral Trees belong to the Legume Family. There are about 112 species found in the tropics and temperate regions of the world, Most of them come from the Americas, where there are about 70 native species. There are 12 Asian Coral Trees, 31 African and 9 in southern Africa. There are also many hybrids and cultivars. Many Coral Trees are garden ornamentals around the world. A shrub or small tree to 4 m, deciduous with thorny bark, stems and leaves, showy scarlet flowers and red 'lucky bean' seeds in knobby black pods in mid to late summer.
During the Ninth Xhosa War, between the Cape Colony and the Gcaleka in 1877 – 78, a battle was fought in a Transkei valley on the 2nd of December 1877. The Dwarf Coral Tree was in flower in that valley at the time, and the battle took its name from the Xhosa name for this plant, and is known as the Battle of Umsintsane (also spelled Mzintsane or Umzintzani). The Dwarf Coral Tree is also the emblem of Prince Alfred's Guard, a reserve infantry regiment located in Port Elizabeth. This regiment first saw action at the Battle of Umsintsane, where it met and defeated the Gcaleka.
The Dwarf Coral Tree is easy to grow, ("Uncle Les" I hear you all shout in harmony....see under King of the Fynbos) and being a shrub, is ideal for gardeners who would love a Coral Tree but don't have space for a tree. Grow in fertile soil in a warm, sunny position, and water during spring and summer, but take care not to over-water as they rot in poorly drained, soggy soil. Keep as dry as possible while it is leafless (and dormant) during winter (I feel a greenhouse coming on now), although it will tolerate winter rainfall as long as it is planted in a very well-drained spot.
We found the pretty little Otter Pond with a handsome chap in the far corner, pity about all the bird poo
. The Cape Clawless Otter: Otters were once abundant in the streams of Table Mountain. Although they are now rarely seen, droppings containing crushed crab shell and fish scales are evidence of their presence on the Garden. Otters hunt for crabs, frogs, insects, terrapins and fish. They use their nimble fingers to search under rocks and in crevices for food. They swim and dive well, and use their strong tail to propel them through the water.
The Cape clawless otter is usually found in the vicinity of water (near lakes, rivers and estuaries), but may wander widely in search of new feeding grounds. They are active early in the morning and at dusk, taking shelter during the heat of the day. Family: Mustelidae (polecat and badger family). Scientific name: Aonyx capensis.
Pineapple Flower (Eucomis autumnalis): This plant earned its common name because its flowerhead looks like a pineapple – the way the greenish yellow flowers are packed into a spike topped by a tuft of leaves. However, it is not closely related to the pineapple and is not edible, in fact it is poisonous if eaten. It belongs to the bromeliad family (Bromeliacaea) and it comes from South America, while this southern African plant belongs to the hyacinth family (Hyacinthacaea). The Pineapple Flower is a highly sought after medicinal plant that is widely used in traditional medicine. It is used to treat backache,urinary diseases, stomach ache, fevers, colic, flatulence, hangovers, respiratory diseases, venereal diseases and to facilitate childbirth and heal fractures.
Pineapple Flower bulbs are so much in demand for medicine that the species is being overharvested in the wild, with the result that the number of wild plants is declining and the size of the bulbs being sold is decreasing. Although this species is widespread in southern Africa, if harvesting continues at this rate, it will become rare and could become extinct in the wild.
We saw this rather attractive chap
....went up the steps as we saw a sign for a restaurant. Time for a very late lunch or early supper. To the right the other entrance/exit to the Garden. At the top of the stairs we saw a very lovely tree
The Pompon Tree (Dais cotinifolia): In the summer, when it is covered in balls of pink flowers, it's not hard to understand how it earned the name pompon tree. Its botanical name Dais means pine-torch in Greek. Its species name cotinfolia means with leaves that resemble those of the genus Cotinus, the Smoketree.
Its Afrikaans, Khoisan and Xhosa names, Basboom, Gonnabas and in Tozana all mean 'tree with useful fibrous bark'. The bark tears off in long, stringy strips, and has been used for countless years to make rope, thread and cord for tying things, for bandages and to make whips. It is said that this bark provides the strongest fibre of all the tress in South Africa.
The pompon tree is found growing wild in forest margins, on wooded hills and in kloofs in the eastern parts of South Africa, in the eastern Cape, Kwa-Zulu-Natal, Mpumalanga, Free State, Gayteng, Limpopo as well as in Lesotho and Swaziland.
Carl Linnaeus named it in 1764, from a specimen grown in Holland and flowered in 1757. The seeds were probably collected on the Beutler expedition to the eastern Cape in 1752, It was introduced to English horticulture by Mr. James Gordon in 1776 and featured by Curtis in 1792. In those days it was a rare, expensive and coveted plant. It has been introduced to many countries including Kenya, Australia and the USA. It is also known as Tree Daphne, South African Daphne, Pincushion Tree and Posybush. It is a small tree, with a rounded crown, 3-7 m tall, with pretty pink flowers in dense, almost spherical heads in mid-Summer. This fast growing, easy-to-grow tree, is an excellent garden subject and ideal for smaller gardens. Yes, I can see one of these when we get a garden.....
There are only two species of Dais, this one and Dais glaucesens from Madagascar. They belong to the Thymelaeacaea, the Daphne or Gonna Family, which contains about 50 genera and 600 species spread throughout the world.
CONTINUED as it didn't like the length of part two
---