Shopping Trip from Sakatia

Beez Neez now Chy Whella
Big Bear and Pepe Millard
Sat 10 Aug 2019 23:57
Shopping Trip from Sakatia Island with Kevin and Irma
Irma arranged our trip with Celestine's daughter who did the ringing, booking and Malagasy language for us. Our water taxi arriving at twenty to eight, we nip over to Canace to pick up Kevin and Irma and off to 'the other side' on Nosy Be.
We landed on the beach and our minibus was waiting.
Local traffic along the way.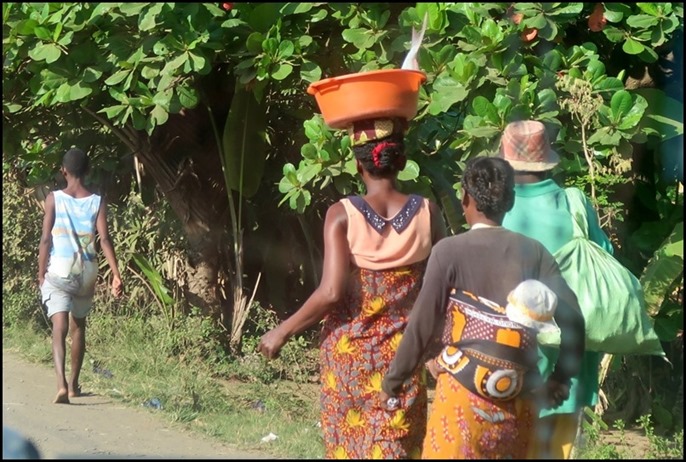 Loved the fish tail sticking out of the ladies washing up bowl.
Hal an hour later we arrived at a posh-looking mall. Just inside the entrance we passed a free-standing ATM, inside were two banks, various shops and a hairdressers. In we trooped to book.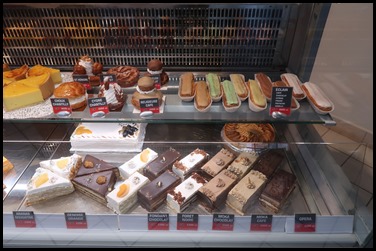 Time to spare, we bimbled into the supermarket, Leader Price and oo'd and arr'd at the cake selection next to the coffee bar.
I chose a coffee éclair, Bear apricot flan. Delicious.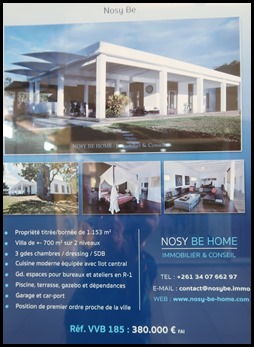 A few local properties for sale in the estate agents window.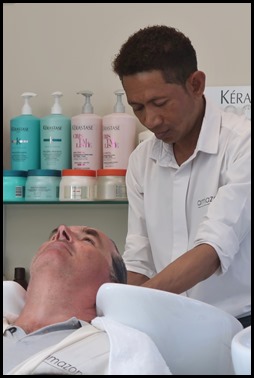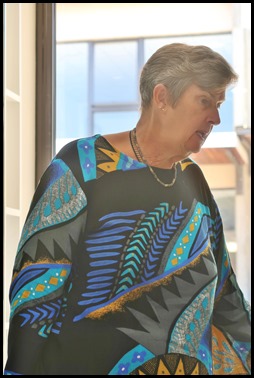 Kevin was first 'in the chair' a personal wash from the chap......, we sat and watched as each and every hair was dealt with (in readiness for his 60th birthday bash tomorrow). Three different scissors, clippers, razor blade, eyebrows, hairdryer and brush to sweep off the trimmings and the mirror to view.........much ribbing....... I on the other hand was washed by a lady assistant. The same chap, huh, I had a quick short back and sides (had asked for my ears to be kept covered), as I was leaving the chair in what seemed like a flash, there was an afterthought when the mirror view was over in a second. Actually, it felt really good to have been preened in this establishment only opened four months ago. Plenty of ammunition though to fire Kevin's way........ We left Irma in the chair to begin our supermarket shop.
Oooo the choices. I rushed around excitedly finding things like liquorice whirls, corned beef and silverskin onions. Bear found guacamole dip and tortilla crisps, I managed to not buy Comte cheese choosing Edam instead and soon our trolley was full.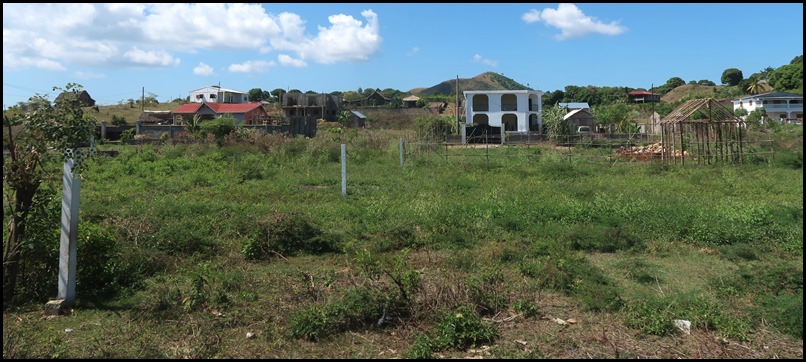 Heading back we saw lots of smallholdings and barns.
Outside market stalls and a posh chemist.
Our driver had to stop to drop off milk to his family passing typical housing.
Loved this house that has recently added a top floor.
A golf course with patterned paved entrance was an amazing sight.
A cut sugar field, most goes to making local rum.
A lunchtime siesta for one worker.
Back at the beach many lads carried our shopping to the water taxi.
One of the many resorts to our right as we set off.
En route Kevin pointed out another anchorage, just around the corner from ours. In and shopping away we spent the rest of the afternoon playing games and enjoyed sundowners, practice for tomorrow night.
ALL IN ALL AMAZING TREATS
GREAT SHOPS AND CHOICES
---