To Hue

Beez Neez
Skipper and First Mate Millard (Big Bear and Pepe)
Wed 10 Jan 2018 23:57
To Hue
We leave our digs at eleven thirty with yet another taxi driver who uses the accelerator pedal like a man pumping up an air bed. We cross the river, see the Sun Wheel and the Dragon Bridge.
Closer to the Sun Wheel which stands one hundred and fifteen metres high with sixty four cabins.
A happy roundabout and a couple of cannons outside a barracks.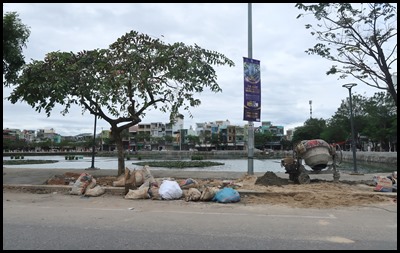 A random gorgeous gateway and we pass a large city lake.
We arrive at Da Nang Train Station and admire this elderly lady.
Yet again I have a seat next to a window that is blacked out by an advert. A hundred kilometres of coastal journey and just the odd glimpse through other windows, so frustrating. We go through a long tunnel and apparently this is a weather border, we go from warmer, balmy weather to cold, wet winds from China. We leave the train to find our name, taxi shuttle for the ten minute journey. It is really cold and wet, dull and breezy. We pass something colourful next to the Perfume River.
We are in Hue (pronounced Hway) to see the Citadel and a trip to the DMZ.
.Our new digs was down a side street currently undergoing new sewer works.
We would end up in the room above the man's head but not in the pool which makes us shiver – Bear has the beginnings of a runny cold. For now we sit in the chilly, breezy foyer with a lady more interested in selling us tours. The 'welcome' tea and fruit was very thoughtful.
We are shown to a room at the end of the first floor corridor, no sooner than the door was open but the 'tour lady' was off quicker than you could say thank you. Shut in a freezing room with an ill-fitting 'balcony' door above a really noisy cement mixer and a man riding a tamper with the fever of an award winning flat race jockey. We do have a small bath, Bear says with his usual optimistic self. I was not convinced. What can I expect for sixty pounds for four nights........ I check our booking.
Superior Double Room, balcony with furniture, mini bar, heater, hair dryer, kettle, and I had requested a quiet room – all missing. Down to reception I went. "Oh, they stop work at five o'clock", "Oh........we.......". I gave one of my 'stop a speeding train' looks. I am now really fed up with people taking my eyelashes and coming back for my eyebrows. No more. Out came a key, up the stairs we went.
A much bigger room with a double and a single bed. The boys settled happier, all OK with us, just had to forego the slipper bath, but it is a nice, big shower. Later, as it was drizzling, we decided to eat in. Alone in the 'restaurant' we were told our order would take twenty five minutes. Back to our room and back down half an hour later to be told "five more minutes". Our food arrived via scooter – not the first for us as our pizza came the same way in the Galapagos Islands and that gave us a good laugh, not so here. The soup was hot but our meal was going cold beside us. "Solly" looking at Bear, "they sent squid not chicken, it be ten more minutes". No, it won't forget it, I'll just eat the rice. "But you like squid ??" OK I'll eat it. Free of charge as it was their mistake. Cannot fault them for trying but it will be pot noodles from now on................
Back to our view, a bit higher up than this picture taken from the lobby.
ALL IN ALL, ALL IN ALL
VERY QUICK AND VERY PRETTY JOURNEY
---