Gili Trawangan

Beez Neez now Chy Whella
Big Bear and Pepe Millard
Mon 12 Sep 2016 22:57
Gili Trawangan
After our snorkel off Gili Meno we had a quick shower and headed to the beach on Gili T as it is affectionately known, to meet Gin and Michael (Wishful Thinking) and Val and Richard (Kereru) for lunch. A bit choppy we could call the ride in but soon Bear had a large Bintang in hand (I nabbed a little to make a shandy).
A very novel sight to see is tourists with hundreds of snorkel and dive boats.
We haven't seen lines of sun loungers since Moorea and Tahiti.
The food was delicious. I had chicken in mushroom sauce with boiled potatoes and sautéed vegetables, Bear had seafood pizza. On the menu was Ikan Pepes – at three pounds seventy pence. I'm sure there's a comment there somewhere but best err on caution..........
Across the street was an ATM and in went Bear. Gin thought it may be cooler in the little place but as she swung the door open it came out its non-existent top support – amazingly she didn't let go and somehow managed to lower the very heavy beast to the ground............. Had anyone been behind................ She was very lucky not to really hurt her hand or wrist................ Such a shock.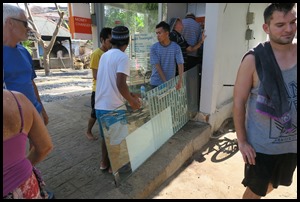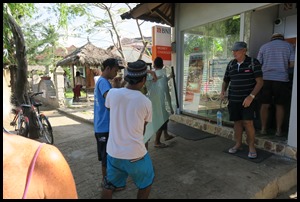 Within seconds three locals came to heft the offending beast to prop it up against the wall. We bimbled down the road still shocked.
We saw a map and now know we had a better snorkel off 'Restaurant' (Gili Air) than we did off 'start' Gili Meno. The reef has been decimated but at least there are moves to regenerate and protect. There were loads of fish but we did see a snorkel tour boat hammer a stake into a piece of reef to tie his boat up...................
The side street opposite the restaurant boasted the surgery. The Morning After Pill was clearly an addition to the services offered in the tiny building, complete with dispensary in the window.
Outside one shop we found kittens in a cage looking very fed up.
A 'one careful owner' for rent......
A carefully owned kitchen and scooter.
Toys and a chair.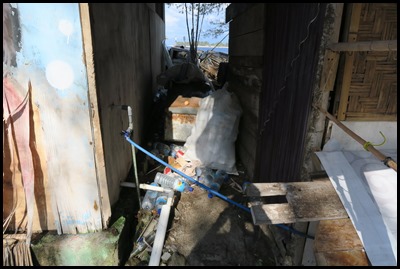 The Lombok Guide says: Gili T is the most well known and popular of the three Gilis. It is the largest island of the three (3 kms x 2 kms) and the furthest from the mainland, but easily reached in less than two hours from Bali and only ten minutes from Lombok. Tagged "the party island" by The Lonely Planet, Gili T continues to cater to the party crowd but also has a cosmopolitan vibe that becomes more evident every year.
Today, Gili T is rated as one of the top destinations in Indonesia and the popular Trip Advisor website recently rated it as one of the 'Top 10 Islands in Asia". I thought it was a tip but then the 'tidier' end was next............
The first few mushroom advertisements.
Our cruising guide says: Trawangan has a reputation as a safe haven for illicit drugs. Psilocybin mushrooms are openly advertised on the island and a range of harder drugs have been known to be in circulation. Though police presence is very low; Indonesian drug laws are extremely harsh and strictly speaking drug use is prohibited.
As of this writing, methanol poisoning from locally made bootleg spirits has caused many casualties and a few fatalities. Do not drink spirits bought on the island unless you crack the seal on the bottle yourself. Sticking to beer is a safe alternative.
The Lombok Guide says: Alcohol and the risk of methanol poisoning have been in the spotlight since 2009 and there have been a significant number of deaths from contaminated alcohol in Bali, Lombok and the Gilis. Avoid bars and places that serve arak or other "local spirits", including cocktails such as "Jungle Juice" and "Arak Attack". Mmmm.
Some bars had excelled in their advertising. Each owner appeared to welcome us in for the ride of our lives but we all really needed an ice cream. Age – a wonderful thing. The one good thing here is that each night one bar produces loud music, they take it in turns so there is not competing or distorted rabble.
Yet more, not exactly sure what 'triping' is...... Then I read what I thought was a sensible tour advert – until the 'Transfer to the moon......'.
The Gelato shop was closed so we returned to the bored kittens who sat in their cage next to the Wall's freezer. En route we passed a tattoo parlour, a very risky pursuit methinks. Dung Dung's tasty ???
We perched to eat our ice creams and headed back to the dinghies. I wonder what the Chef's Recomandation will be later on. Opposite a carefully owned fridge – so pleased we are not here for a fortnight.
We got back to Beez only to find the wind and current had brought up a dodgy fetch. Too dangerous for Bear to balance while I pulled up the outboard (risk of Baby Beez going under the stern platform) so we left the visitors buoy, returned to Gili Air, found a buoy out of the wind and as it was behind the protective reef – no bouncing. All done in an hour and off we set for Bali, treated to a lovely sunset. The funniest bit was when Richard (Kereru) came on the radio wondering why we had set off in the wrong direction "I think you'll find Bali is this way" as WT and Kereru led the way.
The Lombok Guide says: The Lombok Strait is one of the deepest bodies of water in the world and seas can get very rough, with waves up to 5 metres in bad weather.
Now facing the right way, we followed our course in until deep water and the edge of the shipping lane. The sky went through a colour show. Behind us a random cloud was lit, very unusual to see.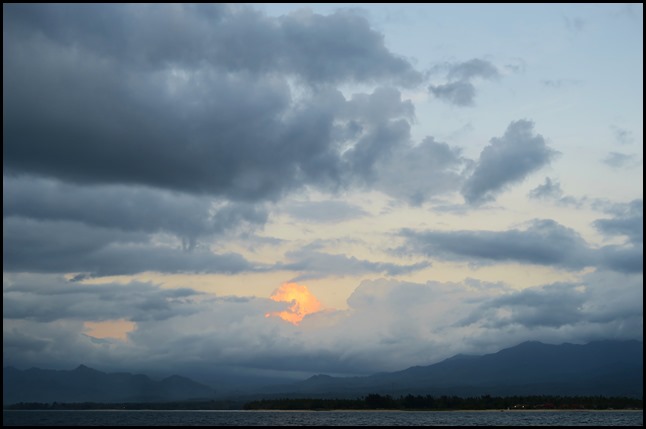 ALL IN ALL SCRUFFY IN PARADISE.....
GOING BACK TO THE HIPPY DAYS
---