Isabela Bimble

Beez Neez now Chy Whella
Big Bear and Pepe Millard
Thu 16 May 2013 22:57
An Isabela Bimble
We went in with Al (Irie II) and found a taxi to take us to the Tortoise Breeding Centre (own blog) as we had no idea where it was. He dropped us a little past the entrance telling us if we were lucky we would see flamingos on the lake.
Sure enough there were four.
This is the place to paddle, wash and pose.
Preen and learn to grub about.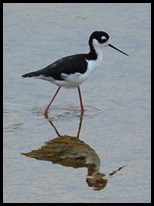 Strut and ............

............ argue.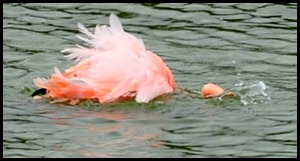 Best of all is a jolly good soak.
A thorough shake.
And a good stretch.
Just cannot beat a good going over.
After our visit to the Tortoise Breeding Centre we followed the well maintained boardwalk back to town. We pass a few picnic areas.
A very long power lead helps the maintenance man.
We end up at the back of Iguana Crossing, the only 'posh' hotel on the island and watch the territorial fiddler crabs in action.
We cross the track and come out onto the beach, where the tide is coming in.
Time for the boys to come up the beach and find warm rocks to sleep on..............
.................and enjoy being cleaned by their little friends.
Contented smiles all round.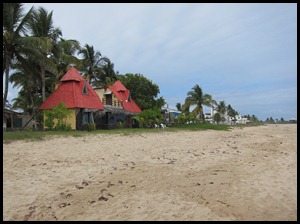 It would have been rude not to slip into one of the many little bars and have have a beer o'clock. Some pondering later, if we ever came back to the Galapagos we would miss Isabela as we have seen all there is to see here and spend the extra time on Santa Cruz, which has become our firm favourite. Then we admired a one careful owner and smiled at the pandas on the cement sacks and the black sand.
Back at the quayside we watch a pecalin having a good scratch.
As we wait for the water taxi we watch a sea lion playing with a discarded crab claw, a massive ray glide by and millions of tiny fish herding.
After a full day time to head home.
.
ALL IN ALL LOVELY, BUT I COULDN'T SETTLE HERE
NEITHER COULD I BUT IT IS VERY SPECIAL
---