To Tokyo-Tamachi

Beez Neez now Chy Whella
Big Bear and Pepe Millard
Fri 13 Oct 2017 22:57
To Tokyo-Tamachi and a Hot Throne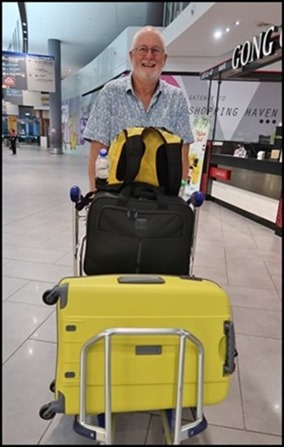 The alarm at six was a little harsh, but excitement soon had us in the lift down to breakfast. I found it so hard to resist the eye-wateringly hot curry and raw onion combo as the draw to go the English toast and cuppa won me over. My red jam had no 'E numbers' at all, until sunlight caught it and it luminesced.... A similar story with Bear's marmalade but this time a dazzling, scintillating yellow. The tea was so good we had a second cup. Cases retrieved from our snug little room, across the road through the covered walkway and we were in KLIA2. On the express train costing thirty six pence each and he we are in KLIA1 (Kuala Lumpur International Airport Terminal One), ready for the off. Technically our flight was due to take off at 09:50, we had done all our checking in online and were clutching boarding passes. However, the queues for general bag-drop were huge and took forty minutes to achieve. We enjoyed the Happy Deepavali (in a few days time) picture made out of different coloured rice and nipped back to look over the top at the escalators.
We do like to arrive at a new place with a few local bob in hand, so next on the list was a Bureau de Change. The fellow at the top is worth about six pounds seventy three pence. Never clutched Japanese Yen before. Then for the massive queues to get through the first xray machine, show our Passport to get on the escalator, train out to the gates and more thorough xray (laptops out) and finally settled for half an hour at our boarding gate. We had lost our take off slot so by the time we got into the air our flight was an hour and a quarter late. The Captain came on to do his welcome and flight time etc and added that the reason for our lateness was due to one of the toilets having to be fixed.
Our seven an a half hour was punctuated with a big piece of salmon for lunch, a couple of glasses of wine and a very fat packet of crisps...........
Bear thoroughly enjoyed Going in Style, I laughed at the quote "......like a raccoon caught in a bear trap.....". Our journey complete, we landed at 19:20.
Yeeha we're here, was soon overcome when we entered Immigration Hall. Oh my, hundreds of people.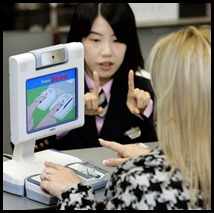 Internet pictures.
Our first experience of Japanese efficiency as we zig-zagged toward a line of about twenty airport employees running a double machine. An arrival person stood each side as the friendly face worked quickly – scan each sides' Passport, get them to put their dabs on the fingerprint screen, take a photograph, put a confirmation slip in said Passport and wish each a pleasant stay. Then a lady told us which queue to join, I was allowed to reunite with Bear and we were stamped in. This was my worrying bit, I had selotaped three pages together to preserve two empty pages, leaving just one completely bare. The wonderful lady didn't squeak at my crowded book and flicked through to find a space to stick her stamp at the bottom of a used page. Phew. On we went to baggage claim, done in five minutes and Customs bade us through with a "have a wonderful stay".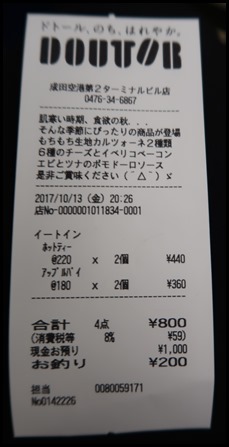 I waited with the baggage as Bear went to buy train tickets (we have season tickets but don't want to start them for three days), that done we had fifteen minutes to have a cup of tea, enjoy apple turnover and say our first "arigato" (thank you). We did really well as the ladies in the cafe spoke no Engrrish and therefore quite a bit of pointing happened. Saved when a head popped up and said "they only do one size" as I was struggling with asking-cum-demonstrating a large tea. Our teas and turnovers were 800 Yen or five pounds thirty eight, knowing there is an absolute certainty that neither of us will ever learn any Japanese writing judging by our receipt. Time to walk the short distance to the station.
Bear by a sleek beast, sitting in his 5A assigned seat and the screen at the front of the carriage giving a drivers-eye-view, I had fun trying to video this as I was bouncing along in my seat.
Thirty six minutes later we got out at Nippori. We went up an escalator and followed the walkway to JR Railways.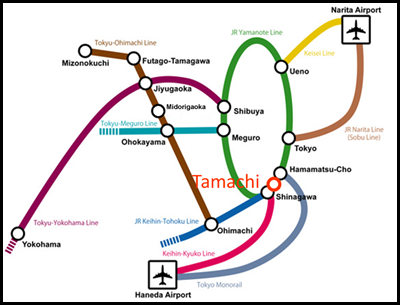 We found some guide maps quite user friendly.
Wiki Says:
The

Tokaido Main Line

opened in 1872 and passed through Tamachi, which was at the time still submerged under

Tokyo Bay

. The area to the west of the Tokaido Line was filled in by the end of the 19th century, and the east side filled in during the early 1900s. Tamachi Station opened on the 16th of December 1909 as an intermediate station on the newly opened

Shinagawa

-

Karasumori

section of the Yamanote Line, then operated by

Japanese National Railways

. It was the sixteenth stop to open on the Yamanote Line.
The area surrounding the station was predominantly industrial until the 1970s, with several confectionery, electronics and machinery factories. New development shifted to commercial buildings beginning with the Morinaga Plaza Building in 1970. The west side of Tamachi underwent a major redevelopment from 1988, resulting in the current elevated deck and pedestrian bridge over the adjacent Dai-Ichi Keihinroad.
In fiscal 2013, the JR East station was used by an average of 144,433 passengers daily (boarding passengers only), making it the seventeenth-busiest station operated by JR East.
The real deal at Nippori Station was hilarious but good to see the 'You Are Here' used and we shouldn't get lost on the Green Circle Line. Could we ???
The train sped in in a flurry of wind and on we got. Perfectly settled to see that the "next station" announcer could be understood as the next station sign came up first in spaghetti and then in 'English', well, written in the type above. On at the blue arrow off at the red, to our last job – find our hotel. I had printed out instructions from Booking.com and we soon found the East Exit. Down the escalator, now fully adept with case, turn right, walk five minutes, cross road and there we were. The lady at reception was superb, speaking fluent English and she handed me a letter – our telephone SIM card that was due within five days of ordering (Bear had the day before yesterday). Armed with wi-fi codes, times of breakfast and sightseeing help we headed for the lift.
Beds exhausted but settled.
We briefly took in the view from our fifteenth floor window. Bear was alarmed at the colour of my yellow bath fizz but I was too frantic tracking a jumping spider. My history with spiders became very shaky with what I had always thought to be 'friends', when the white back in New Zealand caused a nasty wound and a certain amount of ill-health. This chap – sorry but you are going to have to face a heavy but mentally necessary end, well, every time I got near it it simply jumped. Eventually, I trapped it under Bear's pillow but the squishiness of said pillow allowed too much breathing space. After ten minutes I had him cornered and on the ropes, so guiltily dispatch occured, which reminds me I must look to see if there are any Sumo wrestling competitions on at the moment. Anyhoo, back to now, I busied myself working out the air-con and seeing if our external hard drive would work in the TV. I was successful with a gentle breeze from the air-con, failed with the hard drive and found the only English-speaking channel was CNN news channel. All switched off I put our couple of bottles of Pepsi Max in the fridge and set about battling my pillow. One side has little balls in the bottom but once settled they stop making a scrunching sound..........
The greatest shock was the heated toilet seat and we were simply too tired to begin to deal with the toilet control panel but I did get into bed wondering what the nozzle cleaning was all about. Thinking back to our flight delay being due to a toilet, today has been all about Thrones one way and another.....................
ALL IN ALL THRILLED TO BE HERE
A SUCCESSFUL 'PASSAGE' HERE
---