SHYR

Beez Neez
Skipper and First Mate Millard (Big Bear and Pepe)
Sat 26 Dec 2015 23:27
The Start of the 71st Sydney Hobart Yacht Race
We drove out to Georges Head, parked and bimbled toward our chosen viewing spot, passing a new one on us, 'a lightning thingy'. En route we walked over yet another great man-hole cover.
At eleven o'clock Bear selected our 'spot' to see the Sydney Hobart Race due to begin at one o'clock.
A good view of the start line. We looked down and saw Scott-Free.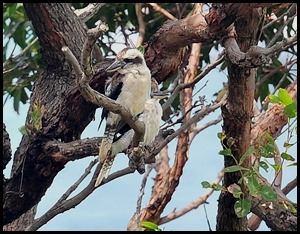 A pair of Katy's settled to watch the proceedings........
..........as did a merry crowd beginning to gather.
Can I borrow your binoculars ??? Bit late to ask now they are half way out of their case...... You scabby little boy. I'm not little......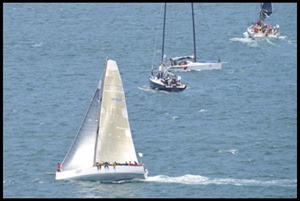 A little visitor as crews were settling into their positions and circling.

The fleet start from two start lines off Nielsen Park with boats on the northern line rounding "Victor Mark" and boats on the southern line rounding "X-Ray Mark", at the Heads, and all boats heading out to sea and rounding "Mark Zulu", one nautical mile east of the Heads. Boats sixty to a hundred feet, start off the front line north of Shark Island. The rest of the fleet start from the second start line, 0.2 nautical miles behind. Having two rounding marks at Sydney Heads will compensate for the distance between the two lines before the fleet heads to sea on the ocean voyage.
Sydney to Hobart on Tasmania's Derwent, six hundred and thirty nautical miles away.
Sydney Hobart Race Commentary: The drama began an hour before the start when the official start boat began taking on water. Those on board, who should have had a box seat of the start, were hastily deposited on the Zoo wharf, a good two kilometres from the super maxis milling about on the front start line. But the race must go on, and at 13:00, a hooter rather than the traditional cannon, fired from the Cruising Yacht Club of Australia's usual start vessel, sent the fleet on its way. Instantly it became clear that the brisk northerly breeze, with surprisingly little east in it, was going to provide for an epic tactical start. There was no short line to the first mark. The boats would have to tack across each other at least two or three times to get there.
Wild Oats XI just before the start
Wild Oats XI skipper Mark Richards always favours the western side of the start line, and just one boat lay between the flying super maxi and the pin end buoy. It was a perfect start, and within seconds Richards threw the Oatley family's boat onto a daring port tack and began crossing the fleet, passing a good three to four boat lengths ahead of Comanche, which quickly tacked too.
Oats, Comanche, Ragamuffin 100 and Rambler tacked over towards the eastern spectator fleet. Only Perpetual Loyal hung onto her initial starboard tack towards the western foreshore, and when she finally tacked back across, it appeared that her persistence had been a terrible mistake as she ducked behind one after another of her rivals.
Wild Oats XI's starting plan was working a treat. She had an extra boat length on Comanche when they crossed a second time, and when they turned to cross the Harbour again on port tack, Richards seemed in total command of the Harbour.
But then Perpetual Loyal re-appeared from nowhere on starboard. Richards realized he did not quite have the room to cross in front of the charging Loyal and peeled away on a huge ark to avoid her.
Comanche threw in an emergency tack and found herself in the lee of Perpetual Loyal's massive mainsail. By the time Oats regained her footing, she was in an unusual third place, and nothing was going to stop Perpetual Loyal leading the fleet out of the Harbour.
Comanche trailed Loyal by a boat length or two as Perpetual Loyal, Comanche, Wild Oats XI, Ragamuffin 100 and Rambler settled onto the tight reach through the Heads towards the sea mark and the turn to Hobart.
Then an astonishing thing happened. Comanche unfurled her big spinnaker, pressed the turbo button and took off. She surged to the lead. An arrogant display of raw, unmatchable power. But more was to come.
Rambler looked to be right where she needed to be, snapping at the heels of her bigger rivals, but about halfway through the Heads, someone hit the American's afterburners. First Rags, then Oats and then Perpetual Loyal fell by the wayside as George David's American 88 footer raced through the lumpy, jarring seas as though she was at a flat water regatta.
Jaw dropping.
And still the drama was not over. As Comanche, Rambler, Ragamuffin 100 and Wild Oats XI unfurled their giant Code Zeros for the run south Perpetual Loyal continued out to sea. Twice her Code Zero refused to burst open.
Behind the super maxis things were going more to plan for Black Jack, Chinese Whisper and Ichi Ban, but further back in the fleet Maserati, the world beating Italian V70 had managed to ensnare one of the buoys separating the race and spectator fleets. The big ocean racer finally left Sydney surrounded by small fry. But there is a long way to go.
Further back, Ark 323, the Chinese TP52, was in a collision with another TP52, Ragamuffin 52. "We were dipping down to avoid Rambler, but the boat below us (Ragamuffin 52) did not give us enough room. We have a big crack in our deck," crew member Faris Bin Aznan, alleged back at the Cruising Yacht Club of Australia dock, following her retirement.
Also back at the CYCA were Jeremy Pilkington's RP78, Lupa of London, and Anthony Lyall's TP52, Cougar II from Tasmania. They, too, were involved in a collision that left Cougar II's starboard transom stove in and broken, with damage to the bow of Lupa of London. Cougar II's crew were too shattered to speak, the disappointment clearly written on every crew member's face.
On Lupa, tactician Laurent Pages told of their devastation. "We were sailing on starboard tack from the start and three boats got locked together – we were in the middle with nowhere to go.
"We were left with the decision to run into the boat above us, or the one below us," Pages said. "This was the worst thing – the worst feeling – a stupid accident.
"The race director was very clear at the briefing this morning. The race committee told us all to take it easy at the start – there was a whole race to go. If everyone listened, this would not have happened. We are shattered – we came a long way. It seems so unfair," Pages ended.
M3, Peter Hickson's TP52, is also out of the race, suffering a shattered forestay. They initially thought they would return to the CYCA and try to fix it and re-start. Anthony Lyall kindly offered them the forestay from his Cougar II.
"Despite how they were feeling, Cougar II made us a generous offer, but we subsequently had a crew meeting and looking at tonight's forecast for a harsh southerly, we decided to retire," M3's skipper, Brent Fowler said.
An extraordinary start, but three hours into the race, God appeared to be back in his heaven, normalcy restored.
Comanche is approaching Jervis Bay in the lead, reveling in the brisk northerly. "We have the hammer down, doing 29 knots," skipper Ken Read reported "We've got to go fast in these conditions that suit us and put distance between us and the rest.
"The southerly is due in four to five hours. If it is sailable, we should still have the advantage, and take more miles out of the others."
Read isn't at all surprised that Rambler is in second place, not one of the Australian 100 footers.
"We have raced them a few times and they we have made them better. And they have made us better."
Due to unforeseen circumstances, the live stream of the Rolex Sydney Hobart Yacht Race start was unable to be broadcast internationally.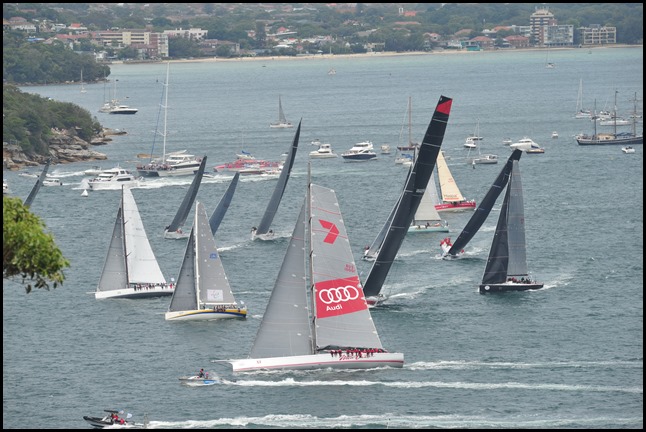 At 07:30 tomorrow morning [eighteen and a half hours after the start of the race], this article appeared on the web – a news commentary: The Sydney to Hobart's two star supermaxis Wild Oats XI and Comanche
have been forced to withdraw from the iconic race as strong winds hit the front of the fleet on the first night.
Eight-time winner and defending champion Wild Oats XI retired late on Saturday night with a torn mainsail while soon after Comanche, who was leading, pulled out with a broken rudder.
Last year, record-breaking Australian yacht Wild Oats XI pipped her 100-foot American rival by just 55 minutes to add to her bulging trophy cabinet. Wild Oats XI, skippered by Mark Richards, is the most prolific winner in the race's 71-year history, and set the race's fastest time in 2012 of one day, 18 hours, 23 minutes and 12 seconds.

Alfa Romeo II (2009) and Investec Loyal (2011) are the only two boats to break Wild Oats XI's stranglehold on the race since 2005.
A strong southerly change - which brought winds of up to 43 knots - hit the fleet's frontrunners on Saturday night along the NSW south coast just over ten hours after the start of the race in Sydney Harbour.
"Early reports indicate that the sail tore in half when the yacht was hit by a 40 knot squall that accompanied a southerly change off the NSW south coast," said the Wild Oats XI statement. All crew are safe and the yacht will return to Sydney.
American boat Comanche reportedly pulled out with a broken rudder and damaged dagger board but decided to keep going, they had been in first place after taking the lead from Perpetual Loyal soon after exiting Sydney Heads.
Fellow supermaxis Ragamuffin 100 and the celebrity-laden Perpetual Loyal will now be the hot contenders for line honours, as will another US raider in Rambler 88.
Prior to Wild Oats XI's withdrawal, five boats had already retired back to the Cruising Yacht Club of Australia in Sydney wearing wounds.
Tasmanian boat Cougar II returned with the most damage after an incident with Lupa of London left her without an entire corner of her stern. No one was seriously hurt, although one sailor suffered facial cuts.
"Unfortunately the boat that clipped us was quite big," said crew member Mike Feilberg.
"There was more damage to top of the mast, significant damage. We're fairly lucky that there wasn't any more serious injuries."
The captain of the British 78-footer, Laurent Pages, described it as a "stupid accident". "We were sailing on starboard tack from the start and three boats got locked together - we were in the middle with nowhere to go," he said. "We were left with the decision to run into the boat above us or the one below us. This was the worst feeling - a stupid accident. The race committee told us all to take it easy at the start - there was a whole race to go.
"If everyone listened, this would not have happened. We are shattered."
Chinese boat Ark323, on her Hobart debut, came back with a crack in the deck after a prang with a rival yacht, while a forestay snapped off the top of the Perth-based M3's rig.
Newcastle 47-footer Dare Devil also retired later in the day.
The race entrants weren't the only ones to crash out early, with start boat Aussie Legend forced into an emergency evacuation of its passengers at Taronga Zoo wharf when it began taking water.
Officials had to revert to using an old-school horn instead of the traditional firing of the cannon as the cannon boat took on water.
Beez Neez would definitely not like this sort of malarkey……
We bimbled back to the car, once more looking down toward Scott-Free. We swayed by the ice-cream van and sat on the grass to enjoy, then headed to Botany Bay to picnic and explore.
By 21:30 on the 27th one in four entrants in the Sydney to Hobart have now retired from the race including favourites Wild Oats XI as US yachts dominate in first and second place. Weather-damaged Comanche has overtaken Rambler 88 with similar damage. It is said that both boats are "limping along". A total of 29 yachts have retired battered and bruised by 40-plus knot winds which hammered the fleet off the New South Wales coast.
Ark323, Cougar II, Lupa of London, M3 with a broken forestay, Dare Devil with rudder damage, returning to Sydney. CEX Dolce with a broken mast, Wild Oats XI with mainsail damage. St Jude – rudder, Perpetual Loyal – rudder, KOA – steering, Pazzaz – mainsail, Pretty Fly III - broken forestay, Brindabella – sail, Takani – rudder, Patrice – mainsail, GYR WOT EVA, Dekadence - electronics Issues, Samurai Jack - sail damage, HASPA Hamburg – rig, Black Jack - returning to Jervis Bay, Victoire, KLC Bengal 7 – mainsail, Frantic – mainsail, Triton – mainsail, Hollywood Boulevard – hull, Great Xpectations, Landfall – hull, China Easyway - sail damage and Jaffa - starter motor.
End Note: It is the first time, possibly with the exception of the early years, that a boat has retired, her crew sail thirty odd nautical miles back towards Sydney, before deciding to continue on racing and go on to win. And the locals loved it. As Comanche zigzagged close to shore, trying to find pressure on the River Derwent, at Blackman's Bay lights were being flashed on and off from hundreds of houses and those in cars at Blackmans Bay Beach flashed their lights on and off, making an unforgettable impression against the last light of the day. But it was at the dock, where Comanche arrived, that one of the largest crowds in living memory had gathered. There was not a square inch to be had around the piers and wharfs surrounding Hobart where thousands cheered the American victory. Comanche's finish was impeded by the breeze which came and went at whim as the yacht rounded the Iron Pot. At one stage she was powering at 15 knots, then down to 8.5 knots. Her finish time was 2 days 9 hours 58 minutes 30 seconds.
ALL IN ALL EXCITING TO WATCH
ANOTHER NEW EXPERIENCE
---