RMC Dredger

Beez Neez now Chy Whella
Big Bear and Pepe Millard
Tue 5 Feb 2013 23:37
Panama Canal Authority Dipper Dredge Rialto M Christensen
Rialto M. Christensen (RMC) works every day in what is acknowledged to be some of the most difficult conditions to be found anywhere. Not only does she play a daily role in maintaining navigation channels, but even though the Canal celebrates its 99th year, there are still several places where its banks have yet to reach their so-called 'angle of repose.' And from time to time landslides occur that create shoals consisting of a variety of material, including large, heavy rocks. RMC is playing a key role in the expansion of the canal. We met her this afternoon.
Length (OA): one hundred and sixty four feet
Width: nearly seventy one feet
Depth: fifteen feet nine inches
Draft (loaded): nearly eleven feet
Bucket capacity (standard): 11.50 m³
Dredging depth: 60 feet
Rialto M. Christensen (RMC) was built in 1977 by the Japanese Hakodate Dock Company in the days when the Canal was still under US governance. Designed to replace several classic steam dipper dredgers, she is a diesel-electric, cable-operated vessel.
Maid of All Work: Besides the maintenance task, Rialto M. Christensen is also deployed for major capital dredging projects as part of PCA's objective to increase the Canal's transit capacity. In recent years these have included:
Widening the Gaillard (Culebra) Cut

Deepening the navigable channel through Gatun Lake.
It was at Gatun Lake on the 19th of February 2004 that RMC dredged 7,800 cubic yards of muck and debris in a single eight-hour shift – breaking the record set by one of her steam-powered predecessors, Cascadas, in October 1916 when 7,700 cubic yards were dredged in one shift. That performance was achieved despite the rather old-fashioned way of monitoring the position of the dredger's fifteen cubic yard bucket – marks on the stick. Today, as part of its permanent modernisation programme to enhance the Canal's efficiency and reliability, the PCA, has equipped RMC with a modern software system from Dutch specialists Seatools to monitor and visualiae the dredging process.
The Software: Seatools won the contract based on an adapted version of their DipMate package for backhoe and dipper dredgers – a member of the firm's DredgeMate family of systems suited to various dredging functions, HopperMate, CutterMate and DrillMate amongst them. The standard DipMate package, designed for basic backhoe and dipper operations, uses a 3D visualisation engine linked to sensors for boom, stick, bucket, slew and tilt x/y. But the mechanically-operated Rialto M. Christensen's configuration made it necessary to add a tool to monitor the distance of the bucket's extension with respect to the dipper handle – achieved by mounting a distance measuring laser on the dipper handle. The PCA also required two further features:
A crane rotation angle warning signal – the angle's limited to ninety degrees when all engines are shut down automatically. To avoid this, a visual warning's incorporated that signals the crew when the angle reaches seventy degrees.

A positional warning signal – due to the Canal's limited width, especially in the Gaillard Cut, it's vital the dredger stays within a limited area or she could constitute a hazard to passing ships or even be caught in their wake.
Finally: To provide her dredgemaster with an optimal view of the dredging process under all circumstances, Rialto M. Christensen's crane is equipped with two control cabins, one on either side. This means the DipMate visualisation software has to display dual positions. Seatools copes with that too, creating the entire system in Holland before packing it off to Panama where it was installed aboard the dredger under the supervision of project engineer Lennert de Oude. Part of the deal included training twenty five PCA employees to use DipMate, carried out with both classroom and practical exercises.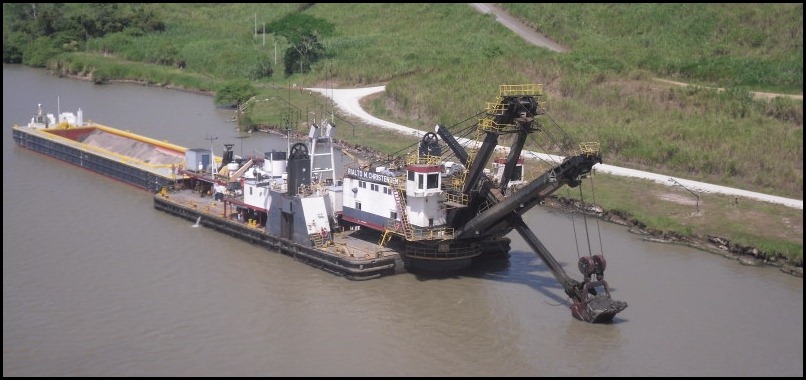 ALL IN ALL WHAT A GIRL
A WONDERFUL PIECE OF HUMONGOUS EQUIPMENT
---