3 Days Shopping

Beez Neez
Skipper and First Mate Millard (Big Bear and Pepe)
Fri 16 Dec 2016 23:57
Three Days Shopping in Langkawi, Mostly in Kuah
We took the shuttle ferry over and met Mr Din, no paperwork, ten pounds a day and a tiny blue car was ours for the next four days. We headed to the biggest town on the island – Kuah. Along the way we saw where retired big ferries go to rest.
We neared town and saw a dental surgery – who wouldn't want their teeth fixed by Dr / Mrs Chew....... In we went with me at the front saying I had a filling fall out last night. "Would you like an appointment soon ???". Yes please. "Can you fill in your name, address, telephone number and date of birth". Well, just as I was writing 196 "Room One please". I wrote the 0 and off I went in a state of amazement. I was in the chair, filling done. Any chance you could fix my leaky filling at the front ??? "No problem". The pint sized dynamite dentist was all done in minutes. "I want you back after lunch for two others that looks weak". Oh, OK. In went Bear. Out he came moments later. Mrs Chew said I didn't need a filling, I needed a rebuild. Never all done and dusted in that short time ???? Pin in and built up before I could blink. My fillings were eleven pounds each and Bear's rebuild was twenty pounds. Off we went to the paint shop and lunch. I rang the optician "Can you come in at five after the ferry queue rush". No problem. As we were finishing our KFC the phone rang. Mrs Chew wanted us at a quarter to two. Back we went, in I went – will I need an injection. "No, at your age the sensitive bit has shrunk, I'll stop if you wince." Nice to know I'm too old for pain. First one done in a flash, second one I did wince just once and out came the prong to finish off. I was charmed by the little rinse pot that refilled itself every time I put it back in its place and the speed of everything that had happened. Bear went in for his polish, all done and dusted............
Next, we found a huge Mall, posed on the way up the stairs, en route to find new Christmas lights for Beez. New shirts and shorts for Bear, then it was off to our eye appointments.
The traffic to the ferry port was easy, as the lady had said and we parked next to the fence with a view of the Geopark.
Mr Lim was quick and efficient, glasses chosen for Bear in a new varifocal that means his blind spot will be so much smaller – meaning he will be able to focus without having to point his beak where he wants to look. My long distance had improved a bit but I just needed a cheap pair of readers as we have turned the boat upside-down to no avail, lost. Bear snuck this picture of me doing the "which is the clearest side, red or green." Free eye tests as we bought a clear pair and a transition pair for Bear, and readers for me. Time for an ice cream and satay chicken when we get back to the shuttle ferry before we fell onto the seven forty five (last) ferry of the day.
The next day we picked Helen and Mark up and returned to The Loaf for lunch and then went up in the cable car. That night we got home to find my Christmas present had arrived. My exact replacement cooker had arrived – with a smashed front door, very annoying and upsetting as we had requested special care be taken with the packing.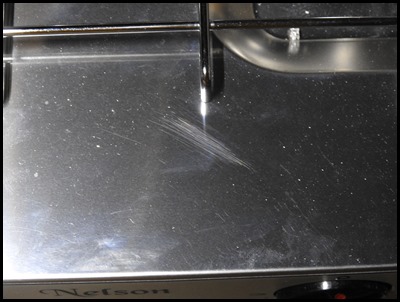 Glass everywhere. The fiddles box was not selotaped so they had been cantering around the box that left Portsmouth, had a day in Paris, Mumbai, China, Kuala Lumpur and finally Langkawi before being brought over to Rebak Island..........Bear has promised to polish out the scratches for me, I so like starting 'brand new' as such. He has bought me two new woks so I will be thrilled when it is all set up.
The following two days more shopping, new torches, tinsel, hair trim, carpet (that we will pick up when we go in for Bears glasses) and a few bits from the supermarket. Exhausting, I may never want to look in a mall for many, many months. The weekend will be about time by the pool and Monday we will get stuck into sorting out the girl.
A view, looking left from one of the car parks.
ALL IN ALL LOADS OF BOXES TICKED
GOOD FEEL OF THE ISLAND BUT EXHAUSTING
---