The Sky Tower

Beez Neez
Skipper and First Mate Millard (Big Bear and Pepe)
Sat 21 Dec 2013 23:47
This morning we got on the bus at the end of the road from our B+B, a ten minute ride took us to the Civic Centre and our driver told us to return on the 258 or 267. We had expected the city to be heaving, but no, just like our late night experience at St Luke's Mall. We asked in a shop and the lady said that most people had gone on holiday. No canned music, only one shop had a modicum of decorations and the best (only) outside display was Whitcombe Book Shop which had a jolly Santa and reindeer. We did all we had come to do – shopping wise – in quick order and looking up a side street, there was the Sky Tower. Nothing for it then.
No way could I get Bear to stand on the glass in the lift to see us shoot up to the fiftieth floor. Soon he was settled with a celebratory cocktail admiring the view. I too had a cocktail and was in my element watching a container ship as she left the massive port and wended her way, am amazingly long way to get out to sea.
Suddenly, Bear pointed, someone just shot past the window. Mumbling in his beard was heard. There I was enjoying the first bite of my very tasty wrap, when that body few by, I felt it may put me off…….Never, Bear being put off food, Huh. Well, just for a minute or two……..OK, let's see if we can time a picture. Can I finish my food first ??? Five minutes later, you tell me when the next body appears. I focused. Now. Click. Oh just dangling feet. Next time tell me when a whole body is in the blue bit. We tried again, but the body had already fallen below the horizon. Oh well.
We gave it one more go. Looks like a Christmas Star. That's it…….
We posed for a set of commemorative pictures.
The Sky Tower is an observation and telecommunications tower on the corner of Victoria and Federal Streets. It is 1,076 feet tall, as measured from ground level to the top of the mast, making it the tallest free-standing structure in the Southern Hemisphere. Due to its shape and height, especially when compared to the next tallest structures, it has become an icon in Auckland's skyline. The tower is part of SkyCity Auckland casino complex, originally built for Harrah's Entertainment. The tower attracts an average of 1,450 visitors per day, we were amongst just a few dozen bimbling around enjoying the views.
I actually persuaded Bear to stand on the one and a half inch glass inset on the observation level, looking straight down to the floor some 610 feet below. When I asked him to smile, I felt it was probably the best he could manage, but he didn't say anything………..
……………..He just held his nuts tightly and sat down as soon as he could………….
From up here we could (or rather I could) see the queue of jumpers. The tower SkyJump, a 630 feet jump from the observation deck, during which a jumper can reach 53 mph. The jump is guide-cable-controlled to prevent jumpers from colliding with the tower in case of wind gusts. Climbs into the antenna mast portion 980 feet heights are possible for tour groups, as is a walk around the exterior, sadly not available today. Thank God. Anyway….
Nutter.
Project History: Fletcher Construction was the contracted builder for the project while engineering firm Beca Group provided the design management and coordination, structural, geotechnical, civil, mechanical, electrical, plumbing, lighting and fire engineering services. Harrison Grierson provided surveying services. It was designed by Gordon Moller of Craig Harrison Grierson Architects and has received a New Zealand Institute of Architects National Award as well as regional awards. The project architect was Les Dykstra. Taking two years and nine months to construct, the tower was opened on the 3rd of August 1997, six months ahead of schedule.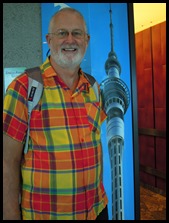 Facts and figures: The tower is constructed of reinforced, high-performance concrete. Its 39 feet diameter shaft (containing three lifts and an emergency stairwell) is supported on eight 'legs' based on 16 foundation piles drilled over 39 feet deep into the local sandstone. The main shaft was built using climbing framework. The upper levels were constructed from composite materials, structural steel, precast concrete and reinforced concrete, and the observation decks clad in aluminium with blue/green reflective glass. A structural steel framework supports the upper mast structure. During construction 20,000 cubic yards of concrete, 2,000 tonnes of reinforcing steel and 660 tonnes of structural steel were used. The mast weighs over 170 tonnes. It had to be lifted into place using a crane attached to the structure, as it would have been too heavy for a helicopter to lift. To then remove the crane, another crane had to be constructed attached to the upper part of the Sky Tower structure, which dismantled the big crane, and was in turn dismantled into pieces small enough to fit into the lift.
Emergencies: The tower is designed to withstand wind in excess of 120 mph and resist earthquakes with a thousand year return period. Analysis shows that an earthquake centred 25 miles away and reaching 7.0 on the Richter Scale is expected to leave the tower practically undamaged. Even an earthquake measured at 31.6 times more energy than a 7.0, and located only 12 miles away, is not expected to collapse the tower. As an additional safeguard against emergencies, fireproof rooms on the lower levels of the observation deck would provide refuge in the unlikely event of a conflagration, while the stairwell itself is also fire-safety rated. The Sky Tower has so far been closed at least once for weather-related reasons, during a storm in November 2006, when the structure started to sway noticeably in winds of up to 93 mph. The closure was noted as not strictly necessary except for visitor comfort, as the tower has been designed to sway up to 39 inches in high winds of up to 130 mph, which are expected to occur once in 1,000 years on average. Not for you Bear, up here when it wiggles. You've got to be joking……
Lighting: The Sky Tower features prominently on the Auckland skyline at night due to its extensive illumination and SkyCity uses this lighting of the tower to promote various causes using a number of colours or mixes of colours (as we saw in New York on the Empire State Building). A few examples are Blue for the Auckland Blues. Red, white and blue for Valentine's Day. Green for St. Patrick's Day. No lighting (except aircraft warning lights) for Earth Hour, April Fool's Day, Memorial Day, Death of a Head of State and any Government member. Over the week ending the 29th of May 2009 the previous metal halide floodlights, which had been since Sky Tower's construction in 1997, were replaced with LED lights to reduce energy usage. The project began in October 2007. The previous lights were difficult to modify, repair or change colours due to the building's height. The new lighting system produces more lumens per watt and uses 66% less energy compared to the previous floodlights, with a longer working life. They also produce less heat, remaining cooler. The LED's can produce millions of different colours and can be controlled from a laptop, compared to the previous method of manually installing filters to change light colours. On this day a rainbow display was shown to the public at night, after the lights had been trialled the night before.
The building that holds the Sky Tower entrance, shows my very own Santa.
We got the bus, found a wonderful Irish pub, Bear settled to Christmas dinner and I had lamb shank (awarded in 2012 as the best across all New Zealand pubs) – caught out a couple of times by the cheeky bits of chilli pepper. A smashing pint of Guinness, time enough to go back to the Mall. No feet demand a shower and an early night.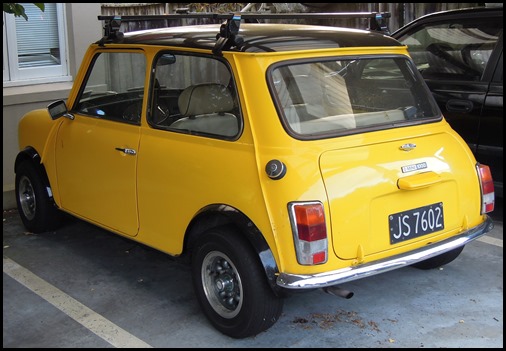 A bee coloured mini opposite our B+B.
We'll call this – Payback……………
ALL IN ALL WHAT A GREAT WAY TO SEE AUCKLAND
VERY STARTLING TO WATCH THE JUMPERS TRY TO SPOIL A PERFECTLY GOOD WRAP
---