We Step Ashore

Beez Neez
Skipper and First Mate Millard (Big Bear and Pepe)
Thu 4 Apr 2013 21:47
Our Feet Head to Solid Ground
We call the dollar water taxi and take our first trip ashore, Bear delighted, I get a fit of applauding
Does it feel special ???
We take two steps, look over and see a sleeping beauty and Sally Light-foots. Tick.
A new number plate to the collection
We venture toward the Tourist Information Office, along a main road
Spectacular wiring, everything and the kitchen sink and a unique water cover
The wonderfully decorated junior school
Outside the tourism office, rare to see an older Jesus with his parents. Outside the church we see Baby Jesus holding an orb and a clam shell.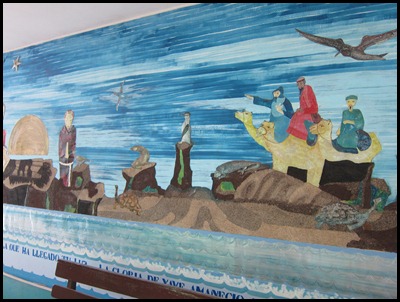 The lovely church with a very different wall mural.
The hospital
A 'posh' hotel. A pretty eatery. One nearly finished.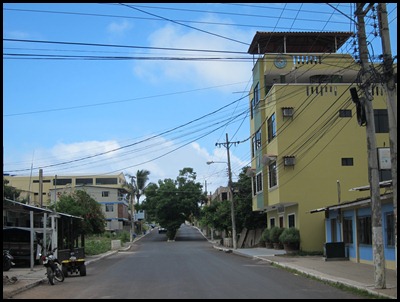 More exploring
A supermarket. No crisps or coke to be bought here and as a bottle of Absolut vodka comes with a price tag of fifty one dollars and seventy cents, we use our on board supplies.
We trot down many unmade streets, but they will look super smart when they are finished.
A darling little house
Time to buy Bear his retirement anniversary lunch in the Mockingbird.
The man in question retired five years ago today, he celebrated with beef stroganoff, rice and chips and we toasted his continued good health from glasses that actually lean over.
The workmen returned to work after their lunch break, the noise of the cement mixer became wearing, the internet connection was painfully slow, so we went in search of somewhere quieter for sweet. In the front opposite the ferry dock we found an upstairs restaurant called the Miconia. So long as we spent five dollars we could log on to their Wi-fi. Super fast. I had ice-cream and fruit and the celebratory boy had crepe, fruit and ice-cream.
The view down the street to our left, the view opposite and out to my right across the anchorage.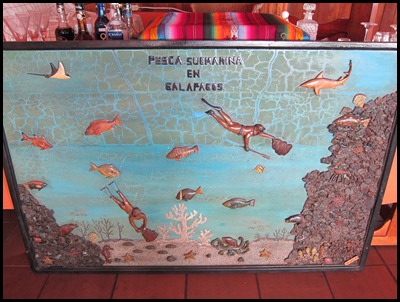 The beautiful wooden murals and the wall painting showing the promise of things to come, I feel this could become a regular setting for us.
ALL IN ALL SO THRILLING TO BE HERE
WONDERFUL
---