Fish Market

Beez Neez
Skipper and First Mate Millard (Big Bear and Pepe)
Sat 20 Apr 2013 22:57
A Fish Market with a Difference
Walking along the boardwalk we stopped to take a picture of the fish market. We could see a few pecalins and went for a closer look.
All quite orderly from this angle – that is – until we turn round.
Spot the mistake in this picture.
No wonder their breath smells, judging by this tidbit. I asked the man if he ever growls, "never".
A small zoo. Sea lion, great grey heron, gull, pecalin and a marine iguana had just stepped out of shot.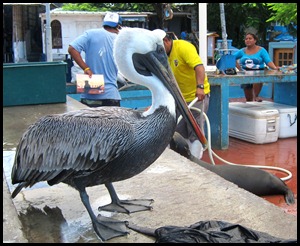 Oh there he is. Handsome boy in poll position, the ladies queue nicely.
Oh My – now a kerfuffle..............
The winner admits its too big
Greed can cause damage. We were told that many damaged pecalins feed here that would normally have died.
I don't want my ears washed.
We had never seen pecalin feet up close.
Back to queuing
I queue patiently, so do I. But they keep on washing everything down.
I'm clearly missing out. I sneak to dark corners.
I'm full and need a sleep. I need a swim
The girls get back to waiting.....................
We leave mid yet another kerfuffle.
ALL IN ALL MADNESS
WOULD NEVER HAVE BELIEVED IT
---