Tongan Feast

Beez Neez now Chy Whella
Big Bear and Pepe Millard
Sun 10 Nov 2013 23:57
Tongan Feast at 'Ene'io Botanical Garden
Haniteli came to pick us up at half past eleven to take us to 'Ene'io to sample a Tongan feast. His van is coming quite close to entering the 'One Careful Owner' competition, but for now, we experienced a dust storm coming through the gap in the door.
A German lady spent an hour painting 'happy things' last week.
Compared to our Friday visit the sea looked remarkably calm. (Vegetarians read no further)........
Outside, the suckling pig was almost ready, an absolute at any feast.
Bear settled himself to a couple of beers.
At one o'clock, Haniteli said a few words and grace, whilst Soni (the assistant chef) began to carve the puaka tunu.
We helped ourselves to salati vesitapolo (tossed salad) and kumara (similar to potato).
Kale moa (spicy chicken biryani, labeled here as briyani curry, boiled rice, lu kapapulu (corned beef or it can be fish, wrapped in taro leaves and simmered in coconut milk) and lo'I kaloa'a (shellfish simmered in coconut cream) were our other dishes. Well this suited Bear down to the ground, he is an ideal candidate for becoming a Tongan. Ten pounds per person, including transport – Marvelous...........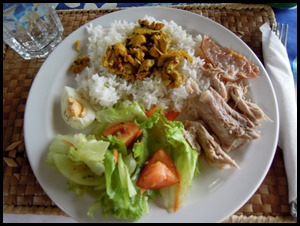 An enthusiastic Bear dug into his first course, I was happy to stick with the one.
Bear went on to attack seconds AND thirds.
I settled for a piece of keke sokoleti (chocolate cake), and managed to try a small piece of keke niu (coconut cake), with coconut custard. Bear manfully managed chocolate cake and coconut custard.
Haniteli kept us amused with his stories for the rest of the afternoon.
Along the beach were over a hundred people of all ages, enjoying a Seventh Day Adventist family day out, the singing was lovely.
We saw some lovely traditional outfits.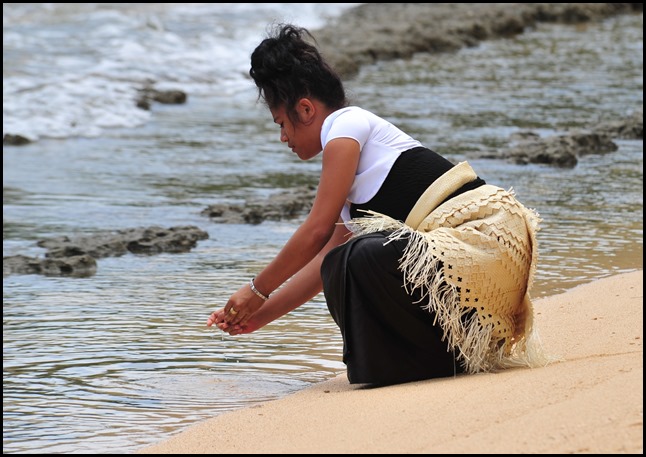 So elegant.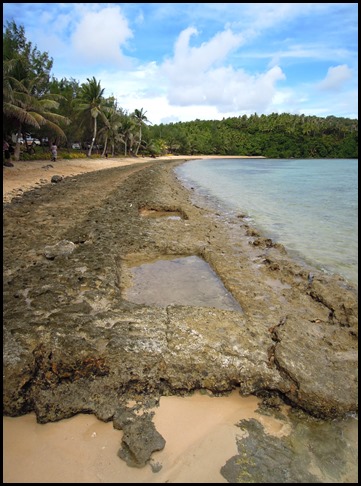 I went for a stroll along the beach, on my return I asked what the very definite shapes, cut in the coral were. "Oh they were cut and used as lids for the royal tombs in days gone by." .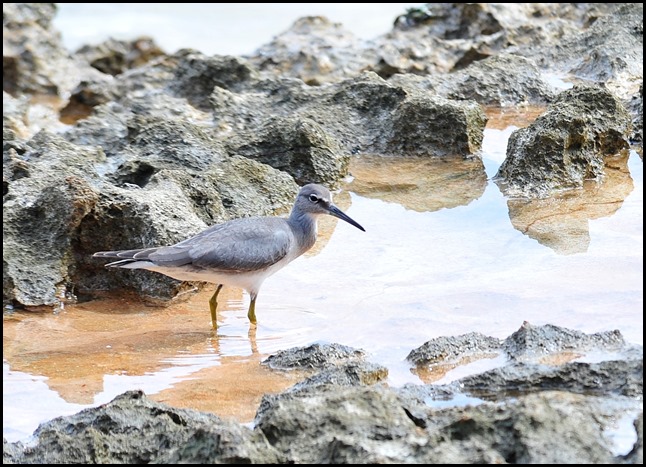 A tern came to snuffle about for small crabs and shells.
One last look at 'Ene'io beach before heading home, hope to be back next year.....
ALL IN ALL A VERY NICE SUNDAY
REALLY ENJOYABLE
---