Sintra

Beez Neez
Skipper and First Mate Millard (Big Bear and Pepe)
Tue 26 Aug 2008 23:08
Sintra
Sintra was the summer resort for Portugese Royalty, the town is in the 1,000 places to see book, so off we went on the bus with Ann in her "Pathfinder" role.
Our first view of the steep vista, falling in behind "PF", a stunning house.
Lord Byron had already seen his fair share of the Continent when he wrote to his mother from Sintra calling it "perhaps the most delightful village in Europe", a "Little Eden".
Commanding the highest peak are the dramatic 8th century ruins of a Moorish citadel, the Castelo dos Mouros, with amazing views to the sea. The Palacio de Seteais is just one of four palaces built with views in mind.
This water fountain was built in 1922, a view from the village centre. The Palacio Nacional, the two "pointy things" are silos for grain.
Pena Castle
| | |
| --- | --- |
| Built by Fernando Cobourg Gothas on the ruins of a monastery from the 16th century, the style of the palace is a blend of Gothic, Manueline, and Romantic influences which make for a very interesting combination. The palace was used as a royal residence until 1910, the year when Manuel II and his family moved into exile from the revolution. | |
Ann gathering info in the tourist office, team talks produced the planned route, but not before we went to this delightful cafe for tea and cakes.
After a bus journey around the hillside, not for the faint-hearted. We went into the Toy Museum. I couldn't resist Batman and looking at Skipper I saw "no differences at all" I was jealous of this N gauge layout.
This is a Barbie Special Wedding Dress by the American designer Bob Mackie in 1992. A boy dolly from days gone by and a set of toys from Milawi.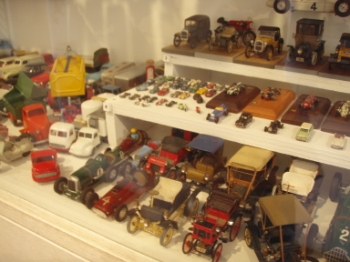 The display cabinets were crammed full of every kind of toy, for a trip down memory lane. You were given a catalogue to take round with you during your visit, describing in detail all the relevant information.
Time to catch our breath outside the museum of tiles, housed in the Palacio Nacional. Two more pretty views.
The town hall, the village centre and if ever we were in doubt "Just follow that hat". Ann organised us to get a different bus back to Cascais, taking a longer route that took 75 minutes. What a journey, not just fabulous views of the coastline, but also a bus driver who took no prisoners. He didn't wait for anyone to sit down and tried to wear through a set of brake pads. His favourite sport was to see how many people he could get off their seats. We saw an elderly man go flying and a lady lose her dignity. After that, no stamina left for shopping, so back to Beez for a well earned beer, wine and paella.
All in all well worth the trip.
---