3 - 2 - 1

Beez Neez now Chy Whella
Big Bear and Pepe Millard
Thu 7 Sep 2017 22:57
3 - 2 - 1 at Bake Lakes
The boys awoke chirpy this morning. Washed, dressed, breakfasted and ready for the off - the week has flown. Edward gave his final hug to Beds and did his trick of rushing toward the camera saying "cheese"...........We took them home to an wonderful reunion with their mummy and daddy – Rachel and Miffy. A cup of tea and a beautiful Pandora charm of the Coliseum in Rome, we got back to Eva and found the silence deafening – let's go fishing, despite the hundreds of jobs we need to complete before leaving Plymouth on the 14th.
We set up, the sky threatening rain but here we were soon pestered by a pair of swans who hoovered up all the ground bait we had thrown in in seconds, a gentle tap with a rod tip up the rear feathers encouraged them to move on.........Bear opened his account and tested the new 'fish bed', the latest purchase as we become less able to leap up and down to remove hooks etc., not a bad looking boy............
.........but quite small in those paws.......Huh
Soon after it was my turn to use the landing bed – really weird after fifty years of laying a catch on a sponge mat.
A pretty chap of similar size to Bear's.
En route to putting him back I heard, Don't fall in when you release him. This refers to the time I slid on some duck poo and went in head first – fish still in hand – well I do like to see them comfortably returned to the water, but not today as it is way too nippy.
Then I noticed my line tighten slightly, I would ease it and it would tighten again. In came a little pest who had swum in circles and made such a mess of my rig. I'm not giving Bear the Bird in the third picture, I'm supporting my line. Yeah, right, I've heard that old nugget before. No, truly, I just may tick like a clock until I get sorted out. How such a tiny fish can put so much slime everywhere beggars belief.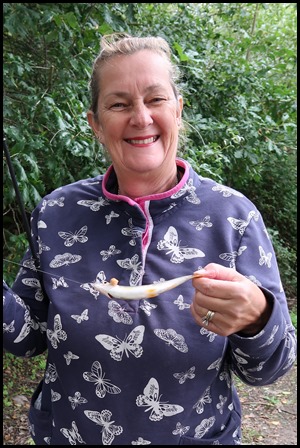 About half an hour later I was ready to be as cross as a wasp but Bear soon had me giggling when the self same thing happened on my margin set up.
Then a 'proper job' in the rain but still a smallish sized chap.
I lost two beauties, Bear lost one and a few that teased around his ground bait. I got this handsome chap who laid nicely for this picture.........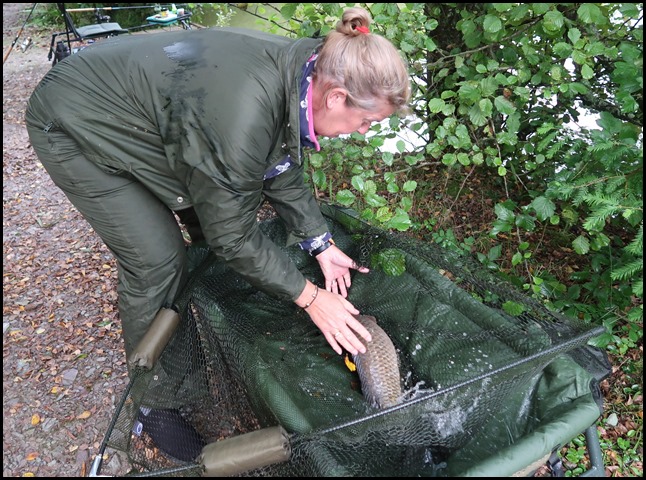 The proceeded to get me soaked as he thrashed and flapped.
Finally, a messy-pose-shot. Time to pack up.............tally for the day - three carp, two idiot tiddlers and one for Bear growllllll
ALL IN ALL A MIXED BAG – QUITE LITERALLY
VERY FRUSTRATING BUT FUN NONETHELESS
---