The Exumas

Beez Neez now Chy Whella
Big Bear and Pepe Millard
Sun 10 Apr 2011 22:51
A map of the Exumas and an aerial shot
Exuma is a district of the Bahamas, consisting of over three hundred and sixty islands (or cays - pronounced keys). The largest of the cays is Great Exuma, which is thirty seven miles in length and joined to another island, Little Exuma by a small bridge. The capital and largest city in the district is George Town (permanent population 1,000), founded 1793 and located on Great Exuma. The Tropic of Cancer runs across a beach close to the city. The entire island chain is one hundred and thirty miles long and twenty seven square miles in area.
Exuma was settled in or around 1783 by American loyalists fleeing the Revolutionary War. The expatriates brought a cotton plantation economy to the islands. George Town was named in honor of George III, to whom the settlers maintained their loyalty. Lord John Rolle, a major Loyalist settler of the Exumas, is a major figure in the islands' heritage. Upon his death in 1835, he bestowed all of his significant Exuma land holdings to his slaves. As a result, a number of towns on Great Exuma have been named after him (such as Rolleville and Rolletown).
The islands are a popular spot for sailing, diving and caving. Many of the unnamed beaches and coves of the islands, including extensive offshore reef areas, are included in the protected Exuma National Land and Sea Park of the Bahamas National Trust. Some of the islands on which there are permanent residents and resorts include Staniel Cay (home of the Staniel Cay Yacht Club, a fixture in the Exumas), Fowl Cay, Musha Cay and Iguana Cay. Thunderball Grotto, located just a few hundred yards off Staniel Cay, is one of the locations where the James Bond film Thunderball was filmed. Sandy Cay, just a short boat ride from Little Exuma was the location used for filming the Pirates of the Caribbean beach scenes and one Shell commercial. The novel Wind from the Carolinas was set here. We have met some wonderful, often poor people who depend on fishing, tourism and expensive supplies that only come in once a week. They are God fearing, kind and helpful, sharing what they have to anyone in need. On land there are no mountains, not many hills really, few attractions in the natural sense but Oh how the water makes up for it. Visibility is perfect, the water generally warm - considering it is the Atlantic Ocean and the colour.......... There is not a single slot machine, very few fancy hotels and no nightclubs (that we saw), so tourists come to these islands to get away from it all, they get that in spades. Sadly we leave the Exumas in the morning en route to Nassau back in the Bahamas proper. We have seen some extraordinary sights and Bear has asked that we return one day to spend a lot more time exploring. Can't argue with that.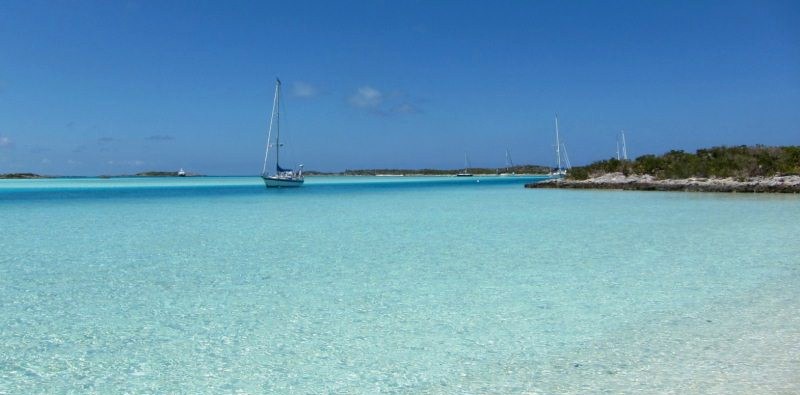 ALL IN ALL PHENOMENAL BEAUTY
THE MOST BEAUTIFUL COLOURED SEAS I HAVE EVER SEEN
---