No Lava

Beez Neez
Skipper and First Mate Millard (Big Bear and Pepe)
Sun 22 Jul 2012 22:37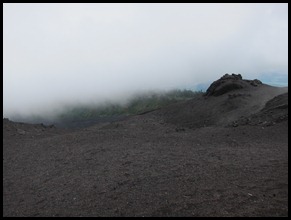 Pacaya is a popular tourist attraction, Bear got me out of bed at five (on a Sunday I hear you gasp, sadly, yes) with the promise of fantastic pictures standing next to slowly flowing lava. I realistically didn't expect to be taking pictures like the first, but did expect the second and what I got was the third and aches in places I had long since forgotten. But I move on too fast.

We were picked up at Mama's at five forty five and having left the cobbles of Antigua were soon whizzing along main roads and stunning scenery. It took about an hour, driving on some very steep roads and loads of traffic, much of it en route to Chichi market.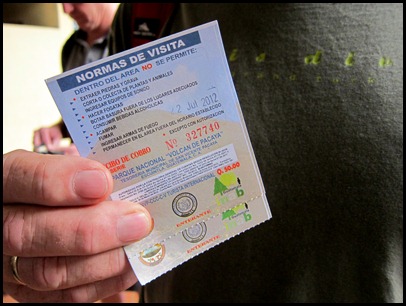 Our guide for tour met us at the bus. Bear went off to buy our four pounds and twelve pence tickets and I wandered over to take a picture of a local with his "natural taxi", never believing for one second I would meet them again later.
The first part of our route was really steep. Having had bronchitis for three weeks I was soon wheezing like an old funnel. Our guide looked me straight in the eyes, then pointed to the sign showing the trail ahead and insisted I continue on a "natural taxi". Within a second I had four non-eager looking horses surrounding me. The guide suggested a small gray, that I would have been dragging my feet along the floor. I chose Tornado – funnily enough the very taxi I had taken a picture of earlier. My next view was between his now flattened ears, (can you blame him – steady) then I was trying my best Spanglish on Louis. Very odd to be on a horse with no steering wheel, my hands felt at a loss.
Bear soldiered on, bravely on foot, and it was a welcome breather at a photo opportunity. Of course Louis took me right up to it on the now coughing Tornado. Everyone else on horseback dismounted – but no there was I in the midst of it.
We had stopped to see Laguna de Calderas, a crater lake in the municipality of Amatilan. The lake has a surface area of eleven hectares and is situated at an altitude of 5833 feet.
On we went as far as we could go on horseback, I was pleased to see some folks much younger than me had been scooped up at various stages en route as they showed signs of exhaustion. The horses got to have a few minutes rest before going down to meet the next lot of tiring tourists. I said a fond "farewell" to Louis and Tornado who was clearly pleased to see me dismount in a Pepe's own style of 'lets just use gravity'. Tornado's coughing was as bad as mine, but Louis reassured me that the injections were working. I was reunited with Bear and on we went to the top.
Pacaya is an active

complex volcano

, which first erupted approximately 23,000 years ago and has erupted at least twenty three times since the

Spanish conquest

of Guatemala. Pacaya rises 8,373 feet. After being

dormant

for a century, it erupted violently in 1965 and has been erupting continuously since. Much of its activity is

Strombolian

, but occasional

Plinian

eruptions also occur, showering ash to nearby towns and villages.
Pacaya lies nineteen miles southwest of

Guatemala City

and is quite close to

Antigua

. The volcano sits inside the

Escuintla Department

.
After the last caldera-forming eruption 23,000 years ago, several smaller vents within and around the caldera have seen eruptive activity. Pacaya is the largest post-caldera volcano, and has been one of Central America's most active volcanoes over the last 500 years. It has erupted at least twenty three times since the Spanish conquest, producing basalt and basaltic andesite. About 1,100 years ago, the volcano's edifice collapsed, causing a huge landslide. Deposits from the landslide travelled about sixteen miles from the volcano down to the Pacific coastal plain. The landslide left a large crater, within which the current active cone has grown. The presence of a magma chamber at shallow depths beneath Pacaya means that distortion of the cone leading to instability and future landslides remains a hazard to the surrounding areas.
Recent eruptions: With its almost continuous activity, the volcano has been a popular location for tourists. We saw this picture on an advertisement. The volcano seen from a spotter plane during the 1976 activity. Pacaya is easily accessible from Guatemala City and from Antigua. The volcano and surrounding area now lie within the Pacaya National Park, which was created to supervise and protect tourism in this region. The Pacaya Park generates its income from tour groups. In 1998, several explosive eruptions emitted lava, debris and ash columns with a height of three thousand five to fifteen hundred feet. Ash fall affected nearby cities including Guatemala City and La Aurora airport. During 2006, a slight increase in Pacaya's volcanic activity brought about the creation of several lava rivers that slowly flow down its slope. Word about these phenomena soon spread.
May 2010 eruption: On the 27th of May 2010, the Pacaya volcano erupted followed in several tremors. At approximately 20:00 hours there was a strong eruption ejecting debris and ash columns up to three thousand feet. Ash rained down in many Guatemalan cities to the northwest of the volcano, including Guatemala City. The volcanic ash fall pelted Guatemala City, and the international airport, La Aurora. The National Coordinator for Disaster Reduction (CONRED) declared a red alert for the communities near the volcano, and recommended the evacuation of some of them. Noti7 reporter Anibal Archila, one of the first to cover the event, was reported killed by volcanic debris.
President Álvaro Colom declared a state of calamity in the region adjacent to the volcano, and the Ministry of Education closed the schools in the departments of Guatemala, Escuintla and Sacatepequez. Heavy rainfall from Tropical Storm Agatha worsened the emergency situation, causing lahars, landslides and widespread flooding across the country. However, people working in coffee fields considered the rain brought by the storm to be helpful, removing ash from their trees.
After a while of trotting we were introduced to a one-man natural sauna. I wiggled in as a local dog who had followed us up hoping for tidbits settled on a warm spot and promptly went to sleep.
Bear showed us how to delicately insert and others followed
Then it was time to warm marshmallows in a natural oven – oh, that would be where the lava is supposed to flow from, but not for the last two years. Well I didn't know.
Have you ever seen anyone running from a pointy stick across black ash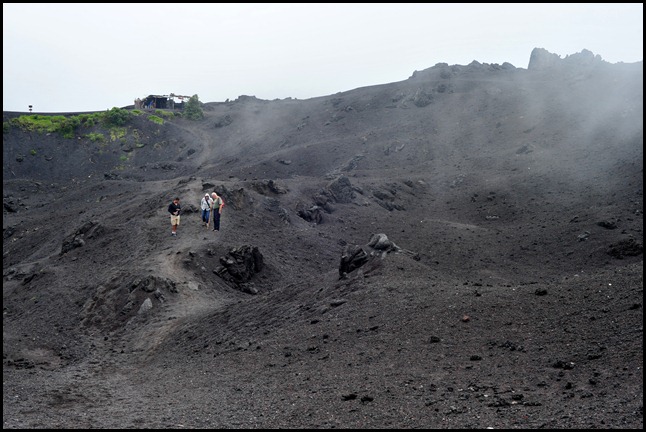 A final look at our surroundings and off we went back to the path to head back down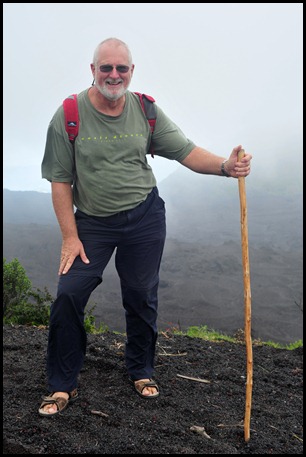 We left the swirling clouds and bimbled down the steep path – me on foot
ALL IN ALL A VERY DIFFERENT SUNDAY
REALLY INTERESTING AND A FITNESS CHALLENGE......
I CAN'T BEGIN TO TELL YOU WHAT ACHES
---