Wairiki Church

Beez Neez
Skipper and First Mate Millard (Big Bear and Pepe)
Mon 6 Jul 2015 22:47
Wairiki Catholic Mission
Our driver stopped at the Wairiki Catholic Mission on the western coast. Taveuni's largest Catholic church is a popular tourist attraction.
The school and Rectory to the left of the church.
The traditional drums that call the faithful and the schoolchildren.
We walked up past Our Lady and looked back toward the Somosomo Strait.
This massive and very traditional Roman style church was built of stone in 1907, it has no pews as the congregation sit on woven mats in the Fijian style. The ceiling is very intricately patterned in wood. The building overlooks the site of the battle with the Tongans, which – aided by the advice of a French Missionary priest – was won victoriously by the warriors of Taveuni and saved Fiji from their invading neighbours who had been winning battles on other islands. The priest was rewarded by the people by the building of this church.
The plaque under the crucifix reads:- The crucifix was given to Ratu Goleanavanua, Tui Cakau and Paramount Chief of Cakaudrove Bua, Macuata and the Yatu Lau by the Rev Laurent Favre [Father Lorosio] in 1862. This crucifix inspired the Tui Cakau to defeat the Tongans under Ma'Afu led by his warrior Wainiqolo.
The crucifix was given to the Tui Tunuloa for safekeeping by Ratu Golea, and in 2005 after 143 years the Tui Tunuloa, Ratu Igenasio Loaloa returned the crucifix to the Tui Cakau, Ratu Naiqama Lalabalavu, in Wairiki, on Friday, 14th September, Holy Cross Day. The Tui Cakau then traditionally handed it over to His Grace Archbishop Petero Mataca D.D. for safe-keeping. His Grace ordered that it be kept in the church of the Holy Cross Wairiki for veneration by the people of Cakaudrove.
Handsome stained glass windows and a lovely Pieta.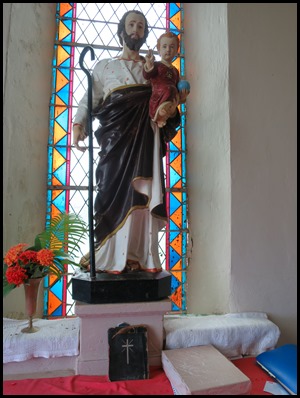 Looking to the Lady Altar and St Joseph.
Stations of the Cross.
ALL IN ALL MAJESTIC
VERY LOVELY CHURCH IN A BEAUTIFUL SETTING
---