Bobs and Bits

Beez Neez
Skipper and First Mate Millard (Big Bear and Pepe)
Wed 12 Sep 2012 17:00
Bobs and Bits
BEST NEWS OF THE WEEK. Delighted to announce that Joe has returned to the UK from Afghanistan safe and sound. That's it. No more going back. YEEeeeeeeeeeeeeeee HAaaaaaaaaaaaaa.
I have now given up alcohol for a while as levels whilst he was in Camp Bastion reached a record high, sadly with little effect, so definitely time to stop as I miss that lovely feeling of being "tiddly".
We were eating boiled eggs the other morning, I was mid dip when the captain suddenly exclaimed I'd like to pose with my cannon. Is this a new side I am seeing ??? this is ever since Prince Harry did it and Bear accepted the dare from MOTH (mistress of the house). I blame her entirely and will be having words when I see her next.
Dishes cleared, off went his clothes at lightning speed and there he stood.
I refuse to encourage the man. So I have chosen to put the picture in very small and cut off his cheesy grin. Anyone sad enough to want to see the Full Monty can request a copy via email. The children are still getting over his first exposé. Ever since then, he has been telling everyone that his water pump was massive. Mmmmmmmmmmmm My musings have led me to think:-
a) Big Bear has a new proclivity for posing naked and/or
b) He is practicing to audition to be the new Calvin Klein model – either way I feel the need to 'nip this in the bud'. Next thing he'll be requesting a visit to a nudist colony – so easy for these things to get out of hand, you know, and he is at a very dodgy age after all.
Talking of tiny things, steady, we have a new permanent resident aboard. I have always wanted a baby gecko to potter about Beez seeking out any stray creatures. One evening Rhum, (lovely chap working here at the marina for a few months), caught me a tiny, tiny one. I kept him overnight in a big container complete with a supply of fruit flies and let him go the next morning. Must get a few more as we love to hear them chatter and click. I am now heard each morning and evening clicking or making kissing noises. And she talks about me being at a dodgy age...........
Very proud of the captain, crikey that doesn't happen too often, will you shush. He completed his engine service and has put the office back together. His smile is not great in the picture as he has a mouthful of screws, no comment. He completely rebuilt the raw water pump and the heat exchanger got a good clean. The diesel return pipes had new washers as the old ones had been leaking for a year or two............ No comment. Beez is still a tip because he still has to change the cam belt - accessible from the sea berth.
Anyway, the reason for my pride was seeing his nervous face as he asked me to turn on, and be ready to turn off quickly should a geyser appear in the engine compartment. Well, Beez burst into life at the first request and exhaust water poured out the back as it should. Smiling faces all round. No leaks, Hurrah.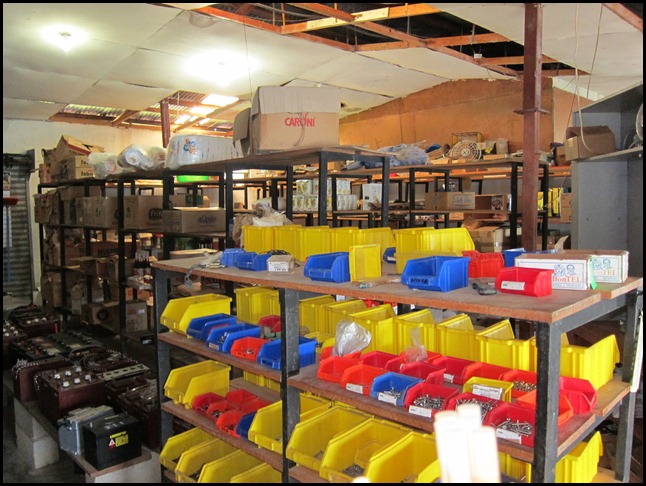 Bear took me over to the other side of the river. He was seeking a small grease gun and asked a local what it was in Spanish, he suggested "pistola de grease". Sounded OK, until Bear asked in the shop - fun to see grown men falling about laughing and asking in perfect English, if the now bemused customer would like AK 47 or Derringer size. The shop was an Aladdin's cave though and the captains spirits were soon lifted with plenty of oo's and arr's and away we went with a Smith and Wesson sized gun of the grease.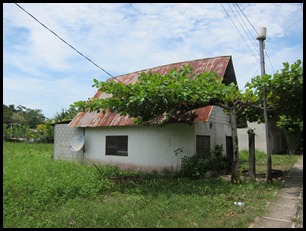 Down the road we were particularly taken with this little house – as Mags (Old Shoe) would say a "couldya" or could you love it.
We found the outboard engine repair shop and a few dead or dying craft
After an ice lolly, we went for a spuddle and found this bee coloured lady.
We passed these two 'posh pads' – next to our marina – the locals tell us one was owned by a drug baron and the one next door belonged to an ex Prime Minister. Mmm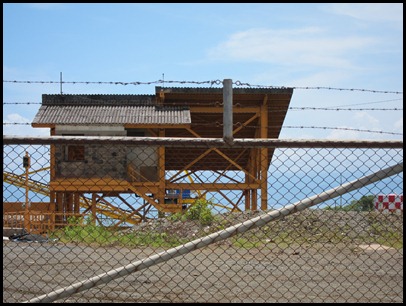 Rhum took Ed and ourselves in the marina truck to see this enormous nickel operation, forty five minutes away by road and close to Lake Izabal. Originally built by the Canadians, it was dormant for many years. The Russians have revitalised it in combination with the Guatemalan Government. Opposite there are row upon row of new accommodation for employees, complete with air con units. The whole thing looks as if this is going to be a serious project – fingers crossed no toxic waste ends up in the lake.
On the way back we stopped in the pretty little town of El Estor, for a cold drink. It
is a

municipality

in the

Izabal

department

of

Guatemala

.
Before roads and railroads,

Lake Izabal

was the link between

Alta Verapaz

and the rest of the world. What is now known as "El Estor" was the landing and trading post for cargo and travelers to frontier towns such as Cobán, commonly referred to as "the store" in English. Recent construction of roads has left the town as a minor port visited mostly by locals and the adventurous traveler. The population of El Estor consists largely of Kekchi speaking indigenous people. The most amusing sight was watching a local, he was trying to control a squealing pig that kept wandering around in a sack as the pair waited for the ferry.
Bear just loves watching the great floating carpets go by the end of the dock, as a new crop is cut and steered down river.
Our Passport was stamped for ninety days when we came in (that catches a few folk out, as three months is not the same and they wonder why they get fined $50 a day, per person – $500 minimum charge per person or mega-ouch). Guatemala is part of a group of countries called C4, (El Salvador, Honduras and Nicaragua are the other three) so we have to go somewhere different to get our next ninety days.
Plan. On Friday we get the bus to Flores and have a few nights B+B. Over the border into Belize and stay for the required seventy two hours, hopefully seeing some amazing caves and back to the border for our Passport stamp.
Then, most exciting a few days exploring Tikal. Tikal is everything you picture in a Mayan ruin, with the temple looking like it was built by a film production crew. It is said that we have to wear "proper" shoes as the nooks and crannies are home to many slitherers and hairy spiders. We have the opportunity to visit Tikal for sunset and sunrise. Toucans and howler monkeys are allegedly abundant, so camera cleaning in the next day or two.
I'll leave you with Bear's picture of his floating carpet
ALL IN ALL LOOKING FORWARD TO OUR ROAD TRIP
---